Published by Sally on October 29, 2013

| | |
| --- | --- |
| Title of book: | My favourite Burgundies |
| Author: | Clive Coates MW |
| Publisher: | University of California Press |
| Publication date: | 2013 |
| ISBN | 978-0-520-27662-8 |
| Pages: | 500 |
| Price: | £41.95 / US$60.00 |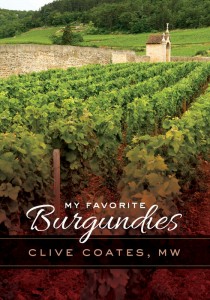 From almost anyone else, a title such as this looks to suggest a personal ramble through some nice bottles of Burgundy. But Clive Coates has huge professional experience of Burgundy, and indeed is based in the region. And it is a structured stroll through his tasting notes. But there is some new information here too, updated domaine profiles for 27 producers, and some brief observations on subjects such as premature oxidation and climate change in the region.
Thankfully the book sets out it stall: it is stated to be "a companion piece to Coates' 2008 book 'The wines of Burgundy'." It is certainly neither textbook, nor comprehensive of the region.
About half the book is devoted to Coates' tasting notes, the 2009 vintage tasted in 2012, and then a series of 'ten year on' tastings from the 2002 vintage back to the 1998 vintage. For myself, I question the usefulness of the older of these. How beneficial, in 2013, soon to be 2014, is an assessment of the 2001 vintage tasted in 2011, or perhaps more so, the 1998 vintage tasted in 2008? The wines will have changed in the intervening period.
The tasting notes do have suggested drinking windows, which are really useful. But wines change and evolve over time, which of course these windows take account of – at the time they were tasted. I suppose, given for example, the 1999 vintage, tasted in 2009 relate to how the wine was showing in 2009, I'd want to add in a little buffer to those windows to make sure I wasn't disappointed, should the wines have evolved in a different fashion to Coates' projection. Maybe I'm being a little cautious. Maybe I just wish I had some of these wines at my disposal to make my own judgement!
A section on vineyard profiles takes in an apparently random group of high profile appellations. The section on domaine profiles likewise, though the preface does indeed advise the reader the selection is based on certain domains that have notably evolved since Coates' 2008 publication.
I love the maps of Coates' 15 selected appellations, either premier or grand cru, which plot who owns which parcels, for example, the neatly divided lines of Meursault, Les Genevrières, and the 58 owners of Clos de Vougeot.
Bottom line: if you're already a Coates' fan, and you have his 2008 'The wines of Burgundy' you'll probably love this add-on. If you're looking for a broadly educative book unpicking the complexities and confusions of the region of Burgundy and its wines, look somewhere else.
---
Please feel free to comment on this article