Published by Sally on July 21, 2010

Vintage 2009 is a startlingly super riesling vintage, if a recent tasting of wines in Germany is anything to go by.
A combination of ripeness with retained, relatively high acidity are cited as the defining parameters of the 2009 in the main riesling regions of Mosel, Rheingau, Nahe, Pfalz and the Rheinhessen. This was defined as a year of long ripening and good structure. But volumes are down across the board.
Some have said 2009 is as good as 2007. By comparison 2008 was not so warm, on average. There is enough ripeness in 2008 but the acidity is crispier and more pronounced. The wines are perhaps less concentrated than the 2009s.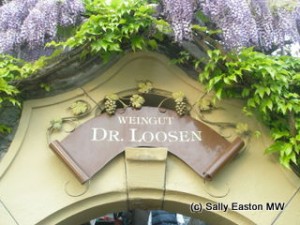 Weingut Dr. Loosen is located at Bernkastel in the Mosel, and is run by Ernst Loosen, who took over the reins of this family property in 1987.
While properties away from the less extreme climate of the Mosel can make a mix of dry styles and fruitier styles, in the Mosel this is difficult to achieve due to the late ripening of fruit. This means that 80 to 85% of Loosen's wines are in the fruitier styles, with the fine, taut balance proffered by such an extreme climate.
The Mosel accounts for less than 10% of the country's vineyard plantings, but riesling is by far the most important grape in the valley, with 60% of Mosel vineyards being planted to it. Loosen gives riesling even more focus – 98% of the property is planted to this grape variety, across his 18 hectares.
Read here for a review of the wines from Weingut Hermann Dönnhoff in the Nahe.
Read here for a review of the wines from JL Wolf in the Pfalz.
Read here for a review of the wines from Weingut Gunderloch in Rheinhessen.
Tasting notes, in situ, April 2010
2009 Dr. Loosen RedSlate Riesling trocken
12.5%, ~8g/l RS. A new wine from both contracted and estate fruit, sitting above Dr. L in the portfolio.
Lemon-lime fruitiness on nose and palate, pure and fresh, good intensity of flavour, tasting pretty dry. Refreshing and nicely balanced. Good to drink, with lime zest finish.
2009 Dr. L Riesling Qualitätswein
8.5%, 40g/l RS, 7.9 g/l TA.
It tastes more like 20g/l residual sugar, but if it only had that much sugar, the alcohol would be much higher. Lemony and spritzy, with honeyed attack of crisp apple. Fresh with pristine acidity, and a decent finish.
2009 Bernkasterler Lay Riesling Kabinett
7.5%, 54g/l RS. Blue and weathered grey slate mix. 'Lay' is an old word for slate.
Lime and pithy, sweet limey attack, dense and plush, long finish. Rather more-ish, as the light alcohol is seductive. Delightful, delicious aperitif. Purity and integrity at its best.
2009 Erdener Treppchen Riesling Kabinett
7.5%. 58g/l RS. Red slate
Lime pith and apple blossom, floral, orange peel, crunchy sweetness, some emerging complexity. Sweet tropical palate, attractive density of flavour, with unfurling layers and layered finish. Feels more serious than Lay. Good.
2009 Erdener Treppchen Riesling Spätlese
7.5%, .70g/l RS, 8,4g/l TA. Red slate
Apricot and star anise, with spicy sweetness and ripe tropical fruit. Almost medium bodied in a flavour-concentration and extract sort of way. Intense, with a precise fruity balance.
2009 Ürziger Würzgarten Riesling spätlese
68g/l RS. 8.2 g/l TA, Weathered red volcanic soil
Firestone and star anise. Complex, spicy, with exotic fruit. Pristine and fleshy. Rich and quite lush with intense and concentrated flavours and a long, long finish.
2009 Wehlener Sonnenuhr Riesling Auslese
88g/l RS. Blue Devonian slate
Peach, apricot, honeyed, very sweet attack. A tiny bit of botrytis giving a savoury aromatic lift to the nose, and concentration to the palate. Palate is tight, tropical, very fruity – pure fruits. Full flavour and long.
2009 Urziger Wurzgarten Riesling Auslese
90g/l RS
Aromatic bitumen spice from 5-10% of botrytis. Pristine and focused with lime and sweet tropical fruit. Massive flavour with fairy-like lightness, and an exquisite balance. Pure, with enormous depth and concentration. Lovely.
2009 Erdener Prälat Riesling Auslese Goldkapsel
100-105g/l RS. Prälat is the heart of the Treppchen vineyard.
With about 60% botrytis, this is concentrated and closed. Sweet-spice, and firestone, with cinnamon-aromatised apple and lime, and notes of bruised apple compote. All the structure and concentration in place for big flavours to blossom. Really very nice.
The UK agents, ABS Wine Agencies, flew me, and a group of UK importers, to Germany to taste the 2009s from the producers they represent.
---
Please feel free to comment on this article