Published by Sally on May 16, 2012

Faugères, celebrating 30 years of appellation status in 2012, is rare in France because it has an homogenous underlying structure – it's all schist, created some 500 million years ago, though colours vary from shades of yellow, orange, brown, through to blue.
It is this schist that defines the appellation, as it does in other places such as Priorat, and the Douro.  Hélène Rosello, a consultant winemaker in the region, said "Faugeres is special because of the schist, giving wines with minerality, and with fruits and tannins that are soft and sweet in the mouth."
Schist offers good drainage through its thin layers that were uplifted during the Alpine orogeny (65.5 to 2.6 million years ago), and fine clays between the layers retain water, so even during dry weather, vine roots can drive down for several metres to find water reserves.
Another big feature in Faugères is night-time warmth as bare schist releases to the vines the heat it has built up during the day. Local lore has it that the grapes ripen in the night. Rosello said "summer gets to 35°C regularly during the day. In a cold year the nights would be 25°C, normally they would be 28 to 30°C at night."
But, she added there is a cool north wind "from the Montagne de Noire which blows regularly during ripening, day and night.  It can lower temperature by 5 to 10°C."
For Australian Jem Harris, along with his French wife, it was the "schist [that] drew us to this area. The poor soil forces the roots deep into the ground. You get a notion of terroir, it imparts a certain amount of mineral focus, graphite."
The small appellation just below the Montagne de Noire, with 2,075 hectares in 2011, across seven villages, abuts these southern outcrops of the Cévennes mountains, overlooking lower ground towards Beziers to the south, and Pezenas to the south-east.  Vineyards have a little altitudinal advantage, ranging between 200 and 400m above sea level to take the edge of the Mediterranean summers, and they are surrounded by the typical garrigue, with holm oaks, rockrose, herbs and chestnut trees.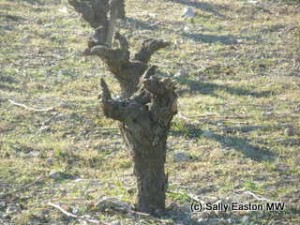 While the vineyards generally face south, Domaine de Cébène has some north-facing vineyards. Owner Brigitte Chevalier said her vines "face north to get the balance between tannin and alcohol." Chevalier arrived in Faugeres in 2007 having looked "for a place where I'd have all the elements to make wine with elegance and fruit, balanced with silky tannins, and if I have complexity then it's even better." She moved from Bordeaux to find these things, though she sold rather than made wine in Bordeaux.
Production is tiny, averaging around 700,000 9-litre cases in total, at a very modest 30hl/ha for the five years to 2010. Production is split approximately in half between the appellation's two co-operatives and 54 private producers.
Some 85% of production is red, blended from carignan, cinsault, grenache mourvèdre and syrah. From 2005 syrah, grenache (including lladoner pelut, a close, but less rot-susceptible cousin of grenache) and mourvèdre have legally constituted at least 50% of the vineyard planting.
These are warmth-loving varieties which the schist treats differently, said Chevalier, "softening the impetuousness of mourvèdre when it's young, giving it ripe, spicy notes," while syrah on schist shows "garrigue and white pepper notes, very precise and different from mourvèdre." And she said Faugères gives "a freshness in wine, and this is what customers are looking for."
High alcohol of 14 to 14.5% is pretty much the norm in Faugères, but this combines with that distinct freshness to the fruit on the palate which helps to integrate and enliven the warmth.
Recently white wines are also made, from roussanne, grenache blanc, marsanne and vermentino (rolle).
Tasting in Montpellier, February 2012
A selection of wines that showed well at Vinisud
Abbaye Sylva Plana, 2011, Faugères Blanc
Roussanne, grenache blanc, viognier. Fresh, lively and zesty with sweet, white stone fruit; linear and complex. Vg
Château des Estanilles, L'Impertinent 2010, Faugères Blanc
Roussanne, marsanne, viognier, in stainless steel. Almost mealy nose with white flowers. Richly textured with sweet fresh nut and white fruits. Really tasty. Vg.
Domaine Ollier Taillefer, Allegro 2011, Faugères Blanc
Roussane 90%, rolle 10% with a few hours' skin contact, tanks only. Fresh and round, white flowers, lemon grass, nice density of fruit volume and breadth.
Abbaye Sylva Plana, La Closeraie 2011, Faugères
50% grenache, 30% carignan, rest syrah and mourvèdre, 14.5%.
Really juicy, lively attach, fresh with super density of black crunchy forest berries. Integrated alcohol and frehsness. Vg.
Domaine la Sarabande, 2010, Faugères
60% grenache, 25% carignan, 15% syrah and mourvèdre. 30% 500-litre oak casks. 14%.
Fresh, crunchy, chalky texture, with enticing black fruits and aromatic spices.
Les Fusionels, Le Rêve 2009, Faugères
Grenache, syrah, carignan. Smoky hints and dark fruits. Soft tannins, supple, with liquorice and sweet tar.  Succulent and spicy.
Château des Estanilles, Inverso Rouge 2010, Faugères
Syrah, grenache, mourvèdre in 20hl and 600-litre foudres.  Smoky and meaty hit on the nose, then smooth texture, and black charred fruits with liquorice. Dark spices, integrated with a finishing warmth.
Domaine de Cébène, Les Bancèls 2010, Faugères
Syrah and grenache on north and east slopes. Gentle dark, soft notes on the nose. Dry-baked red fruits of medium weight on the palate, with aromatic spices and autumnal forest berries. Warm and enticing.
Domaine Ollier Taillefer, Grande Reserve 2009, Faugères
Carignan 15%, syrah 35%, grenache 35%, mourvèdre 15%, tanks only.
Spicy, ripe, red berries, balanced and proportioned.  Fresh with medium weight. Lovely, richly textured, flavoursome and aromatic.
My research visit to Vinisud was sponsored by Sud de France.
---
Please feel free to comment on this article