Published by Sally on January 2, 2020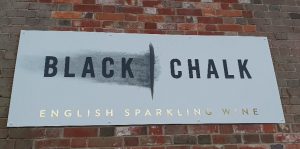 Black Chalk is a new kid on the Hampshire block. And 2020 will see the label becoming an estate-grown producer, in a shiny new winery to boot. In the short five years since the launch vintage of 2015, things are and will be evolving apace for winemaker and joint owner Jacob Leadley.
Leadley was the winemaker at Hattingley Valley Wines, leaving after seven years at the end of 2018, to develop full-time the label he established in 2015. The 2015 to the 2018 vintages were all made at Hattingley, alongside his then day job. Leadley was familiar with tasting the fruit, tasting the results of the fruit, brought in from different parts of the country for the Hattingley wines, and as part of the contract winemaking services offered at Hattingley. For Black Chalk, Leadley bought fruit from growers in Hampshire, having identified his preference for the flavour profile of fruit grown on chalk bedrock.
And having made the initial decision to focus on Hampshire fruit, the next step, he said "was – shouldn't we be looking after our own vines?"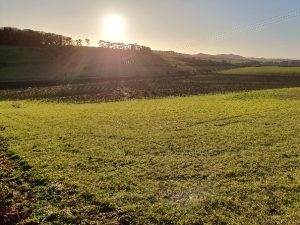 What changes, with the 2020 vintage, is that Black Chalk will move from a negociant-type label, to a grower-type label. He has leased the 12 hectares of vineyards at the Cottonworth vineyard, a few miles north of Stockbridge, near the river Test. These had been planted by the owners of Cottonworth, the Liddell family, between 2008 and 2011, all to the trilogy of chardonnay, pinot noir and meunier. Indeed Leadley made the Cottonworth-labelled sparklers between 2015 and 2018, saying he'd "have very much liked the fruit in 2015" for Black Chalk. It seems the seeds had been sowed.
Now that Leadley leases the vineyards for Black Chalk, the Cottonworth label looks to be consigned to history, as the Liddell family move on to other projects. Three vineyards make up the 12 ha, each planted with all three grape varieties. Though low elevation is regarded as key for UK vineyards, being so far north, the vineyards vary between about 20 and 60 metres above sea level. Leadley said "frost is a risk, but we avoid the wind and pick up heat more quickly."
Vineyard near-neighbours include Waitrose's Leckford Estate, and the Hampshire vineyard of Sussex-based Nyetimber.
What about the 2019 vintage, by which time Leadley had left Hattingley? Leadley explained he worked with a parcel of 2018 fruit from Hambledon Vineyards, making his two Black Chalk wines there. It'd be interesting to taste the Hattingley- and Hambledon-made 2018s side by side in due course.
From the 2020 vintage, as well as becoming grower-made wines, Black Chalk will have a spanking new winery, built on site in the shell of an old barn. Wandering round in early December 2019, the old barn, with mostly four walls, was empty, apart from white chalk outlines on the rough concrete floor, not to mark the scene of a crime, but the future positions of vats, small-capacity tanks, a 4-tonne Coquard press, a 20 hectolitre foudre, an office against the far wall.
Leadley explained, part of "the big step here, to Cottonworth, was because of the winery-build option. Otherwise you end up with a winery on an industrial estate, with no connection to the fruit." The farm buildings lie just outwith the boundaries of Chilbolton Common SSSI.
Additionally, the new winery capacity will significantly exceed the targeted production of Black Chalk's next five years. The aim is to offer small batch contract winemaking.
What is it about chalk bedrock that inspires Leadley's passion? He said "you get purity, fruit forward characters on chalk." Okay … so far so good … what else? It's a tricky one to pin down, to verbalise – he suggested "on chalk I get purity, especially chardonnay. I get a straight-as-an-arrow profile, crispness, all pointing in the same direction. A razor-edge – the profile of the fruit, not of acidity – with fruit down the middle. And it just keeps going." This is a more evocative image, something to grasp, and think on, when tasting.
On pinot noir he said "there's more brightness in the fruit. It's pronounced fruit, delicate and obvious. Clear. Pure."  Zoë Driver, the newly-installed assistant winemaker, added "obvious and bright, delicate, but not overpowering."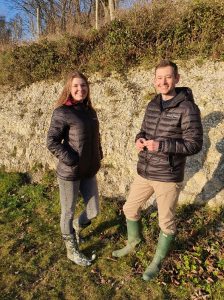 Leadley is also a bit of a fan of meunier on UK chalk. He completed the grape variety rundown, saying "meunier in the UK has a longer growing season [than in Champagne]. It doesn't ripen to the point where it lacks acidity. It gives bright red fruits. As for body and weight – you get a little of that here." And, he added "in rosé, you get the bright red fruits, and texture underneath. Some texture comes from the malo [malolactic fermentation], which fills out the palate a bit more. In rosé, meunier is about structure and weight – a bit like oak, but it doesn't detract from the fruit."
Black Chalk comprises two wines.
Black Chalk Classic 2015
Blend: nearly half chardonnay, a third meunier and the rest pinot noir. Lees ageing of base wine in oak barrels has added complexity. On bottle lees for at least 26 months.
Honeysuckle and white floral notes, plus lemon-honey-vanilla-ice-cream and hints of roasted almonds. Fine, rich lemon seam on the creamy-mousse textured palate, with white peach fruit alongside lemon flesh and zest. Crystalline acidity with its crisp raciness balances well with a melt in the mouth creamy-soft mousse amid full flavour concentration. Top class.
Black Chalk Wild Rose 2016
Blend: mostly meunier and pinot noir; rosé achieved by blending still red pinot noir.
Faintest blush of 'gris' really, plus a silhouette of pink. Strawberry sherbet nose with dog rose florality; red apple and strawberry palate with hints of hazelnut cream and roasted hazelnuts. Delicate, and no less flavour intensity for that, with soft, creamy mousse. Lovely flavour but I was disappointed by the faintness of colour. Tasting blind, I'd have queried it being in the correct flight.
Just be aware that the rosé is deliberately incredibly pale; don't expect much hue at all. They'll explain the philosophy and rationale when you go to taste: find them at Black Chalk Wine. 
---
Please feel free to comment on this article