Published by Sally on March 4, 2013

Title of book:
American Wine: the ultimate companion to the wines and wineries of the United States
Author:
Jancis Robinson and Linda Murphy
Publisher:
University of California Press

Outside the USA: Octopus Books

Publication date:
2013
ISBN
978 0 520 27321 4
Pages:
288
Price:
US$50 / £40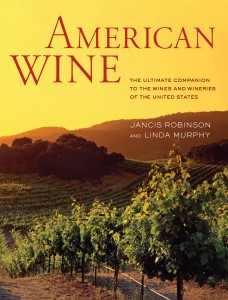 Though the subtitle addresses the potentially confusing title (to a non-USA person?), this is indeed more accurately entitled "USA Wine" as neither Canadian nor South American wines are covered. This book asserts itself as being "the first comprehensive and authoritative reference to the wines, wineries and winemakers of all fifty states." As the authors are pretty high profile it all augurs well.  I'm looking forward to being edified, especially as I'm less familiar with USA wines than those from some other countries.
It was only a few years ago that the USA became the nation which consumed the most wine in the world, overtaking France. But this belies the modest per capita consumption in the USA – some 11/12 litres per head versus France's 50 litres per head. Little wonder the USA is seen as a potential boom destination market for wine from other countries, so perhaps this book is a timely reminder about the home-grown stuff.  Not that there is enough home-grown stuff to meet demand.
The book is organised by state, within five broad regions, which I'm guessing are administrative rather than stylistic. Given that California accounts for some 90% of all USA wine production, it gets less than half the book pages, which has to be encouraging for all the other states.
There are useful bits on prohibition, labelling legislation, sustainability issues, and the evolving labyrinth of more than 200 AVAs. It's interesting to learn that Prohibition is regarded as having 'stalled progress' of the USA wine industry, especially when one considers the first sauvignon blanc vines weren't planted in New Zealand's Marlborough region until 1973.  They don't seem too lacking in progress in NZ. But perhaps that is precisely because they're not bound by bygones and historic blueprints.
Maps follow the pattern of the World Atlas of Wine which is a reassuring constant, as we're probably used to seeing them like this by now.  The book is somewhat in the style of the Atlas, a positive attribute, while being strong on pioneering history, pioneers and putting into perspective that labyrinth of AVAs in an industry that reads as though it is still in a rapid state of flux, despite having some of the oldest vines on the planet.
It's tricky to follow what grape varieties may be finding their best adaptations in which region, though AVA/State snapshots begin to address this conundrum It's just as well that Robinson summarises emerged or emerging 'classics' as the cabernets and Bordeaux blends from California, Washington, Virginia and Long Island; pinot noir from ocean-chilled parts of California and Oregon, Rhône blends from eastern Washington and rieslings from the Finger Lakes of New York (praise indeed from the riesling-maestro JR).
I have been edified. Among so many other things, I didn't know wine is made in every one of the USA's 50 states. Both Alaska and Hawaii have wineries. Tropical Hawaii relies on hybrids, while arctic Alaska uses local fruits or grape juice imports.
This is one of those reference books with solid information highlighting soil, cultivar, AVA diversity, with some beautiful photography that brings to life the plethora of viticultural landscape across the USA.
---
Please feel free to comment on this article