Published by Sally on December 23, 2013

| | |
| --- | --- |
| Title of book: | World encyclopaedia of champagne and sparkling wine |
| Author: | Essi Avellan MW, Tom Stevenson |
| Publisher: | Absolute press |
| Publication date: | 2013 |
| ISBN | 978-1-9066-5018-6 |
| Pages: | 528 |
| Price: | £50.00 |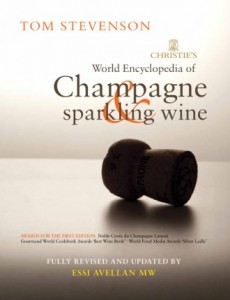 I love the fact that after France, the UK, or rather, in the context of this book, the British Isles, is the next mentioned region despite the country's negligible contribution to the world of sparkling wine. Before Germany. Before Italy. Before Spain. Does it reflect a grandiosity of perspective of my country's bubblies, or at least their potential? I do hope so.
Being slightly OCD about matters of consistency, the contents page rather irritates me. I'm not quite sure what Africa is if not a continent, nor when South America ceased to be part of the continent of America.
In the same vein, and with a much happier outcome for me, the consistency of format of the producer profiles appeals to this logical and ordered part of my brain – the same information categories, in the same order, for all producers. It makes comparisons and contrasts much easier to manage, and it's good to have those key relevant indices in a sort of list format. Even if some producers cite commercial sensitivity of some description to not answer the volume production question. Moët, for example. What do they have to be embarrassed about?  Otherwise the profiles vary from in-depth profiles to brief snapshots, with useful ownership and brand information.
I like the idea of Avellan's personal global ranking "a producer scoring 80 points anywhere in the world is the equivalent in quality to a Champagne producer scoring 80". Thus Croser's score of 88 puts him on a par with Champagne Ayala and Alfred Gratien, Lanson, Moët et Chandon.
But then the author somewhat confuses the ranking (to my understanding) by saying 75 and over is OK for non-Champagne, but 85 and over is OK for Champagne and "if a non-Champagne producer scores this high [85], it is of exceptional quality indeed." I'm left a little confused by this. Oh well.  Frankly any attempt at this sort of global cross-comparison unified ranking thing is a heady and fraught task, and respect for a giving it a go. On the same basis, nor is it an enviable task to give a producer such as Freixenet, for example, a single number qualitative assessment, when they make 10 million cases, over a number of brands.
Quality, style, terroir and climate are all discussed, almost exclusively from the traditional method perspective. And it was good to see a focus on the need to clean glassware precisely in order to get the best visual result for the bubbles. It seems non-traditional method sparklers are considered in more detail in their geographical sections, rather than the book's introduction. So some info on tank method in the Germany chapter, some in the Italy chapter (though we have to have read the Italy introduction, rather than hone in directly onto Prosecco over the page, to learn that it is made by the tank method).
Ah, Champagne. I was happy to read the history of the fluid nature of the now-defunct grande marque brotherhood, an historic footnote in its last throes of anticipated death, that I've consistently failed to research. And pleased to have learned the date that methode champenoise ceased to exist (1985), a piece of information I'd been looked for earlier in the year.
I might have hoped for more insight into the complexities of the dosage liqueur, but probably because I'm intrigued by the nuance achievable with this final addition.
After 50 pages of introduction, we're into the producer profiles. Champagne warrants 150 pages, or nearly 30% of the book. France in total, nearly 40%, with a useful several-page table listing the main techie points for 'other French sparkling wines'. The British Isles gets a whopping 7%. Well we are making a microscopic but qualitative splash on the market.
Given the growing consumption of sparkling wines, and interest in them, it's good to have an updated version of the book that focuses purely on these styles on the bookshelf.
---
Please feel free to comment on this article