Published by Sally on March 19, 2013

| | |
| --- | --- |
| Title of book: | The world of Sicilian wine |
| Author: | Bill Nesto MW and Frances di Savino |
| Publisher: | University of California Press |
| Publication date: | 2013 |
| ISBN | 978-0-520-26618–6 |
| Pages: | 307 |
| Price: | US$34.95 / £24.95 |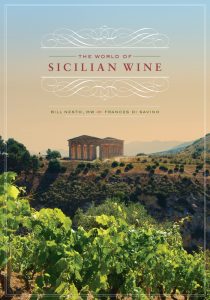 It's great to see a book devoted to Sicily and its wines. Sicily is kind of like a whole country, both in its historic diversity at the crossroads of ancient civilisations and their trading routes, and in its wine production. It produces more than some other European nations.
This is a husband and wife writing team from the USA, with Sicilian ancestry between them. Between them they cover the ancient cultural cross-fertilisation of centuries, tracing the origin of wine on the island to the eighth century BC Greek settlers.
This fertile island had become the 'gastronomic epicentre of the classical Mediterranean world' by the third century BC, something advanced by 200 years of Muslim control, and all of which is, after a period of gastronomic retrenchment, testament to the wonderfully flavoursome foodstuffs found all over the island today. di Savino makes the cultural journey through Sicily eminently readable, interesting and fair-packed with enlightening information. It all builds a picture of how modern cultural and land-use patterns evolved.
British influence in the late 18th century saw the creation of Marsala, as a product to undercut Madeira in British markets. But investment also allowed indigenous production to grow. By 1880 there were nearly 322,000 hectares of vineyards in Sicily. That's about three times bigger than current day South Africa, Chile or Germany.  As elsewhere in Europe phylloxera plundered the vineyards. There are now just over 115,000 hectares.
We're taken through 20th century developments of EU agricultural policy, the rise and stumble of the co-operative movement, and the transition from basic quality bulk production to improving quality from the 1980s. Pioneering vinous personalities have their Sicilian stories outlined, including Diego Planeta and Giacomo Tachis.
The reader is brought right up to date, with Sicilia DOC, a further, only partially successful, attempt to harness better quality and identity for Sicilian wine.  It all makes erudite reading, putting into perspective Sicily's current viticultural position.
The book then moves onto more 'regular' wine stuff, starting with geography and vine varieties, including wonderful local ones such as nero d'avola, nerello mascalese and frappato. It's about now I'm keening for a detailed map of Sicily's modern viticultural regions. There isn't one for another 80 pages, and then it's small and lacking detail, it doesn't have all the places on it that are mentioned in the text, making it difficult to keep track of the textual journey. I'd had loved for there to be some colour pictures too, to illustrate the landscape, cultural and viticultural. An opportunity was missed by not having images in this otherwise detailed and informative book.
Indeed this is as detailed and informative a book as one might want on Sicilian wine history, wine-making and wine-growing. Some half of the book focuses on three hugely contrasting regions of Sicily: Marsala's hinterland in the west; Noto in the far south-east; and the north-east bit including the wines of Etna. In each region, we are taken through the places, products and significant people who are shaping a bright place in the 21st century of Sicilian wine.
It'd be great if this book puts Sicily back on the map. Just a shame the map wasn't put into the book.
---
Please feel free to comment on this article