Published by Sally on December 20, 2010

| | |
| --- | --- |
| Title of book:  | The Future Makers: Australian wines for the 21st century |
| Author: | Max Allen |
| Publisher: | Hardie Grant Books |
| Publication date: | 2010 |
| ISBN      | 978 1 74066 661 9 |
| Pages: | 439 |
| Price:  | £30.00 |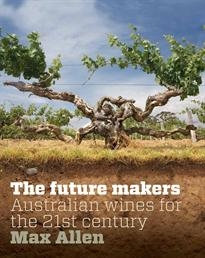 This is a really good and enlightening read.
Physically the book is sensorially retro, with a sweet-earthy feel and smell, though it doesn't say it's been printed on any sort of ethically sourced paper, which probably means it hasn't. It's all attractive touchy-feely earthy tones and matt-finish pictures, which gives the whole thing something of a natural feel. And given that improving sustainability is a thread through the book, such a presentation is no surprise.
Allen succinctly sets the climate change scene as a partial motivating force for the 'new Australian viticulture' before delving into the main thrust of the book – terroir – and the producers who work to embrace and express it.
For 30 years and more the Aussies have diss-ed this French word, which has no encompassing translation, but means, pretty much, a combination of the land, the soil, the vines, the climate, the weather, (wo)man's husbandry and stewardship, which results in wines that taste of where they're grown. A sense of place. It's wryly ironic, then, that the paradigm shift in Aussie viticulture which Allen explores involves the adoption of the terroir mantra, and more sustainable ways of growing grapes. But about time, frankly; Australia has hugely diverse vineyard regions.
The lion's share of the book is devoted to discussing these new, and some well-established but evolving, pioneers. Allen brings them alive on the page, with pithy passages from the horses' mouths. In this big section, interspersed among the producer listing, and on buff-coloured pages for ease of reference, are some detailed texts of the more prominent personalities for whatever classic, iconoclastic, fanatic, romantic reasons. For example, Michael Dhillon of Bindi is on these pages, as are the likes of Phillip Jones of Bass Phillip, Ron and Emily Laughton of Jasper Hill, Julian Castagna of Castagna and Peter Gago of Penfolds to name a few.
On other pages, highlighted in a greener hue, are small essays on wine industry developments such as Australia's fortified wines, biodynamics, packaging and Tassie bubblies etc. It would have been good to have had a list of these anecdotal essays in the contents, but that's the tiniest of gripes. The featured producers are all emboldened in the index.
The timing of the book could be a fillip for the Australian industry as it moves away from its old image of bargain basement 'sunshine in a bottle' wines to something more regional, more individual, more distinctive and distinguished.
As an aside, for UK readers to buy some of these wines, there may have to be an equivalent paradigm shift of shopping habits to indie merchants.
---
Please feel free to comment on this article