Published by Sally on February 18, 2012

| | |
| --- | --- |
| Title of book: | The Sotheby's Wine Encyclopedia |
| Author: | Tom Stevenson |
| Publisher: | Dorling Kindersley |
| Publication date: | 2011 (5th edition) |
| ISBN | 978 1 4053 5979 5 |
| Pages: | 736 |
| Price: | £35 |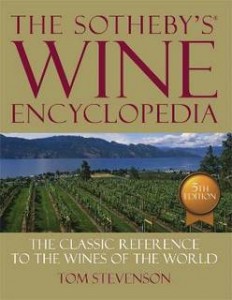 This is the fifth guise of this encyclopaedia which was first published in 1988. The hugely respected Tom Stevenson has revised and updated it, expanding its weighty girth by some 72 pages, or nearly 11%.  That the retail price has stayed at the same £35 since the fourth edition of 2005 I suspect says much more about the state of print publishing in an increasingly digital era than anything else. Good and value are words that immediately spring to mind.
Brand new is a nine-page pithy chronology of wine from 500 million BC to 1830s Champagne Juglar being found, in 2010, on a shipwreck off Finland.  There are concise snapshots from moments in history.  As a Brit, I'm obviously delighted that Christopher Merret merited a mention in 1662, a full six years before Dom Pérignon took up his post as cellarmaster at the abbey of Hautvilliers in 1668.
Gone is the emotively contentious, even now, 'terroir' chapter, to be separated out into individual entries for 'location', and 'climate' and 'soil'.  The same considerations are there, including (wo)man's effect, which is upgraded from box-out to main entry.  It's good to see the evolution in our understanding of terroir effects being more individually itemised.  And the terroir of oak barrels is expanded with a list of coopers.
Chapters are usefully expanded on tasting and assessing of wine, including a chart listing individual flavours within various categories of flavour. Thus the fruity category has a citrus sub-category with orange, lime, lemon and grapefruit individually listed.  This list is expanded in the following pages, suggesting wine styles where each aroma/flavour might be found, and it includes the chemical names for the aromas and flavours we see in wine.  As a bit of nerd for detail, this section appeals to me.
Only then are the wines of the world referenced, by country, packed with the expected stats and box-outs, as before.  If you have the previous issue of the encyclopaedia, you'll quickly see such things as Appellations d'Origine Contrôlée (or, now, AOP) wine in France declining from 58% to 51% of production, and the decline in numbers of growers making and selling their own wine from around 110,000 to around 95,000.
And so it goes on. To my mind this is one of the best wine reference books on the market.  And where this excellent book differs from the equally excellent Oxford Companion to Wine, is that with Stevenson's encyclopaedia readers can follow the cycle of grape growing and winemaking chronologically, referencing all the key moments and processes in (relative) order. Regions are then considered within the overall country header.  With the alphabetical listing of the OCW, this is not easily possible without flicking from one cross reference to another.
---
Please feel free to comment on this article