Published by Sally on March 27, 2011

| | |
| --- | --- |
| Title of book:   | The wines of Madeira |
| Author: | Trevor Elliott |
| Publisher: | Trevor Elliott Publishing |
| Publication date: | 2010 |
| ISBN      | 978-0-9566413-0-4 |
| Pages: | 192 |
| Price:   | £13.99 |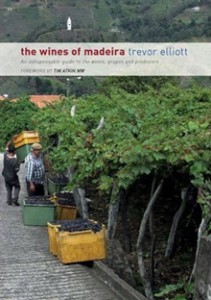 Elliott is a wine educator of very long standing, and in this book he brings together many years of specialist knowledge about Madeira.
He takes the reader carefully step by step, describing the various processes, challenges and issues of growing grapes in Madeira's special sort of Mediterranean climate, as well as how the range of grape varieties has evolved in the modern era.
The initial fermentation of the must follows some similar stages to other wines, so, as well as understanding Madeira's unique making process, readers will come away with some excellent details of general winemaking practice and some of the options that are available for making still light wine.
But it is the fortification and ageing process that make Madeira complex, almost indestructible and delicious.  Elliott explains how neutral grape spirit is used so as not to superimpose any of its own flavour on the resulting wine, and why the moment of fortification varies according to the style of wine being made – sweet styles being fortified early in the fermentation to retain as much natural grape sweetness as possible.
The complex maturation stage, which involves artificial or natural heating of the wine and some interaction with oxygen, are explained succinctly, as are the effects of this process on style.  Blending according to style and age specifications on the label is explained.
Elliott also devotes chapters on how best to store, serve and enjoy the various styles of this robust liquid, including explanations on the typical flavour profiles for each style. He even provides some food matching suggestions and some menus of 'Madeira suppers'.
This book is jam-packed with facts, including some fine detail of the winemaking options employed by some of the eight remaining Madeira producers. Their need to carefully co-ordinate the harvest from more than 1, 300 grape growers gives ways to some specific logistical considerations. The contact details and profiles of the eight are provided, as is a list of the styles of Madeira each makes.
---
Please feel free to comment on this article