Published by Sally on March 29, 2016

| | |
| --- | --- |
| Title of book: | Soave Volcanic Wines |
| Authors: | Eds: Aldo Lorenzoni and Giovanni Ponchia |
| Publisher: | Consorzio Tutela Vini Soave |
| Publication date: | 2015 |
| ISBN | |
| Pages: | 73 |
| Price: | |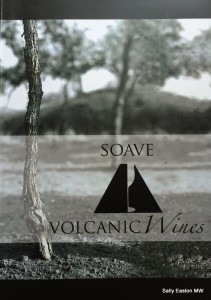 Are wines from volcanic soils the 'next big thing', even though we've been drinking them for ages, possibly without making the connection? This book explores the strong association of Soave with volcanic soils, and the latter part outlines other volcanic vineyards in Italy and around the world, some of which are well known internationally e.g. Orvieto, Vulture (Aglianico del), Etna, Pantelleria, Rangen (Alsace), Kaiserstuhl (Germany), Casablanca (Chile), Santorini (Greece).
The geological introduction is good, brief background. We learn about flat, Hawaiian lava flows, classic pyramid shapes (Etna) to those so explosive vast calderas are all that remain after an eruption (Vesuvius, Mt. St. Helen's). Apparently only 1% of the earth's surface is covered by volcanic soils.
We're then told there is no such thing as a single 'volcanic soil'. They can be light and pumice-based, or heavier, with clay, as in Soave. They can be basic (degradation of basalt), neutral (porphyry) or acidic (granite), depending on the amount of silica they contain. They are further influenced by how the rocks cooled, and what else has happened since. They are, however, all prized for the their wealth of minerals.
We learn a little about Soave, then we get to the soils, not just volcanic soils, because other soil types exist in the appellation. The black and red soils of volcanic origin and the white and yellow soils of limestone origin. It seems various volcanic activity occurred some 66 to 23 million years ago (mya), whilst (future) limestone sediments were depositing some 56 to 34 mya. Some geological detail is entered into. Volcanic outcrops are notable: Ronca, Terrossa, Montecchia di Crosara, La Fittà, Mount Foscarino, Monteforte d'Alpone. Both volcanic and limestone hills give way to plains of sedimented volcanic and of limestone materials.
White grape varieties are more commonly associated with volcanic soils – garganega and trebbiano of Soave, plus, from other regions, grechetto, moscato, falanghina and carricante. Aglianico and nerello mascalese are notable exceptions
There's plenty of good information in here for someone looking to delve further into wines from volcanic soils generally, and Soave in some detail. The book is in both Italian and English. It reads as though it may have been translated rather literally from the Italian, i.e. the English does not flow exceptionally well, but this is a small hazard that can be overcome with a modicum of forgiveness and concentration.
---
Please feel free to comment on this article