Published by Sally on October 31, 2012
4 Comments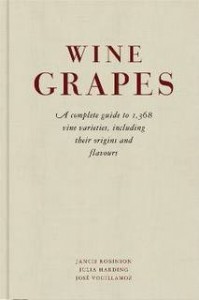 This book really will cause structural issues for any but the most robust of bookshelves.  It broke the bounds of my 3kg kitchen scales, and has replaced theoretical kilo bags of Tate and Lyle as my unit of weight loss measurement – fewer units, but, boy, the heft.
With its subtitle – a complete guide to 1,368 vine varieties including their origins and flavours – I'm faintly disappointed, in a slightly OCD way, they couldn't stretch the page count to match the number of varieties. That would have made a nice symmetry.
In all seriousness, this has been a much-awaited and anticipated book. It will undoubtedly race to its place ahead of the few other 'must stock' books in any serious winey-person's library.
In the future, possibly the very near future, the question that people will ask is going to be – what was the first cultivar you looked up?  Our gravitas, perhaps nerdiness or eccentricity, will be marked out and judged according to 'our first'.  So, confession time, mine was mauzac.  Having done a 'stage' in Gaillac as a prelude to my MW studies I've retained a fond affinity for this refreshing grape and the various styles it makes. Indeed my vinous 'alma mater' Domaine de Causse Marine is mentioned in the book as a top producer, so perhaps symmetry is restored already.  And the second grape I looked up? Ah, but like the Olympics, who will ever remember the name of the second-placed?
I was momentarily intrigued by an index in an alphabetically-ordered book, until the surprisingly useful 'how to use this book' informed me every synonym of all the 1,368 grapes is listed in the index which directs the reader to the name under which the entry is actually made.  The authors decided to use anteriority to rule that the oldest name should be the point of entry, or perhaps the name most commonly used.
This really came into its own for ugni blanc … which of those pesky trebbiano varieties is ugni blanc?  Trebbiano toscana, as it happens, the last of six discrete cultivars considered by the authors having trebbiano at the front of their vinously-aspiring, double-barrelled names.  And neither primitivo nor zinfandel had that variety's entry, which was found under tribidrag, letters I've never before knowingly juxtaposed to make a deliberate word, and one firmly ensconcing the origin of the variety in Croatia.
The book genuinely breaks new ground, which is (a) quite rare for wine books, (but see here), and (b) always a joy to fact-nerds like myself. Its main premise is to trace genetically the origins and ancestors of these grape varieties, and there are some surprises here. The Bordelais may yet have to cede the home of cabernet franc to Spain's Basque country for example. And staunch Tuscan cultivar sangiovese turns out to be a half-blood from Calabria.
The book also details where the cultivars are grown and gives indications of what the wines may taste like.
I love the idea of family and sibling rivalries between cultivars: that sauvignon blanc and chenin blanc are likely siblings, both the offspring of savagnin and an early anonymous donor; that savagnin is a grandparent of cabernet sauvignon. With such heritage, perhaps the Aussies may yet be reconciled to their inadvertent import of savagnin, believing it to be albariño.
Nor did I expect to see gewürztraminer referred to the savagnin entry, which turns out to be an ancient mother (or father) of (not quite) all varieties, even getting it together, in some familial form, with pinot partner gouais blanc. As well gewürztraminer and cabernet sauvignon, savagnin is genetically linked to petit and gros manseng, silvaner, rotgipfler and grüner veltliner, among others.
My only genuine disappointment is that our industry's leading lights continue to (allow the publisher to?) capitalise grape varieties when, as far as I can see, all the evidence from English language usage suggests this should not be case.
---
Comments
4 Responses to "Wine Grapes, Jancis Robinson, Julia Harding, José Vouillamoz"