Published by Sally on June 3, 2011
1 Comment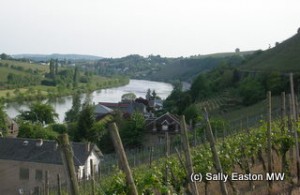 Landlocked Luxembourg in northern Europe is surrounded by France, Belgium and Germany. It is along a 42 kilometre stretch of the country's south east border with Germany where Luxembourg's approximately 1,300 hectares of vineyards are located. The river Moselle (Mosel in Germany) is the border and the vineyards lie above the river, between 150m and 250m above sea level, facing south-east to south, under a largely continental climate. 
The country's vineyard area is about the same size as the UK, which isn't bad for a country that is about two-thirds the size of the southern English county of Hampshire.
The evolution in vineyard plantings shows a country that's modernising its wine industry. Before phylloxera, in the late 19th century, elbling accounted for around 90% of the vineyard area.  As recently as 30 years ago elbling and rivaner were still the majority shareholders of vineyard plantings, but since then other grapes have come into play, including red variety pinot noir this millennium, and even Saint Laurent is a recent (very) minority player. 
| | | |
| --- | --- | --- |
| Variety | Hectares | % |
| Rivaner | 397 | 31 |
| Auxerrois | 176 | 14 |
| Pinot gris | 167 | 13 |
| Riesling | 164 | 13 |
| Pinot blanc | 139 | 11 |
| Elbling | 136 | 11 |
| Pinot noir | 84 | 7 |
| Gewürztraminer | 14 | 1 |
| Total | 1277 | 101 (rounding) |
Source: Institut-Viti-Vinicole, 2011
Co-operatives, grouped under the umbrella brand Domaines Vinsmoselle, are a dominant force in wine production, accounting for more than 60% of the vineyard area (over 800ha), and three-quarters of the growers, some 350 out of a total of 450 growers and producers. The rest of production is split not quite evenly between 54 growers and the rest negociants.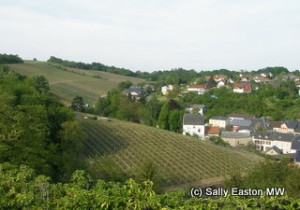 Production rules are quite generous, allowing yields up to 100hl/ha, so some of the private producers have organised themselves into three different 'charta' groups. Wines are made to additional 'charta' rules in order to lift the quality, including lower yields of 60hl/ha, though different charta groups have different rules.
Producers are able to make both non-charta and charta wines. Domaine et Tradition were the first charta group to establish, and "if it says Domaine et Tradition on the label, it's a charta wine" explained Anouk Bastian of Domaine Viticole Bastian Mathis.  The other two charta groups are Charta Privatwenzer and Charta Schengen.
Various styles of sparkling wine are also important. A lot of sparkling wine is made via the Charmat method, often using imported must. But in 1991 the traditional method, Crémant de Luxembourg, was created, and, said Dr Robert Ley, director of the Institute Viti-Vinicole, "between 15 and 20% of total grape production is used for crémant."
Crémant conforms to EU specifications such as second fermentation in bottle plus a minimum of nine months on the lees, and it can be made from any of the 15 grape varieties authorised in Luxembourg. As well as those listed in the chart, the others are: chardonnay, pinot noir précoce, Saint Laurent, sylvaner, gamay, sauvignon blanc, and muscat ottonel. The main style made is brut.
The biggest producer of sparkling wine (all styles) is Caves Bernard Massard, where around 3m bottles of bubbles are made. Some 10% of this production is Crémant de Luxembourg. Most of the rest is traditional method, with winemaker Peter Rummel saying "we make sparkling wines of different qualities, and we also buy fruit from different European states, for example France and Italy."
Other large producers of sparkling wine include Domaines Vinsmoselle, Caves Gales and Caves Desom.
Wines tasted in situ, May 2011
On the basis of the wines tasted during my recent visit, there's clearly an opportunity to reduce the residual sugars in many wines, and apparently this is beginning to happen according to Dr Ley who said "we were higher. We are trying to get less residual sugar in our white wines." There is plenty of acidity in the wines to tolerate a little balancing sweetness, but some wines lacked density and intensity, making them at best fit the style of 'gentle aperitif' rather than something more substantive and substantial.
On the evidence below, still wines were showing better than sparkling wines – all the below are still.
Domaine Mathis Bastian, Domaine et Tradition Riesling 2009,
Lemon grass and lime on nose, limey palate, crisp, with aptly balancing sweetness. Light, and with some nice intensity.  
Domaine Gales, Domaine et Tradition Pinot Gris 2009
Peach and almond blossom nose, bit of medium weight glycerol and white pepper spice.  Nicely balanced, with hints of sweetness.  
Domaine Mme Aly Duhr, Domaine et Tradition, Pinot Gris, Ahn Hofhels 2009
Peachy and erring to tropical, aromatic spices and sour-cream texture. Rich and overtly off dry. Medium bodied, good density and freshness of flavour, balanced out by the acidity.
Domaine Viticole Krier-Welbes, Pinot Gris Bech Kleinmacher Naumberg 2009
(Charta Privatwenzer). Rich nose, creamed fresh almonds and floral, medium body, nice freshness with glycerol-textured sweetness; good.
Caves Berna, Pinot Gris Ahner Vogelsang 2009  
(Charta Privatwenzer) Fresh, white nuts, some tropical, creamy notes. Rich and sweet fruit, off dry style. Fresh core, keeps the whole balanced. White pepper spice.
Caves St Martin, Riesling 2009
(Charta Schengen). Fresh, lime and apples, classic cool varietal flavours, and with some fruitiness here. Nice balanced in fresh and light style with a bit of density.  Good.
---
Comments
One Response to "Luxembourg wines"
Tom Lewis Says:
June 5, 2011 at 7:08 pm

Hello Sally

Interesting post – I first became aware that Luxembourg makes wine on a visit there a few years ago.

We didn't buy any as they were not cheap and we had a bootful of Alsace wines anyway, but I guess I should have got one or two just for the experience.

My general impression is that, as you get further north in Alsace, quality decreases – and then you get to Luxembourg.

Are there any here you would recommend as more than just niche interest ?

Cheers, Tom