Published by Sally on May 2, 2011
2 Comments
A five-hectare vineyard plot in Bernardvillé forms the core of a Michel Chapoutier Alsatian joint venture for a series of wines sold under the Shieferkopf label.
The name, meaning hill of schist, is one of the highest vineyards in Alsace at 380m above sea level. Total production amounts to 2,500 cases.
Chapoutier's joint venture is with an eclectic group of friends who call themselves the club des cinq, after a children's book: the lawyer, the retailer, the transporter and the brewer joined forces with the winemaker to work the patchwork of schist soils in Alsace, which Chapoutier said give 'poise and austerity to the wines, with high minerality.'  
Even the type of schist becomes important. Chapoutier said "Kastelberg is on black schist, which has less clay which gives a harder, more mineral, austere wine" compared to the blue schist of the property, adding "where there is more clay, there is more power and roundness." 
As well as five rieslings, sylvaner and pinot gris are made. Chapoutier was "impressed by some Franken wines, and sylvaner is a good introduction for Alsace." The fruit for the sylvaner is bought in from outside the domaine, as it is for the two grand cru rieslings.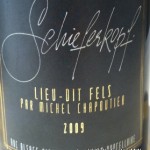 Whilst the wines follow traditional fermentation in big Alsatian casks, Chapoutier has marked a line in the sand with these wines:  all are dry and all have undergone malolactic fermentation.  Neither of these practices is widely common in Alsace. He added "the idea for all our Alsace wines is simple: we wanted wines with no residual sugar." Additionally, "we add very late sulphites, and have no hyper-protection against oxidation."
He also said he doesn't want to make a "Chapoutier wine.  We won't try to extract power. We want the soil to speak for itself, we want minerality," adding he wants to make a style between the German and the Alsatian.
Tasting notes, London, April 2011
Sylvaner 2009, Alsace, ~£11
White nuts and almond skins. Elusive aromas, with smooth and silky texture and a hint of pink pepper spice.  Quite full and round-bodied, with lush fruits and white pepper hints.
Pinot Gris 2009, ~£14
White pepper, then orange peel and marshmallow. Lush and fat, yet fresh. Creamy texture, which more than makes up for subdued aromas.  Rich almond cream and white floral flavours.
Chapoutier: "we want an elegant bitterness in this wine"
Riesling 2009, ~£14
Peachy and citrus. Lime flowers with some pithy citrus notes. Aromatic core with smooth, rounded texture, and sweet fruit, and attractive freshness at the back of the palate.
Riesling Kastelberg 2009, Alsace Grand Cru, ~£18
Fat, peachy and tropical notes on the nose, Creamy, texture with peach and apricot fruits, but all a bit reticent to come forward on this tasting.
Riesling Wiebelsberg 2009, Alsace Grand Cru, ~£18
This is on pink sandstone. Chapoutier: "it is naturally a wine with a lower level of fatness. It's impossible to have power on a sandstone soil."
Floral nose, with sweet fruit of peach and pear.  Linear , lifted and refined creamily textured wine, with expressive elegance and aroma.  Long finish.
Riesling Buehl 2009, Lieu-Dit, ~£25  
From a 1.2ha plot. South facing slopes on blue schist at 330m.
Stony, peachy nose; elusive aroma. Silky palate, textured and soft. Full, creamy, spicy and stony with long finish.
Chapoutier: "a litte touch of bitterness and saltiness here is typical with apricots and apricot flower."
Riesling Fels 2009, Lieu-Dit, ~£28
From a 0.8ha plot, higher altitude than Buehl, at 350m, and facing south-east
Peachy with hints of firestone and tropical fruits. Rich, quite full bodied, with sweetly-ripe fruits, peaches and crème fraiche, all with a softness of texture. Good. 
Chapoutier: "tobacco leaf and apricots."
---
Comments
2 Responses to "Chapoutier's Schieferkopf in Alsace"
Tom Lewis Says:
May 3, 2011 at 1:34 pm

Good article Sally – I'm a big fan of Alsace wines but I was really intrigued by your quote about the type of schist being key.

Any thoughts on where's a good place to start learning about how specific soil types affect the resulting wine ?

Many thanks, Tom

Sally Says:
May 4, 2011 at 8:03 am

Thanks Tom, glad you liked the article. The wines were pretty interesting and I liked the simplicity of the 'all dry' statement. You ask one of the million dollar questions about fine wine. James Wilson's book entitled 'Terroir' is probably as good a place as any to start. He's a geologist. Sally