Published by Sally on October 25, 2011

Nearly midway between Angers and Tours, along the middle part of the Loire's languid length lies its clutch of red wine appellations, and it is the village of Dampierre-sur-Loire, near Saumur, that Château du Hureau has carved its reputation.
Philipp Vatan took over the estate from his father in 1987, which now comprises 20 hectares in some 20 parcels. More than 90% of his vineyards are planted to cabernet franc in the 1,500 hectare Saumur Champigny appellation, with just 1.5ha planted to chenin blanc, from which he makes Saumur sec, and Coteaux de Saumur, a rare late harvest wine.
The cellar doors open straight into the 20m high tufa cliff running along the south side of the Loire river. The original caves in which the winery is established were quarried in the 11th to 13th centuries for the tufa type of limestone that was used for building material all along the river.
The cellars are 10° to 11°C all year round, which may be great for sparkling and white wine, but, said Vatan "the constant temperature is a problem for reds. And we have to cool the temperature mechanically to 0°C for two to three weeks for tartrate stabilisation. Otherwise for all other things it's good.
He's recently invested in a new 32 hectolitre oak cask, first used for his 2010 white wine. He said "in my cool cave I have difficultly fermenting in barrel, it's hard to finish the fermentation" fully dry. But he added, the cask "has temperature inertia, and I can put a heater in it to maintain 15°C at the end of fermentation." So pleased is he with the result, he's bought two more for his red ferments. Given the size of cask and Vatan's choice of very little toasting, there's minimal new oak flavour even in the first uses.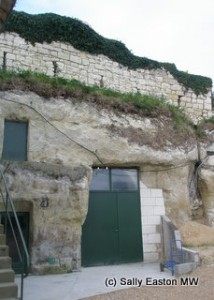 The reds have a better time in the vineyard, where Vatan said they "never suffer drought, nor have too much water" because some 300 litres of water is stored in each cubic metre of tufa, though the roots have to work hard to release water from the rock.  For this reason Vatan said "cabernet franc on tuffeau remains fresh despite heat" such as in 2003.
Vatan has more than two dozen red vineyard parcels and, he said "it's important to separate the terroirs in Saumur Champigny.  Where the tufa is deeper, it is better for lighter [bodied] reds and for white wines. Other factors include the exposition and the depth of soil above the tufa, which can be 50cm or 5m deep"
Vatan began practising organics in 2007, and started the certification conversion in 2011.  One of the things he's currently experimenting is cultivating a low-growing plant immediately under the vine which means he has only to plough in the mid-row. As ploughing needs to be done three or four times a year, he's keen to avoid damage to the vine trunk which can occur with under-vine ploughing.
What he's finding in the glass is "a different flavour, a purity that most of the time we don't have in the classical non-organic way.  Acidity is just a bit higher, which gives a lot of freshness to the wines."
Wine tasting, in situ, August 2011
Château du Hureau, Rosanna 2008 Saumur brut rosé, €10
Just 3,000 bottles made, from 90% cabernet franc and 10% chenin, named after Vatan's granddaughter, Anna.  One year on the lees.
Strawberry bubblegum nose, nuanced with rose petals. Nicely balanced, good density of elegant red fruit flavours. Refreshing.
Château du Hureau, Tuffe 2009, Saumur Champigny, €9
From 15 parcels, old and young vines, different aspects. About 80,000 bottles produced.
Aromatic, violets, pure raspberry and redcurrant, with light chalky tannin at the front palate. Nice.
Château du Hureau, Fours à Chaux 2009 Saumur Champigny €13
Vatan "from one of the best terroirs of Saumur Champigny, a reference terroir for thin soil on tuffeau." No wood, no stems.
Smoky, hint graphite, sweet density of baked raspberries. Supple tannins, mouth-filling fruit. Chalky dry finish. Palate is filled with fruit. Good.
Château du Hureau, Les Fevettes 2009, Saumur Champigny, €13
Vatan: "I separated this cru for the first time in 1989. It's an old massale." Seventy year old vineyards; deep tufa, no oak.
Plenty of perfume, lifted violets.  Elegant attack, raspberries, blueberries, lovely purity and backbone, with supple tannin endoskeleton. Delicious, with long, earthy graphite core. Vg.
Château du Hureau, Lisagathe 2009, Saumur-Champigny, €17
Named after daughters Lisa and Agathe. Vatan: "a particular way of ageing – no oak at all – aged without sulphur for a long time then I added some sulphur at the end."
Hint of tarry smokiness on the nose here, dark, sweet blueberry and dark cherry palate attack, smooth and fine grain texture, elegant and serious. Complex and refined. Will age nicely I think. Delicious. Vg.
Château du Hureau, Les Fevettes 2005, Saumur Champigny,
Perfume, violets, dry compost, enticing, everything is perfectly in its place, fresh sweet fruits, hints of sweet-savoury notes. Long, elegant, linear, seamless. Lush and perky at the same time. Vvg.
Château du Hureau, Lisagathe 2003, Saumur Champigny
Hints of smoky development on the nose, with fresh, dry compost, and supple, sweet fruit. Gentle even, despite 14% alcohol which is seamlessly integrated. Hints of earthy mushroom amid plentiful sweet fruit.
Château du Hureau, Coteaux de Saumur 2005 €40 / 50cl
Rare appellation, only about 15ha. Solely from chenin blanc in sweet style.
Vatan's most recent vintage; not made since 2005. Uses both passerillé and botrytis fruit. 11.5%; ~10g/l TA; 240g/l RS
Pale gold colour. Aromatic wafty smok nose with spiced ginger. Fresh and concentrated dried apricots, quince and nectarine, with a deceptive lightness of being. Complex, lush-and-fresh, linear, long. Lovely.
My research visit to the Loire in August 2011 was sponsored by InterLoire.
---
Please feel free to comment on this article