Published by Sally on September 21, 2012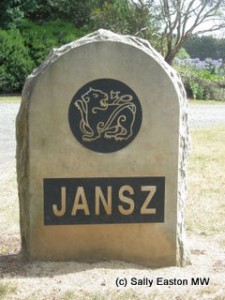 What's now known as Jansz (from Abel Tasman's middle name), was established in 1975, in the Pipers River area of north-east Tasmania.  The 24 hectare vineyard had been part of the original Heemskerk property, and a new lease of life began in 1998 when the Hill-Smith family bought it.
Winemaker Natalie Fryar joined soon afterwards, at the beginning of 2001, and, having "inherited an elegant and restrained style which is more chardonnay-dominant, because that's how our vineyards were planted, I'm trying to continue that."
Jansz is a rare type of new world producer that only makes sparkling wines and traditional method sparkling wines at that. As with Champagne, the lion's share of production is the house NV (non-vintage) style. To keep the aperitif style of this wine, Fryar said "we avoid things such as warm fermentation and high solids, which give rich, toasty, complex sulphide notes." The two NV wines use fruit bought from growers on the island state. Then all the vintage-specific wines use fruit from the Jansz vineyard, which surrounds the tasting room. Jansz is pure Tasmania.
One of the early evolutions following the Hill-Smith purchase has been to do part of the elaboration in South Australia. When the family first bought Jansz, the wine was made at Pipers Brook. But, said Fryar "when we started to work with growers, and doing vintage, then we started to go to the mainland." She said "pressing, juice clarification, blending and some base wine fermentation is done [in Pipers River]. The rest is done at Angaston in the Barossa valley."
This follows a lot of time spent in the vineyard by Fryar, who "likes dappled light for sparkling wine fruit.  I want to see the fruit, but to have it mostly covered" she said.  This is because "too much exposure gives increased phenolics [via thicker skins], plus a loss of acidity", where plenty of acidity is essential for high quality sparkling wine.  Plus, she added, if there's too much light "the sparkling flavour window is reduced because the fruit moves to table wine flavours very quickly." Getting these details right in a cool, mostly maritime climate can be a challenge.
For the vintage cuvées, Fryar ferments at least half the base wine in old barrels. "It still provides phenolics" she said "and an oxidative fermentation environment, which changes the yeast to wine ratios, and moves into tertiary characters more quickly, away from primary fruit." The phenolics are important to support acidity, she added, you have "the acidity and sugar balance, then phenolics come in to the point of balance." These are much more structured wines.
Fryar uses multiple other levels of winemaking philosophy to "demonstrate that Tasmania is a great sparkling wine region, measured against anything", she said.  Time on lees is one thing, "it takes 18 months in Tasmania to show autolytic character; longer on the mainland."  Using reserve wines is another, she explained "you can use reserve wine with 4-5 years' age, with aged characters to bring forward a wine that's not coming forward as fast as you think." And the reserve wines may be aged in oak, or stainless steel, or kept in bottle for other nuances.
Then adding the dosage/liqueur immediately prior to corking "is the last time the winemaking gets to do anything with the wine." It's a complex process, Fryar said "every single wine has its own liqueur and every single vintage of every single wine has its own liqueur.  I make a whole range of liqueur trials and taste against each vintage wine."
And this has just touched on a few facets of Fryar's multiple-aspect philosophy.
Tasting notes, in situ, February 2012
Jansz, NV $27
55% chardonnay; 45% pinot noir; 2 years on lees.
Fine mousse with citrus, melon, white peach fruits. Bright, elegant fruits, light and lifted on the palate, with the focus on fruit rather than leesy, toasty character, in keeping with the aperitif style. Nicely balanced and fresh.
Jansz, NV Rosé
65% pinot noir; 30% chardonnay; 5% pinot meunier; 3 years on lees. This has extra time on lees to add to the creamy texture.
Pale onion skin colour, with a rich, sweet, ripe-fruit touch, which Fryar said "adds mid-palate weight as well as sweetness", amid bountiful strawberry fruits in a fresh, all-too easy drinking style.
Jansz, 2006 ~$45
Half fermented in old oak. 60% chardonnay; 40% pinot noir; 4 years, 8 months on lees.
Warm, broad lemon tart tatin, with rich body and volume of fruit of great intensity. Still has rich primary fruit, now with added layers. Savoury elements coming in here, toast, roasted almonds. Vg.
Jansz, 2007 Rosé
All fermented in old oak. 100% pinot noir.
Pale pink colour. Strawberry and cranberry. Really intense fruit, aromatic, bit funky actually. Then into savoury, roasted characters. Big, powerful concentrated wine, and really fresh. Vg.
Jansz, 2003 Late Disgorged
The same wine as its vintage, but aged longer on lees, around eight years in total.
Baked lemon nose, spicy, tertiary characters, smoke, gunflint even. Fresh, round, full and with an attractive balance.
Jansz, 2004 Late Disgorged, $48
Lemon cream with rich, creamy sweet-lemon syllabub yeastiness. Smooth and silky texture, rich, dense, fresh, moreish.  Really fresh and tasty. Vg.
My research visit to Australia in February 2012 was sponsored by Wine Australia and Wine Tasmania.
---
Please feel free to comment on this article