Published by Sally on June 13, 2012

The family of twelve New Zealand producers first got together in 2005 to jointly promote their wines in export markets. They are all family or privately-owned companies, who, said chairman Clive Weston, of Nautilus Estate "apply family rather than corporate values to our work together."
Explaining the rationale, he added "twelve is a manageable size and provides a snapshot of virtually the whole New Zealand wine-field at any point in time." The group is egalitarian with six producers each from North and South islands.
The idea, said group member Paul Brajkovich is to "collectively raise awareness of the quality, essence and diversity of New Zealand wine which in turn helps us all."
Thus it was that one pinot noir from each of the twelve provided the theme for a tasting in London in May, even though pinot noir is not necessarily the overt strength of all the producers.
Regional expression of New Zealand pinot noir is an oft-discussed theme at the moment, and one that is likely to continue awhile, though differences in winemaking practice are also at a pretty early stage in development, with varying degrees of whole cluster fermentation, indigenous yeast, clonal evolution and proportion and length of time in new oak all playing a role in determining style and flavour.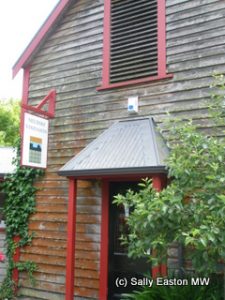 Marlborough, by far the largest wine growing region in New Zealand has arguably the greatest diversity of style (the least regional identity) of pinot noir.  Katy Prescott, global sales and marketing manager at Nautilus Estate, said "the Marlborough style of pinot noir is changing as producers move to the southern valleys, on clay soils", adding "on stony soils you get light, bony pinot noir." No surprise then, that the four Marlborough wines here are mostly on the southern clays.
Penny Fear, the UK/Ireland/Russia market manager for Villa Maria, added "the Awatere valley is more exposed [than the more northerly Wairau valley], which gives a spicy style with firmer tannins."
Whilst North Island has more clay and volcanic soils, South Island soils are often derived from glacial soils. James Millton said the Felton Road vineyard (Central Otago, South Island) is "schist soils with clay and glacial influence, with a continental climate influence. The practices here are different" from vineyards on the north-east coast of North Island in Gisborne, which, he said "are the first vineyards in the world to see the sun each day."
His own vineyards, on a hillside just 5km from the south Pacific ocean in Gisborne (North Island) are cooled by the ocean.  As a result of this location, and the biodynamism that he's practised for 30 years, he's "looking for velvet, not silky characters" in his pinot noir, he said.
The only safe conclusion is that it's still very early days in the regionalisation equation, and separating winemaking influence from any evolving regional style will take some time and study.
Tasting notes, London, May 2012
Kumeu River, Estate Pinot Noir 2010, Auckland ~£15
Smoky, black fruit, tar nose, high-toned new oak, plush smooth texture, with dark spices and medium body. Straightforward and good for that.
Millton Vineyard, Clos de Ste Anne, Naboth's Vineyard Pinot Noir 2009, Gisborne ~£23
Medium pale colour, wild strawberry aromatics. Layered and complex mid palate, savoury, lifted note at front, silky young texture with great depth of fruit and graphite note. Complex, dry-roast summer berry fruits of big, delineated concentration. Delicious, very long finish.
Ata Rangi, Pinot Noir 2010, Martinborough ~£43
Perfumed violet and cherry nose, smooth, hint of fruit-sweet palate attack in otherwise crunchy fruit. Slippery-smooth texture, and fine-ness of mouthfeel. Savoury graphite note at back palate. Youthful, with very long finish.
Palliser Estate, Pinot Noir 2009, Martinborough ~£16
Rounded, ripe summer berry fruits on the nose, strawberry and raspberry. Medium plus body, with tarry smokiness of oak evident on the palate; tarry, black pepper with overt new oak spiciness.  The most overtly oak of the flight. Alcohol of 14.5% is integrated.
Craggy Range, Te Muna Rd Vineyard Pinot Noir 2010, Martinborough, ~£25
Floral perfume of rose and violet with a dark cherry attack on palate. Very smooth texture, beguiling and chiffon-blanketing. Sophistication here alongside an intensity and depth of fruit. Long and vg.
Nautilus Estate, Pinot Noir 2010, Marlborough ~£17
Not such an aromatic wine. Crunchy, straightforward, simple red berry fruits, with some chunkiness from new oak spices and tannic support.
Lawson's Dry Hills, Pinot Noir 2010, Marlborough ~£15
Bright red cherries, hint of bitter tarriness on side palate, which feels like it will be subsumed by fresh red berry fruit, which comes out more in the glass. Straight and good with decent length.
Fromm Winery, Clayvin Vineyard Pinot Noir 2010, Marlborough ~£35
Smoky nose, bright crunchy red fruits, very smooth fruits, youthful and full flavoured, in a body that's just above medium. Layered flavours of warm red berry fruit, and  the gentlest of aromatic spices. Complex, savoury, long. Vg.
Villa Maria, Single Vineyard Taylors Pass Pinot Noir 2007, Marlborough ~£22
Maturity showing here with some farmyard notes developing attractively. Almost full bodied, and broadening with the feel of a bit of tannic grip (in pinot noir relativity terms).
Neudorf Vineyards, Moutere Pinot Noir 2010, Nelson ~£39
Nose a bit closed, with bright red fruits beginning to emerge. Super silky palate, plush and lush, dry, with fresh strawberry and raspberry fruits. Savoury complexing notes in a beautifully proportioned whole. Long and vg.
Pegasus Bay, Pinot Noir 2009, Canterbury ~£22
Florally perfumed with rose, lilac and violet notes. Smooth-textured, with rich-fresh fruits and a fruitcake background, which tastes fresh rather than showing developed characters.  A bit more than medium bodied, with plush flavours and a long, warm-spicy finish.
Felton Road, Calvert Pinot Noir 2010, Central Otago ~£29
Fresh, crunchy blackberries, with a bit of smokiness on the backbone. Dark and just a bit brooding in a youthful, moody fashion. Warming texture, upright frame with bright fruit finish.  Decent and just the tiniest bit disappointing with all the expectation from the Felton Road moniker.
---
Please feel free to comment on this article