Published by Sally on August 4, 2015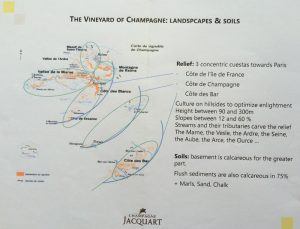 During a recent visit to Jacquart, the erudite and understatedly dynamic chief winemaker, Floriane Eznack, introduced a view of Champagne regions that I'd not encountered before.
None of the books I've got discuss sub-regions in this way (see map, which should enlarge), namely a series of concentric largely south-east facing scarps/slopes. A trawl of t'internet has revealed nothing enlightening in this vein.
Has anyone encountered this outline of Champagne regions, which differs a little from the classic "five sub-regions" approach?  What, if anything, is the terroiristic significance of the three radiating scarps/slopes?
That the Montagne de Reims, the Marne Valley and the Côte des Blancs are part of the Ile de France is part of the status quo. This landscape model has the Côte des Blancs, along with its typically less favoured southerly extension the Côte de Sézanne, and the eastern edge of the Montagne de Reims collectively forming the Côte de l'île de France –  that roughly south-east facing edge of the geological plateau of the Ile de France, which is underlain by Cretaceous chalk.
According to this model, a middle scarp – the Côte de Champagne – comprises the chardonnay-favoured hillside at Montgueux, just west of Troyes (incidentally the historical capital of Champagne in the 11th century), with Vitry at its other end. The soils here are also cretaceous.
The Côte des Bar (Aube) forms the south-easternmost scarp. This is the region which supplies many of the big-name houses with black grapes. Here the soils are markedly different. They are not the chalky Cretaceous soils of the Marne valley. They are the chalky marl Kimmeridgian soils of the Jurassic. These are the same soils of the Loire's Central Vineyards, and of Chablis.
Does such an alternative model help understand quality sites in Champagne? The map suggests these three scarps have some themes: altitude above sea level between 90m and 300m; slopes angled between 12 and 60%, cut through by various tributaries which offer numerous aspects and expositions. The soils, already noted, are not all the same.
Can anyone expand on this theme?
My visit was sponsored by Jacquart Champagne.
---
Please feel free to comment on this article