Published by Sally on January 31, 2010

A tasting seminar of low dosage and no dosage champagnes was hosted by the president of Champagne Ayala, Hervé Augustin in London in January 2010.
Champagne Ayala
 is the only non-German, non-French name in Champagne. It was founded in 1860, two years after Spaniard Edmond de Ayala married Gabrielle d'Albrecht along with her dowry of the Château d'Aÿ and some very nice vineyards in Aÿ and Mareuil sur Aÿ, in the Montagne de Reims region.
In 2005 Champagne Ayala was bought by the company that also owns Champagne Bollinger – Société Jacques Bollinger. The SJB portfolio also includes Domaine Chanson in Burgundy, Langlois-Château in the Loire and Cognac Delamain. 
Augustin explained Ayala's route towards low and no dosage Champagnes. He said: "dosage [generally] used to be very high, for example 100g/l RS [residual sugar] in the UK, in Germany up to 150-160g/l. In Russia it was up to 330g/l RS."  The 1876 Cristal from Louis Roederer, for example, had over 100g/l RS.
"Ayala is said to have shipped the 1865 vintage in 1870 with dosage as low as 20g/l RS, which was like a revolution at that time, though now, it seems high," adding "in 1913, even the Grandes Marques of Champagne refused to sell low dosage champagne."
After the house was bought by Bollinger, a clear revitalising strategy was laid. Augustin had been the number two to Ghislain de Montgolfier at Bollinger, and was parachuted in to Ayala, with the mission of keeping a distinct identity, separate from that of Bolly.  Ayala uses no oak and no malolactic fermentation, for example.  
Augustin said: "we had to find a new way to have a clean position in Champagne.  When I arrived, we discussed dosage with the cellar master. The wines were good but with too much dosage, around 10g/l, though this is not high now for Champagne."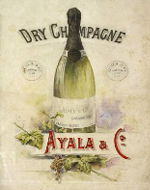 They were keen to get a move on, so in conjunction with Nicolas Klym, who has been cellar master at Ayala for thirty years, they decided on a zero dosage cuvée to present at an international wine trade exhibition in the middle of 2005. Augustin said: "it was a completely new philosophy for champagne. We could not build a new cuvee; it was the cuvee built three years previously."
Another five years on, and two ranges exist:  the low dosage range, with maximum residual sugars of 8g/l; and a zero dosage range, with no added residual sugars.
Low dosage range
Brut Majeur
Perle d'Ayala (prestige cuvée)
Rosé Majeur NV
Millésimé
Blanc de Blancs
Rich Majeur
Zero dosage range
Brut Nature NV
Perle d'Ayala Nature (prestige cuvée)
Cuvée Rosé Nature
A note on dosage
Champagne spends many months, sometimes years maturing in bottle on its yeast lees.  At the end of this time, the wine is 'disgorged', meaning the yeast lees are removed.  A final 'dosage' – a wine/sugar solution – is added immediately afterwards, which gives the wine the level of dryness/sweetness required by the cellar master.
A note on Brut 
Brut Champagne, by law, can have anything between 0 and 15g/l of residual sugars. Normally the wines taste dry because of the high acidity levels in Champagne, that palate-tingling freshness common in so many bubblies.
Quite often Brut Champagnes have around 12-13g/l RS as a result of the dosage, though the overall trend seems to be a slow reduction in this amount.  This is partly a stylistic tweaking by individual houses and partly a result of recent warmer ripening conditions in the region which means that acidities are coming down a tiny bit.  In turn this obviates the need to add as much sugar in the dosage.
For whatever reason, Augustin believes in zero dosage, saying it's "a big trend for the future.  I believe zero dosage will be more important than rosé in 20 years. And we want to be the pioneer and leader of that segment of the market."
One of the unusual things about Ayala is, Augustin said, that "100% of our stock is able to be zero dosage. We do not have two cuvees [of the Brut]. If there was a great demand tomorrow, 100% of our brut could be zero dosage."  He added "others [Champagne houses] are building a separate cuvee for their zd. Here we have only one stock."  Louis Roederer, for example, are aiming to release a zero dosage towards the end of 2010.
At the moment just 5% of Ayala Brut is sold in zero dosage. They're ready to immediately meet any increase in demand, but given that zero dosage Champagne is a taste that needs to be acquired, they're not likely to see an immediate rush on stocks.
Tasting notes, January 2010, London.
We compared the first three wines in each range.
The first two, Brut Nature NV and Brut Majeur NV, are the same wine maturing on lees, until the moment of disgorgement.  It is only then, at disgorgement, that the dosage is added, or not. Both are the same blend, with the same length of time on the lees, more than two and a half years.
Brut Nature NV
40% pinot noir; 40% chardonnay; 20% pinot meunier
Dosage: zero
Augustin: the wine has "citrus, purity and precision.  There is a marine air from no dosage."
As if by association I pick up a salty, yeasty, dry tang on the nose. The effervescence is attractive and smooth, the core is tight and clenched.  The wine is palate tingling-ly fresh, with savoury, dried bread notes.  There is not much berry fruit expression.  It is tight and angular, with steely notes and a fine mousse.
Brut Majeur NV
40% pinot noir; 40% chardonnay; 20% pinot meunier
Dosage: 8g/l RS
This is much more floral, more forthcoming, more expressive on the nose, with white flowers, buttery bread, and red berry fruits. The palate is fuller, with a more expressive and softer body, not surprisingly, given the note of sweetness from the dosage. The wine is easier and friendlier on the palate, giving it a much wider appeal.  It's fresh and youthful, with a long fruity finish.
The prestige cuvée Perle d'Ayala is also made from the same base wine, aged for the same length of time, so again we're comparing the organoleptic effects of the dosage.
Perle d'Ayala Nature 2002
80% chardonnay; 20% pinot noir
Dosage: zero
Aged six years on lees
Creamy, soft, citrus; intense on the nose. Rich, savoury, toastiness on the palate from long lees ageing; supple and mouth-filling. Remarkably lush flavours, considering the zero dosage, but no overt 'fruitiness'. Good complexity and volume. Creamy persistent mousse and long creamy finish.
Perle d'Ayala 2002
80% chardonnay; 20% pinot noir
Aged six years on lees
Dosage: 7.4g/l RS
Fruit to the fore on this one, with white flowers and citrus, supple attack, with the little bit of sweetness obvious by comparison to the zero dosage version; it's a little softer and simpler, a bit fuller on the palate without adding vinosity or complexity. And this has none of the savoury toastiness coming through. 
The umbrella house style with the rosés is for a high proportion of chardonnay.
Unlike the previous pairs, the rosés do not come from the same base wine, or predominantly the same vintage. 
Cuvée Rosé Nature NV
Augustin: "The first rosé without any dosage made by a Champagne house."
Augustin: "this is for people who don't do rosés. High dosage and high pinot noir [found in some other Champagne houses] can make a rosé heavy." 
50% chardonnay; 40% pinot noir including some still red wine; 10% pinot meunier
Dosage: zero
Quite a deep salmon pink. Faintly spicy strawberry fruit on the nose, with a fresh palate attack, tight and angular, softening into gentle mousse, with nicely toned fruit structure. Good vinosity and backbone with a long finish.
Rosé Majeur NV
50% chardonnay; 40% pinot noir including some still red wine; 10% pinot meunier
Dosage: 7g/l
Deep rose petal pink. Greater fruitier aroma, fresh red berries, with citrus lift, soft, caressing mousse with lovely depth of flavour. Fuller, broader mouth texture, and somehow less complex.
Observations
The low dosage works really well, but as I find I prefer Bruts with lower rather than higher dosage this is no surprise. I've started to notice those brut Champagnes with higher dosage. I tend to mark them down for an element of overt sweetness, and a bit of flattening of fruit aroma and flavour.
In comparison to the zero dosage opposite numbers, the low dosage appeared less complex, perhaps less erudite, but easier to appreciate, and with a much broader appeal.
The zero dosage seems quite an 'intellectual' style of wine, requiring critique and analysis. Maybe this is in part its newness as a category (and to me). The wines are clearly good, though I'm not convinced I yet need to intellectualise and analyse when I'm consuming Champagne; I rather want to enjoy it without consciously doing so.
---
Please feel free to comment on this article