Published by Sally on June 16, 2016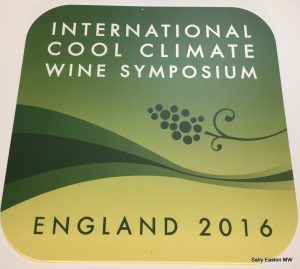 The 9th international cool climate wine symposium took place in Brighton, UK, last month – "the first serious academic wine symposium to take place in the British Isles" said keynote speaker Jancis Robinson MW. Six hundred delegates from 30 countries, as far afield as New Zealand and Patagonia, is not a bad draw. After nearly thirty sessions in three days of sharing cool climate research and expertise, both the UK's reputation and some of the exigencies and rewards of growing grapes successfully in cool climates have been firmly planted in people's minds.
Cool climate is important, giving rise to a genre of wine style that typically focuses on purity of expression, on freshness of palate, and concentration of perfumes. "Many of the world's finest wines are made in relatively cool climates" Robinson added. And the UK is certainly one of those cool climates. Indeed the country is one at the very cool margins of viticulture that has benefited from a modicum of climate change.
Between a bit of climate warming and increased professionalism in the industry, quality has been consistently improving for a number of years. Robinson said "Brits can now boast about the quality of our wine. We Brits are thoroughly proud of our native ferments … if a little bemused." It's true. We do seem to be taken aback slightly at the quality and success of the wines now being produced. Wines that are making inroads (tracks, maybe) on export markets. Sparkling wines that outclass Champagnes in blind tastings. Since the turn of the millennium English sparkling wines have been awarded nine trophies for 'best international sparkling wine' in international competitions. The country is consistently putting flavour and personality into home-grown bottles of wine.
The modern UK industry has thoroughly prioritised traditional method sparkling wine, which now accounts for some two-thirds of production. The scales were tipped in 2010 – the year sparkling production overtook still production. The three grape varieties most commonly used to make traditional method sparkling wine – chardonnay, pinot noir and pinot meunier – account for the half the total plantings.
For still wine bacchus is arguably the grape variety producing the most exciting wines. And in the zeitgeist of the modern wine world, where we see 'signature' or 'flagship' grape varieties being associated with particular countries (Australia – shiraz, NZ – sauvignon blanc, Chile – carmenere, Argentina – malbec), bacchus is becoming the UK's flagship still wine grape variety. The variety is heading towards 10% of the vineyard area.
There's no doubt it is a tiny industry – annual production is around five million bottles, or 420,000 9-litre cases / 3.8 million litres. However, the rate of growth is impressive, with production forecast to double to 10m bottles by 2020.  To drive and satisfy that growth, the vineyard area has already more than doubled in the last decade, to more than 2,000 hectares. It also is forecast to increase by another 1,000 hectares by 2020.
It is to be hoped that the interest generated from hosting the cool climate symposium and its aftermath will mark a step change for the UK industry.
---
Please feel free to comment on this article