Published by Sally on June 1, 2012

First published in Hampshire View June 2012. Download the whole magazine here.
Stories of English sparkling wine are all over the press.  If I didn't know there is genuine quality of the highest order, I might start to imagine all the news was some sort of Diamond Jubilee, pre-Olympic hyping of a tiny, domestic wine industry.  But the good news about English wine, and sparkling wine in particular, is fully deserved. Our producers are making world class bubblies that compete on their own merits on the international stage.
The chalky North and South Downs of southern England have a similar geology and climate to that most famous of sparkling wine regions, Champagne, in France.  And we've been making bubblies for some years – the likes of Nyetimber is one of the old-timers in this country, with over 20 years' experience of making sparkling wine in England, and their wines, as well as their smart, sleek new packaging, seem to be on the up again after a few years where quality had dropped off.
About half of all the grapes grown in the UK end up in sparkling wine, and the most planted varieties have quickly become the 'Champagne' varieties of chardonnay, pinot noir, and pinot meunier.
With English Wine Week running from Saturday June 2 to Sunday June 10, what better excuse, apart from the Queen's Diamond Jubilee, do we need to celebrate our tiny, but well-formed, wine production industry than with a bottle of Britain's bubbly.   The English Wine Week website lists what's on, where and when for anyone who wants to get out and about. And splashing out on any of the bubblies below is bound to bounce up your mood.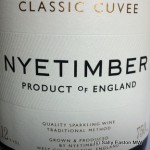 Nyetimber, Classic Cuvee 2007, £29.99 at Waitrose
Smart new packaging with a modest restraint of gold on a textured white paper and 'product of England' standing proud underneath the estate's name. This wine is a blend of the three grape varieties. Bright, with an hedgerow nuttiness on the nose and rich, savoury, creamy notes on the palate, and a creamy mousse. Steely and strawberry flavours offer good definition and the palate finishes with a pithy tang that cleanses and refreshes.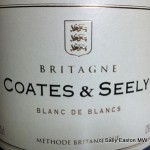 Coates and Seely, Blanc de Blanc NV, £25.85 
These guys are based in Hampshire. This is made just from chardonnay, giving it an enticing floral, honeysuckle and lemon sherbet nose. Rich citrus notes and a warmth from rich-tea biscuit and cobnut complexity. Fine, persistent and perky mousse, with big flavours of lemon meringue pie, and a roundness and depth from gently leesy wheaten biscuitiness. Finely poised and delicately balanced to show off its precision. Vg.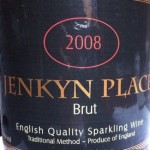 Jenkyn Place, Brut 2008 £24.99
Another Hampshire house, this one three quarters chardonnay, with noir and meunier making up the balance. Lovely, shiny brightness to colour, with pithy citrus, acacia blossom, and elderflower nose. Soft creamy mousse in a pristine crisply-pressed, cool and suave, fresh linen sort of image. Strawberry aromas waft around a shiny citrus-steel core, with spicy yeast characters just beginning to appear.
Gusbourne, Brut Reserve 2007, £24.99
Over to Kent for this one, also made from the trinity of chardonnay, pinot noir and pinot meunier. Brioche, cranberries and lemon curd, with a faint white pepper spice on the palate. A savoury, steely-apple core offers backbone and lift for the fine creamy mousse and rich, refined red-tinted fruits. Has a commanding bearing about it, this one, with crunchy apple and just a hint of sweet candied fruits on the mid palate. Delicious, bracing acid core hits the spot. Classy.
Chapel Down, Pinot noir / Chardonnay 2006, £22.99 
Just pinot noir and chardonnay in this, using grapes from Kent, Sussex and Essex. Baked apples and rhubarb, with toasted almonds alongside bouncy cranberries and pomegranate. Round and full flavoured with a well balanced muscley note from pinot noir counterpointing those complexing toasty, nutty and breaded notes.
Hush Heath Estate, Balfour Brut Rosé 2009, £35.99 at Waitrose
Another one is from Kent, from 52% pinot noir, 37% chardonnay and 11% pinot meunier.  It's had two years' ageing on the lees. The colour is an attractive faded rose-petal pink. With aromas of dry-roast strawberries on the nose.  A fine, persistent mousse, with rich, flshey strawberry and cranberry flavours, piqued with allspice. Plenty of rich, fleshy flavour here with a sweet fruit finish.
---
Please feel free to comment on this article