Published by Sally on May 5, 2016

Barrel ageing dry riesling sounds like a quirky new thing to try to broaden the appeal of one of the wine industry's (but not consumers') best-loved grape varieties. In fact, Ernst Loosen, of Dr. Loosen in Germany's Mosel valley, has been revitalising riesling in the fashion that was the norm for his grandfather.
Let's be clear. We're not talking about new oak. Loosen is using traditional Mosel fuder (1,000 litres). His date from after 1960. He said he threw the older ones away.
At a recent masterclass in London Loosen introduced riesling and the Mosel valley, before showing three dry riesling wines "from the same vineyard, made from the same juice, all from the same year, 2012 and matured on full (gross/heavy) lees in barrel."
Riesling is the quintessential cool climate cultivar. Of the world's 49,800 hectares, Germany has nearly half, some 23,400ha, most of which are planted in the country's northern regions of Pfalz, Rheinhessen, Rheingau and Mosel. In these regions, site selection becomes important to gain as much warmth as possible. Loosen explained "the Mosel river is only 100m above sea level. The hills are 400m above, so the vineyards are 100 to 450m above sea level. The valley protects from cooler weather but we still have to look for the right site. We have to collect every drop of sunshine."  Thus south-facing vineyards are ideal. The grand cru – Grosses Gewächs – vineyard of Ürziger Würzgarten is one such. This vineyard provided the fruit for barrel ageing.
Another facet of the Middle Mosel, Loosen said, is that it "did not have phylloxera, so we have vineyards on their own roots.  All our grand cru are own roots, up to 130 years old." Vines are essentially planted almost directly into blue, red and brown slate rocks.
Dr. Loosen is a member of the VDP, an association of the top-rated German wine estates. It is this organisation that has classified the vineyards, though a Prussian vineyard classification of the Mosel pre-dates the VDP's by around 130 years. VDP rules stipulate that to carry the Grosses Gewächs mention for grand cru vineyards, the wines must be dry.
For their dry wines, Loosen said "we use only healthy grapes" which are typically picked at 11 to 11.5% potential alcohol. He said "all our dry wines ferment on indigenous yeasts in large barrels, where they sit for 12 months on the full lees, without racking", adding "my grandfather left wine on full lees for three years."
The other thing his grandfather and great grandfather did was to make only dry wines. From the Mosel. Two sentences that are not commonly juxtaposed in the late 20th and early 21st centuries. However, Loosen said "historically there was always dry wine produced in the Mosel. It was more the style of the winemaker" that decided between dry and fruitier.
The juice for this trio of wines is the same. Same vineyard, of 110 year old ungrafted vines. Loosen said "old vines make a lot of millerandage, and the grapes don't take on so much botrytis because they have thicker skins. They hang well, giving sweet, aromatic fruit, with 11.5 to 12% potential alcohol."
Loosen explained his inspiration to restart dry Mosel wines "we started to do dry wines again in 2008. And old customer visited me that spring, bringing an old bottle [which was] mature, gorgeous. I'd never had a more-than-50 years old dry riesling. Lots of older sweet riesling. I went to my winemaker to say I want to do dry riesling. There were no records, so we were learning by doing.  We divided the same juice and kept it for twelve, twenty-four and thirty six months on full lees."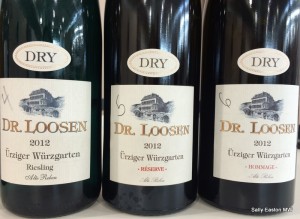 There is simple logic for Loosen's grandfather's winemaking. Without modern tools of ready refrigeration, or fining and filtration equipment, a wine quite normally might spend two winters, in a cool climate with naturally cold winter seasons, in bulk to ensure a natural clarification. Loosen said two years are needed for a natural protein clarification (a process which modern fining agents are able to speed up).
These are those wines, from the 2012 vintage.
Dr Loosen, Ürziger Würzgarten  Riesling GG, Alte Reben, 2012, Mosel
12 months in barrel.
Dry honey and peaches. Rich, round, plush and silky textured. Still fruity-aromatic. Gentle texture. Big concentration.
Dr Loosen, Ürziger Würzgarten  Riesling GG, Reserve Alte Reben, 2012, Mosel
24 months in barrel.
Peachy with hints of spice. Full and stony. Firestone. Huge flavour volume – depth and concentration with lightness, freshness, smoothness, and deliciousness. This shows the most appealing and generous, at this moment in time, for me, but see below.
Dr Loosen, Ürziger Würzgarten  Riesling GG, Hommage Alte Reben, 2012, Mosel
36 months in barrel ("plus another seven years in bottle before we release it, because it is still closed").
Nutty, initially dusty nose, opening more to honeyed-nuts spectrum. Palate very different – sweet-ripe, peachy and plush, with prime citrus, baked lemon, all with a savoury, stony (as in non-fruity) depth. No loss of fruit intensity or depth, indeed possibly the opposite.
It feels as though this last wine has the concentration to age well. Which I realise is a comment ostensibly at odds with the fact that all three wines are exactly the same juice. Just time on full-fat lees being the difference. A fascinating tasting of (the same) wines with very different flavour and texture profiles.
Loosen said "the next step for me is to make dry wines to give them more ageability." He may already have found the requisite tool in his grandfather's toolbox.
---
Please feel free to comment on this article