Published by Sally on August 26, 2011
2 Comments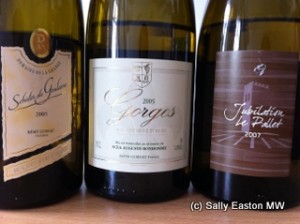 The Muscadet Sèvre-et-Maine appellation experienced little short of a seismic shift in July with the approval of three Muscadet crus communaux, or communal crus, by INAO.
Given the long ageing requirements of the communal crus, their evolution has been going on for some years, since the 1990s, so it is no surprise that stylistically, they are beyond anything the Nantes region was previously known for.  The height of appellation quality in Muscadet Sèvre-et-Maine used to be a 'sur lie' label – meaning the wine had been aged on its lees, and had been bottled between March 1st and November 30th in the year following the vintage.
But the communcal crus are aged for much longer, which means they are excluded from using 'sur lie' even though the wines have been on lees for much longer, at least 17 months ageing, sometimes up to 36 months or more.
The three, of an identified seven, communal crus that have been approved are Clisson, Gorges, and Le Pallet. All the crus are predicated upon particular bedrocks.  Clisson is on granite; Gorges on clay and quartz, and Le Pallet on gabbro (similar to basalt, but with coarse-grained crystals), gneiss and sandstone.
It is expected the other communal crus will also be recognised.  They are:
Goulaine – on schist
Mouzillon Tillières – on gabbro
Monnières Saint-Fiacre – on gneiss
Château Thébaud – on granite.
In addition to coming from specific areas, production rules are tougher than the regular Muscadet Sèvre-et-Maine appellation – among other things, as well as spending much longer on lees, yields are limited to 45hl/ha, 10hl/ha less than Sèvre-et-Maine.
Tasting notes, in Nantes, July 2011, a very brief, three-wine introduction to the style
Les Vignerons du Pallet, Muscadet Sèvre et Maine Le Pallet, Jubilation, 2007, €12
This is a group of winemakers, who blend the best of their production to make a cru.
Aged two years on lees, with malolactic fermentation.
Creamy, leesy in a tight Bugundian style, full, quite fat and rich, all savoury, fresh creamy with a fine salted caramel tang to it.
Les Vins Drouet, Muscadet Sèvre et Maine Gorges 2005, €10.80
Smoky note on the nose (apparently typical of the Gorges cru), with tropical fruit coming through some steely peaches and magnolia. Silky smooth texture, super, fresh intensity and depth. Long and very good.
Domaine R de la Grange, Muscadet Sèvre et Maine, Schiste de Goulaine 2005, €12.70
Hints of quince amid a smooth, silky texture. Rich and unctuous in dry fashion, (texturally something like a cross between reserve/smaragd gruner veltliner and white Burgundy), full, sweet fruit, lush-but-dry, moreish and long, with a dry tang at the finish reminiscent of Muscadet! Very good.
My research visit to the Loire in August 2011 was sponsored by InterLoire.
---
Comments
2 Responses to "Muscadet Crus Communaux"
bert hazeleger Says:
October 30, 2011 at 10:01 am

always found Muscadets better than average white, they diserves better times, interesting developement with the seven communal crus, would like to taste them also! thanks and greetings.

Sally Says:
October 30, 2011 at 3:03 pm

Hi Bert, I agree there are some super Muscadets out there. They do get a bad press. In the UK I think they sometimes fight a similar rearguard action as that with Soave or Valpolicella. Overexposure in '70s and '80s has rather done them in. On my small tasting of the communal crus, this seems to be an exciting development. I'm keen to taste more.