Published by Sally on February 2, 2012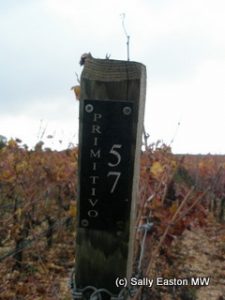 It has long been known that primitivo and zinfandel are the same grape variety. It was this research, said sommelier Giuseppe Baldassarre, a member of the Association of Italian Sommeliers (AIS) that "boosted the interest of Puglian farmers who had been using primitivo vines to produce strong [bulk] wine to be used for blending."
A new enthusiasm for the variety emerged since the 1990s, and along with improving the quality of wines made, by, for example, using consultants such as Roberto Cipresso, lowering yields and generally paying more attention to detail, has been the identification of the two main areas in Puglia for the production of primitivo:
Firstly, around Gioia del Colle, a karst limestone plateau in Murge, around 350 to 450m above sea level, where thin soil overlays thick limestone. More structure and more acidity is found here.
Secondly, the heel of Italy – the Salento peninsula – from Taranto and Manduria, over to Brindisi and Lecce.  This is a hot, low lying area up to 100m above sea level, with red and brown clay soils which, nearer the sea, are liable to flooding. Cooling effects here involve sea breezes across this largely flat zone, flowing to and fro between the Adriatic and Ionian seas. Warmer, jammier styles.
It was in the 19th century that primitivo moved from the Gioia del Colle in the north of Puglia to the south. Vincenzo Verrastro, of the international centre for advanced Mediterranean agronomic studies said "the move of primitivo to Manduria happened when a local woman married a man from Manduria and primitivo vineyards were part of her dowry."
The south, Salento and Manduria is a very different place.  Luigi Rubino, of Tenute Rubino in Brindisi, said "in Salento – the peninsula between the Adriatic and Ionian seas – the influence of the two seas is very strong. The sea gives a salty influence to the wine, and the winds mitigate the heat." Rubino's Punta Aquila vineyard is about 120m above sea level on a plateau near Brindisi, in just this zone.  Verrastro added "Manduria is near the sea, with warm, brown soils. The altitude can even be below sea level."
Primitivo, thankfully, is largely able to resist the summer heat of Puglia. Baldassarre said "the skin dries quite easily which makes the variety delicate. Early ripening therefore saves it from the rains. The bunches are quite small, and it can yield sweet wines from over-ripe grapes."  In addition, he said primitivo "is rich in anthocyanins, but stability of colour is a problem.  Also the quantity of tannins is quite limited, and these polymerise easily, giving soft, well-rounded wines." Another of those innovations since the 90s, oak ageing, can help with colour stability, so a deep colour is not necessarily anathema to primitivo.
Despite potentially lacking a bit of spine, primitivo offers plenty of berry fruit flavours, from raspberries, strawberries, blueberries, to red and dark cherries, blackcurrants and prunes. Herbal notes of mint and thyme can also be evident, along with liquorice and tarry tones of bottle age. Achieving high alcohol comes all too easily, regardless of the growing zone. These wines quite readily reach 16%, even higher, so they are not for the faint hearted or loose-limbed.  The variety, however, can easily be immediately appealing with all that juicy fruitiness and soft, supple tannin.
Primitivo is aslo used to make "extreme wines" said Badassarre, "alcohol goes to 16, 17, 18%, and the wines can have a high sugar content".  Such extreme "Amarone" styles are not limited to primitivo, a notable one being Agricole Vallone's Graticciaia, from negroamaro, which has 10 to 14g/l sugar alongside its almost bashful 14% alcohol.  Rubino explained it was easy for primitivo to get a portion of naturally shrivelled fruit on the vine, like passito, which he said makes the wine warm and sweet.
The primitivo wine 'Es' from Gianfranco Fino is one such wine where grapes are over-ripened in the vineyard, and left with, in this case 7g/l residual sugar in the wine alongside 16.5% alcohol. Fino said "It wouldn't be primitivo, in my opinion, if I picked it earlier. In the last couple of years, we've waited a bit longer for phenolic maturation, which is very high. The primitivo has a character of drying out on vine – even 1-2 days the grapes dry up – so we find ourselves with a high alcohol content. And I feel we have a balanced wine even though it's high alcohol." However, I'm not sure this style has the acid backbone that Amarone has which balances the latter style in quite an exquisite fashion.
Tasting notes, in situ, November 2011
Generally I found too many tasted a bit too simple and a bit too jammy and sweet, something I termed 'active sweetness' where it seemed to be coming from residual sugar rather than just-nicely ripe fruit. Below are some of my favourites.
Tenute Rubino, Punta Aquila 2009, IGT Salento €10
14%. Stainless steel fermentation then 4 months in 40hl wooden vats.
Sweet bramble and blueberry muffin nose, medium-full body, big sweet spices here. Supple sweet tannins, big fruit still with fresh acidity, nice integrity and balance, fresh, lifted sweet fruit that's fresh rather than flabby. Finishes with aromatic spiciness. Nice wine.
Castello Monaci, Artas 2008, IGT Salento
Supple, juicy, sweet fruit, plush fruit, supple tannin, nicely balanced with decent plummy fruit and a bit of spice. Nice.
Az. Agr. Conti Zecca, Donna Marzia Primitivo 2009, IGT Salento
Black pepper spice, decent depth and interest on the nose and palate. Sweet plum and soft berry fruits, nicely balanced. Bit of active sweetness here, creates supple, soft and simple wine.
Consorzio Produttori Vini di Manduria, Memoria 2008, DOP Primitivo di Manduria
Gentle, sweet spiced red berry fruits. Smooth and crunchy fruit. Simple and straightforward; decent for that.
Gianfranco Fino, Es 2009, Primitivo di Manduria DOC €35-€40.
16.5% Dense colour. Sweet spicy, violet-perfumed nose, with bramble jam notes. Alcohol is balanced with sweetness, undoubtedly active, sweet balance. Big concentration. Rich, sweet, lush, fleshy, intense, balanced, long. Lovely to taste, but I'm not sure I'd want to drink too much.
Castello Monaci, Artas 2008, IGT Salento
Aromatic spices, liquorice and black berries. Rich black fruits, nicely balanced in fresh, full bodied, smoothly-textured wine. Clean and focused with sweet tannins, no firm edges and enough spine.  Decent length.
Feudi di San Marzano, Sessantanni 2008, DOC Primitivo di Manduria
Big, sweet, primary fruit nose, reductive and appealing. Sweet, jelly rather than jammy attack. Fresh, and sweet-fruited, but not overly so. Smooth texture, clean, fresh, toasty hints with good length.  Good.
Az Agr. Giuliani, Primitivo Riserva 2007, DOC Goia del Colle €15-20
14.7%. Smoke, liquorice, savoury and fresh, just a bit fuller than medium bodied. Smoothly textured, quite refined with elegance. Fine backbone with ripe flesh. Graphite notes here, smooth, even hint chalky tannins. Long finish. Dry and elegant. fresh, dark berry fruits, liquorice stick, with proper fresh spine running through it. Vg.
Polvanera, Primitivo 16, 2008, Gioia del Colle DOC
From old alberelli, on iron-calcareous rocky soil.
Fragrant floral, violet perfume, elegant nose and palate attack, with hint of light chalky texture.  Upright, intense, well-deported. Also huge concentration, with good focus and intensity of sweet/ripe red berries. This has super balance, length and line, and I don't feel the (16%) alcohol on this one. Vg. (Learn it is 2-3g/l RS after the tasting.)
Tenute Rubino, Visellio 2008, IGT Salento €16
14.5%. Fresh, gentle plummy fruit on the nose, fragrant primary fruit. Good concentration, not huge, just nice, with elegant notes. Alcohol integrated in a warm, balanced, soft and gentle wine, with good length. Jolly nice.
My trip to visit and judge wine in Puglia was sponsored by the Puglia Best Wine Consortium.
---
Please feel free to comment on this article