Published by Sally on November 2, 2010

A shorter version of this was published in Imbibe magazine, July/Aug 2010.
A recent visit by a group of sommeliers to some of the top appellations of the Languedoc turned up some interesting finds, as well as ideas for putting the region's wines on the map and on the list. Sally Easton MW shadowed them.
The vast Languedoc, France's beautiful south, is the country's largest vineyard area. The landscape is rugged, rocky, rustic and resilient with the patina of ancient pastimes. Small patches of near flat abut garrigue and rocky outcrop. The vineyards are defined by gnarled and stumpy bush-trained carignan and grenache juxtaposed with the more slender trunks of younger syrah trained on wire for support against the buffeting winds.
Fill the void
It's obvious to say, but the south of France has a Mediterranean climate.  Other regions with a Mediterranean climate include parts of Australia and the Cape in South Africa.  Grapes like this warm, dry climate, which gives a regular supply of warm, sunny fruit and consistent flavours every year.   
If that sounds a bit Australian, well, the Languedoc has long been called the new world in the old world, so now is the time to fill the void left by declining Aussie imports. Vincent Bouin, sommelier at Coq d'Argent restaurant in London said "in the last 10 years, Australia has created the benchmark in UK taste.  Consumers will automatically compare everything with Australia". 
Corbières Boutenac, one of the appellations visited, said Donald Edwards, executive sommelier for Le Bouchon Breton "have the power and character to stand up against Australia, for those who are used to drinking that."  Bouin added "Boutenac, with its strong and intense flavours, could really be a successful appellation on the UK market. They could be a challenge for Argentine malbec, or some Chilean wine".  The new world gauntlet seems thrown down.
Corbières Boutenac – Corbières, Cathars, Carignan
What sets the Corbières Boutenac wines apart, though they shared the supple, soft, sometimes sweet tannins reminiscent of Australian wine alongside big volume of fruit and ripe, intense flavours, is their fresh acid core. This makes them a good bet for food pairing.
The grape varieties in the Languedoc also have a theme that the new world, especially Australia, made its own – grenache, syrah, mourvèdre – GSM.  And the south of France has these too, in abundance. The different appellations have their own twist on the theme.  Corbières Boutenac is one such, centred on the increasingly trendy carignan, with GSM in support.
Carignan, is proving to be a classier variety than previously thought.  Changing the way carignan is grown, from ancient bulk workhorse variety, to valued mainstay from ever older vines, comprising up to 50% of the blend, has enabled Boutenac to carve a niche and a unique selling point. Gustavo Medina, sommelier at Tate Britain said: "I'm discovering carignan is a serious wine, with lots of fruit, good acidity, and powerful tannins".
Corbières Boutenac is a cru, a top wine, of the Corbières, with its own appellation.  Its story is alliterative and alluring: Corbières is an old massif, originally pushed up by the Pyrenees even higher than the Cevennes, in the foothills of the country's Massif Central. This is the land of the 12th century Cathars, where the châteaux of Quéribus and Peyrepertuse formed part of this Christian group's string of strongholds. Boutenac is bang in the middle of all this heritage.
Fewer treatments
Another of the things that gives the Languedoc an edge is the winds, which help keep the vineyards healthy. Such a benign climate means the Languedoc vineyards are some of the least spray-treated in France.
This was one of the defining aspects for Michael Pichon, sommelier at the York and Albany, part of Gordon Ramsay Holdings, who said "organic is most important for me. We try to list organic and biodynamic wines, though they don't have to be certified.  We're always looking for the purest producers, and we need to know the winemaker, and then give that message to our customers." Half the York and Albany list comprises wines with some principles of organic or biodynamic cultivation.
Going organic, as an appellation, is something Boutenac has considered.  Pierre Bories, president of the appellation said "We would go to organic as an appellation. [But] we would need to increase wine cost by €0.15/bottle if we go organic." There may only be 30 producers of Boutenac, but getting them all to agree is also a factor.  Bories' property, Château Ollieux Romanis, which supplies house wines for several UK restaurants, works to some organic principles already.
The value proposition
Though there is plenty of expensive wine, especially from the cru appellations, outstanding value is another byword for the South of France. This was important for Medina's search for something different: "value for money is one of the policies of the gallery, and the whole Tate group. This region is fantastic value for money".  Shana Dilworth of D&D's Skylon restaurant echoed the view, saying "I like the region because you get a lot of value.  We look for value on the bistro side. We want approachability and value for our guests. In the restaurant wines sell around £50-£70, and on the grill side for £27-£28. Languedoc wines fall in this latter bracket".   
The region also has everything in place to offer customers wines across all the prices, from the simplest house wines, to icon wines such as Mas de Daumas Gassac and Domaine de la Grange des Pères. Dilworth said: "Varietal and appellation both play a part. Our house red and house rosé are both vin de pays, and they represent the grape and region well. [But] if someone is willing to go one step above house wine they can go straight into Languedoc AOC, and the quality is fantastic: Pic St Loup or St Chinian give so much more wine at 50p a glass more than the house merlot. The challenge is getting our guests to make that jump." 
Edwards came at the value proposition from the other direction, saying "there are knowledgeable people in the UK who can't afford to buy classed growth Bordeaux, and now can no longer afford to buy northern Rhône wines. They want to carry on buying in France, and this is where places like La Clape have to stand up and be counted".
The La Clape appellation is a geographical oddity with its muddy white, sheer limestone outcrops on the windy Narbonne beach. It is a peninsula connected only on its north side to the rest of Languedoc. Pine nut trees abound, used to make the local speciality of sweet pine nut tart.  
The likes of Gérard Bertrand's L'Hospitalet and Château de la Negly are here, as is Mas du Soleilla and Château Pech Redon.  Pech Redon's owner, and president of La Clape, Christophe Bousquet explained La Clape wine was a favourite wine of Julius Caesar, a pearl in the gulf of Narbonne, being kept only for the most important people.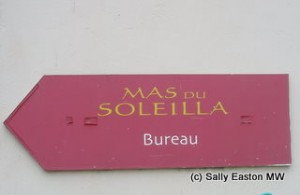 Reds here are another theme on the GSM tune too. Wildbolz, the owner of Mas du Soleilla said the ideal red La Clape "has lots of flavours, rich, aromatic, you feel the fruit as the grapes ripen easily; you also sense the surrounding garrigue – rosemary, thyme, pine trees. They are nicely structured, with freshness and vivacity, a full body and soft tannins."  Edwards was "quite impressed" finding a consistent impression of La Clape as being "medicinal, herbal and garrigue-y, with approachable red fruits."
Medina added "this garrigue gives a unique expression to the wines produced in this area, making them a good choice for specific dishes. La Clape or Pic St Loup wines would go really well with our grills, for example our 28 day South Devon beef Rib steak, Sirloin or even the fillet."
Garrigue galore
Pic St Loup is an appellation not short on scenic beauty. It is in the north of the Languedoc, in the foothills of Cévennes about 20km north of Montpellier. The limestone peaks of Pic Saint-Loup and the Causse de l'Hortus stand on opposite sides of a small valley, overlooking the vineyards which drape across their slopes. The mountains send down cooling night time breezes to help retain defining acidity in the wine.  And the Mediterranean garrigue is concentrated here: oaks and pine trees, rock rose, bay, juniper, rosemary, laurel and thyme.
The usual suspects of grape varieties are planted, grenache on the warmer sites, syrah in the cooler ones.  But here, silky syrah acts as the mainstay of the flavour profile, with mourvèdre making up the trilogy of varieties that together must constitute 90% of the blend. A peppering of carignan is also allowed.
This proved to be the most interesting tasting for the group, with a "higher overall level of quality across the board" for Dilworth, with Gustavo "Its wines are amazingly balanced" adding a quarter of the wines tasted he felt were outstanding. Bouin suggested marketing success for the appellation may come in part because the growers are unified in the appellation. He said "for everybody the aim is: appellation Pic St Loup first. They are aware that a group will be stronger than any individual."
Picpoul de Pinet
It's not all big, softie Mediterranean red blends in Languedoc. The increasingly trendy white Picpoul offers an oasis of crisp, fresh citrus and lemongrass zest. The vines languish on coastal terraces just north of Béziers, watching over the oyster beds of the Thau basin, and Dilworth said "they were fantastic with the oysters, showing their compatibility with shellfish and their promise as a nice aperitif wine. The value for money seems very good however they don't have 'mass appeal' to propel them into a more popular status."  So still niche. Medina would serve Picpoul with his "Duchy of Cornwall native oyster No 3's and  the Colchester rock oyster No 2's".
The final opportunity for restaurants rests on tourism.  There's not much industry in the south of France.  Apart from tertiary commerce, the economy is pretty much built on wine.  And tourism. Re-igniting customers' holiday memories with the wines they were drinking will automatically create a relaxed ambience.   
The sommeliers' top tipples
Château Ollieux Romanis, CORBIERES
Importer: Les Caves de Pyrene, Guildford, 01483 538820,
Located in heart of the Boutenac appellation, an enclave of the wider Corbières, just 20 kilometres from Narbonne.  Vines nestle on a south-eastern slope of this former Cistercian abbey.  The family, who've owned the property since 1860, produce both Corbières and Boutenac wines from their 70 hectare property.
Atal Sia 2007, Corbières Boutenac £12.82 /bt ex VAT
Mas du Soleilla, LA CLAPE
Importer : Great Western Wine, Bath,  01225 322800,
Perched atop the historic La Clape peninsula, east of Narbonne, lies this 18 hectare property, owned by Peter Wildbolz and Christa Derungs. It's windy up there, making the soils and climate dry. Deliberately low yields and hand harvesting add concentration and distinction to the wines. As well as traditional whites from bourboulenc and roussanne, southern-Mediterranean fuelled reds are made from syrah, grenache and mourvèdre. 
Les Chailles 2008, (90% grenache, 10% syrah) £11.90 / bt ex VAT
Les Bartelles 2007, (80% syrah, 20% grenache) £15.25 /bt ex VAT
Ermitage du Pic St Loup, PIC ST LOUP
Importer: Aldeby Wines, Leicester, 07854 856 282
Fifty five hectares of vines on the southern slopes of the Pic Saint Loup are the focus for attention in a large domaine of garrigue and southern Mediterranean scrubland which imbue the wines with its unique character.  The family have been farming using biodynamic principles for some years, and are en route to both organic and biodynamic certification, with the former expected for the 2011 harvest, and biodynamic following a couple of years later.
Cuvée Saint Agnes rouge 2008 £9.75 / bt ex VAT
The sommeliers also recommend:
Corbières and Corbières Boutenac
Château Vieux Moulin, Vox Dei 2005. Corbières. €3.74 /bt ExC.
Château Fabre Gasparets, Chimere 2006, Corbières Boutenac. €8.90 /bt ExC. 
Domaine Grand Lauze, Ledogar 2006, Corbières Boutenac. €9.60 /bt ExC.
La Clape
Domaine Sarrat de Goundy,  Cuvee du Planteur 2007. €5.30 /bt ExC per pallet.
Château Laquirou, Ausines 2007 €8.30 /bt ExC 
Château Pech Redon, Lithos 2007, ~€6 /bt ExC per pallet.
Picpoul de Pinet
Cave de l'Ormarine, Duc de Morny, Picpoul de Pinet.  £5.34 / bt ex VAT. 
Domaines Félines Jourdain, £5.19 /bt ex VAT 
Mas St Laurent. €2.95 /bt ExC for 25 doz.
Pic St. Loup
La Gravette de Corconne, Coeur de Gravette 2007.  €6.61 ex-VAT at cellar door for consumers.
Domaine de L'Hortus, Grande Cuvée Rouge 2008.  £13.87 /bt ex VAT.
---
Please feel free to comment on this article