Published by Sally on April 8, 2013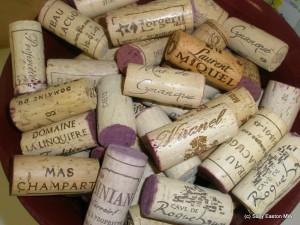 In trying to build the reputation of the appellation the Saint Chinian syndicate has made a marketing campaign around easy-drinking, everyday wines and terroir wines from the appellation.
From the terroir wines, a blind tasting selection is being made each year to pick out what they describe as the 'crème de la crème' of the appellation. Producers choose whether to enter their wines, and the tasting selection is made by oenologists, restaurateurs and journalists.
In the selection of 28 wines (from 68) made in November 2012 these are my top dozen reds, plus a couple of whites.
Of course, by definition, all these are pretty big wines, made to impress. In general I preferred the more medium-bodied wines, and admired the heft of some of the bigger-boned bodies, though occasionally struggled to imagine when I might drink the latter.
Consistent among the ones I rate is a core freshness around perfumed fruits, with savoury characters present or not.
Tasting, in situ, March 2013
Château La Dournie, Elise 2009, Saint-Chinian
80% syrah, 20% grenache, 14% alc. Terra vitis.
Aromatic smoke, spiced red berry fruits, sweet juicy red berry fruit attack, some nice freshness and lift to the core and violet aromatics, wholesome and attractive, decent length and integrity. Fresh, fruity and with concentrated fruits, nice. Good.
Château de Prieure des Mourgues, Grande Reserve 2009, Saint-Chinian
14.5%. 70% syrah, 20% grenache, 10% mourvèdre. Hugely heavy bottle. Aromatic smoky, baked raspberry tart on nose, smooth palate attack with some creamy, perfumed texture, soft-baked red forest berries on the core. Nice balance with freshness and soft, plentiful tannins. Pretty strong, but balanced in fruit context and depth of fruit. Good.
Château La Dournie, Etienne 2009. Saint-Chinian
Syrah, grenache, carignan, 13.5% alc. Terra vitis.
Smoke, clove, liquorice stick nose, dark brambly fruit attack, all black fruits and brooding overcast sky (in a good way), thick textured in sweet-glycerol sort of way. Big wine, with chalky freshness to mid palate. Some violet and cherry blossom perfume coming through mid palate.  Big wine but not muscle-bound. Good.
Domaine La Linquiere, La Sentenelle 2010, Saint-Chinian
14.5%. 65% syrah, 35% mourvèdre. Hint of mint on this first nose, dark brambly fruit, some freshness coming through here. Plentiful supple tannins, rich, round, big oven-dried fruits. Savoury core wrapped in dark choc, liquorice confection, and rich concentration of dark berry fruits. Big wine, alcohol present but everything else is bigger, and well balanced with it. Not sure I'd choose to drink this, but it is a very good big wine style.
Borie la Vitarele, Midi Rouge 2010, Saint-Chinian
14.5%. Syrah, carignan, mourvèdre. Fruits to fore on the nose, mulberry, strawberry, redcurrant, sweet palate attack, very smooth texture, all gloss and shine and silkiness. Plush, round, still strong and full bodied, and with concentration of those berry fruits in sweet frame. Plush and lush. Vg.
Clos Bagatelle, La Terre de Mon Père, 2010, Saint-Chinian
14.5%. 40% mourvèdre, 30% grenache, 30% syrah. huge shouldered, heavy bottle. Bitter chocolate and mocha nose, big, sweet attack of brooding dark berry fruits, rich and  plush, fleshy and with freshness to core that belies the sweet, dry-baked fruits. Vg.
Comtes de Lorgeril, Les Pins 2010, Saint-Chinian
14.5%, syrah, grenache. Dark, smoky spicy nose, smoothish attack, bramble fruits, rich and fleshy, supple full body, alcohol integrated, modern in all-fruit orientated fashion, without savoury characters, plenty of supple soft tannins. Good.
Mas de Cynanque, Acutum 2009, Saint-Chinian
14.5% alcohol. 60% syrah, 20% mourvèdre, 20% grenache. Bright, bramble fruit. Smells purple. Graphite and liquorice root on palate attack, with bitter chocolate and mocha to follow before dark, vanilla-toasted fruits come in. Silky smooth texture, very finely put together. And big and strong, along with it; plenty of big tannins alongside smooth texture. Dark and brooding, almost with notes of leather at background. Big, bold, broad shouldered. Vg (and again, not sure I'd choose to drink it).
Domaine du Tabatau, les Titous, 2009, Saint-Chinian
14% alcohol, 60% syrah, 40% grenache. Bright, crunchy red berry fruits, amid fine-grainy young new oak tannins, which are mellowing in well. Medium bodied only, which gets extra marks in my book. Bright, fresh, balanced, good intensity of berry fruits, smooth, rich, ripe, very drinkable indeed. Long finish. Vg.
Mas de Cynanque, Amicytia 2010, Saint-Chinian
Mostly grenache. 15% alcohol. Dry baked strawberries and redcurrants on the nose. Clove and allspice, soft tannins, with focus on savoury herbal red summer berries fruit, as you'd expect from grenache. Big 15% alcohol held very well in balance with intensity of fruit profile. Nice lines to the in-palate profile on this characterful wine. Long finish. Vg.
Château Viranel, V 2010, Saint-Chinian
14% alcohol. 60% syrah, 40% grenache. Bright fruit nose, red spectrum raspberry, loganberry. Bit of green tealeaf on the palate attack even (where did that come from?). Supple, plush, plentiful tannins, all rounded and soft, yet wine has enough freshness and 'needle' on the tongue. Big, full bodied, soft, lush. Good.
Mas Champart, Causse du Bousquet 2010, Saint-Chinian
14.5% alcohol. 70% syrah, 17% grenache, 8% mourvèdre, 5% carignan. Soft red berry fruits on nose. Supple, medium weight attack (despite 14.5%), perfumed mid palate. Bright red fruits, nice freshness here. If anything lacks a little grip to the frame. All very supple (despite freshness), super ripe fruit. Smooth texture and perfumed lifted core. Good .
Domaine La Croix Sainte Eulalie, Cuvée Clemence 2011, Saint-Chinian
13.5%. Grenache blanc, roussane, viognier. Perfumed, white-nutty, tropical nose, intense and layered. Fresh attack, all lemon syllabub verve mellowing into pineapple pavlova. Rich, fresh, florally lifted in the mid palate, creamy and lively. Concentrated and elegant at the same time. Really quite delicious. Long finish. Vg.
Clos Bagatelle, le Clos de ma Mère 2012, Saint-Chinian
13.5%. Roussanne, grenache blanc, carignan blanc, viognier, vermentino. Fresh nose, creamed cobnuts, cherry blossom, steely notes with linear definition and clarity. Fresh, concentrated primary fruits with personality and individuality. Plush in-palate volume and then long finish. Vg.
My research visit to Saint Chinian was sponsored by the Syndicat du cru Saint-Chinian.
---
Please feel free to comment on this article