Published by Sally on April 24, 2011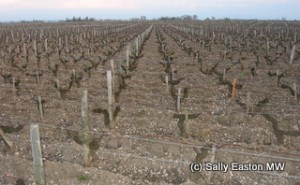 Irrepressible demand for the top Bordeaux châteaux' wines is something that accounts for a tiny fraction, easily less than 5% of Bordeaux's production.  This leaves a great swathe of more affordable wine from the world's premier wine region. And without the luxury brand power that goes with top classed growth and astronomic A-list status, these other producers must put in the hard graft to get their wines noticed.
Generally new blood brings new initiatives, even if the properties themselves have an ancient lineage. And often the initiatives involve the most fundamental unit of location, of site specificity – the soil. 
So it is at Château de la Dauphine in Fronsac, which was established in 1747.  Though it has been owned by the Halley family since 2000, Guillaume Halley recently took the reins. 
In that first decade, the family invested over €10 million restoring the château and the cellars, and installing new equipment, but it was only in 2010 that a soil study was done across the 31ha domaine. The results of this are forming the foundation of better matching the merlot and cabernet franc grown to the 14 different soil types the survey identified.
In a separate initiative, the Halleys have introduced a second wine, which ensures the best selections are kept for their Château label. Guillaume said "between 2004 and 2007 we sold to negoce because we didn't make a second wine. Now we make about 100,000 bottles of grand vin and 60,000 bottles of Delphis."  The first vintage of Delphis was in 2006, and the family continues to sell up to 30,000 bottles' worth to negoce of wine deselected from the first and second wines, though in the excellent 2009 and 2010 vintages the Halleys kept all their fruit for themselves.
Another property coming under the soil and geology microscope since Eric Monneret recently took over as managing director is Château La Pointe, one of the largest wine estates in Pomerol, with 22 hectares.  As a result of the study, the drainage system has been upgraded in the third of the property that collected water, on sandy soil overlying clays and gravel.  This third also happened to be the third that was planted to possibly the least adapted of the available grape varieties, cabernet sauvignon, so that has all come out.  The estate is now planted to 85% merlot and 15% cabernet franc, making it a much more classic Pomerol property.
Since Generali France bought La Pointe in 2007, other investment has included a new vat room which was in position for the 2009 harvest, complete with solar power and a rain water collection system.
It's not just unclassified properties that are waking up to the demands of a globally competitive marketplace. Château Marquis de Terme, a fourth growth in Margaux, has been owned by the Sénéclauze family since 1935. Since Ludovic David (ex-Fombrauge) was employed as oenologist in time for the 2009 vintage, he has changed much, such as increasing the number of vinifications made by individual plot, and changing vineyard practice to promote extra ripening.  He said "the date of harvest is later than before, by 7 to 10 days. The winemaking is different and we've changed the management of the vineyard, winemaking and ageing" without making huge financial investments in the immediate term, in order "to show the potential of the terroir."  
For example, David said "we changed the vineyard because we want to respect the environment, so we plough and have grass in the rows.  We changed winemaking to extract tannins more softly, by reducing the temperature of the fermentation, and reducing the number and length of remontages." 
Such properties as these are fully aware that laurels cannot be rested upon. Even being a lower classed growth offers no protection or right of sale, as David explained "in the past Marquis de Terme was strict and classical. Now we have more global competition, we have to show that Bordeaux is one of best places in the world to produce good wine."
---
Please feel free to comment on this article