Published by Sally on March 25, 2012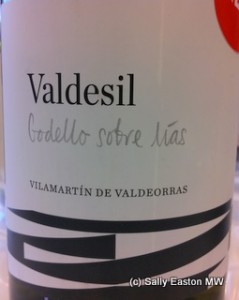 A version of this first appeared in Hampshire View, October 2011.
The far north-west corner of Spain, the bit above Portugal, with its lush, verdant colours of the Costa Verde, due in part to its high rainfall coming off the Atlantic, is a mecca for fresh, vibrant, perfumed white wines.  The region contains the final stopping place – Santiago de Compostela – of the Catholic Camino de Santiago pilgrim route with paths leading to it from all over Europe.
The city is Galicia's capital, and it is in this province where the appellation of Rias Baixas – pronounced 're-ass by-shuss' – is home to albariño, which is much easier to say. This region comprises the estuarine river inlets and coves right on the Atlantic coast. The grape variety needs its thick skins to fend off the humidity and the wines it subsequently produces are as fresh as the smell of a meadow after summer rain. Peachy aromatic fruit, racy round, steely acidity. But the small scale of viticulture means these wines will never be of the cheapest order.
A little further inland from Rias Baixas is Valdeorras, still in Galicia, which lies at the south western corner of Spain's Cantabrian mountains. Summers are hotter and drier than at the coast, and this suits the godello grape, the variety we've been waiting for, which grows at altitudes up to around 500m above sea level on slate slopes. High quality, high acidity, more structured than albariño, also perfumed and with peach and melon fruits, with arguably an extra degree of sheer juiciness and richness in the mouth. There are just 1,000 ha of godello planted in the whole of Spain.
The other white wine appellation in this trinity of Spanish whites that is making a serious name for itself is Rueda, in Castile-León, about 100 miles south east of Valdeorras, where verdejo is king, growing on bush vines, at altitude on the Spanish meseta,  in sandy soils where the foliage provides shade and protection from continental heat and keeps overnight humidity in the canopy for a bit of moisture.
Verdejo is crisp, with green-appley flavours. It's especially good when it's alone in a wine – usually with Rueda Superior on the label. It loses something of its pristine and perky individuality when blended with other white grapes, such as viura, and even sauvignon blanc.
All three of these wine styles are as far away as it is possible to be from traditionally aged and oaked white Riojas.  This trio is about purity, crispness and tingling freshness, and with such wines, Spain is trumping pristine aromatic wines such as sauvignon blanc, riesling and pinot grigio from more northerly countries.
Try these for size, all are showing available online, with offers as at March 24, 2012:
Majestic: Albariño Martin Codax 2010 Rias Baixas, £11.99/btl. And 20% off when you buy 2 bottles (£9.59 / btl)
M&S Wine Direct (online):  Mozares Verdejo, Rueda 2010 Offer price £45.96 / 6-pack (£7.66/btl)
Sainsbury's: Taste the Difference Albariño 2010, Rias Baixas, £7.99
Waitrose : Valdesil Godello 2009, Valdeorras, £15.99
---
Please feel free to comment on this article