Published by Sally on April 6, 2012

Floriane Eznack, winemaker at Champagne Jacquart smuggled out (not literally, but by the sound of the administration involved, it might have been the easier option) some still base wines from the 2011 Champagne vintage. The aim was to give a small insight into the rigours of blending these highly-acidic, still (i.e. not bubbly) base wines, which are then given a little dose of yeast and sugar, and bottled for the three year plus journey that is the secondary fermentation and maturation on lees.
The base wines for Jacquart come from 60 different 'crus', or villages, and are "made as neutrally as possible, with no special yeast, only made in stainless steel vats, to make sure each grape from each cru reveals its own temperament" said Eznack.  Given that each cru and each grape variety is vinified separately, that means the team vinify around 350 wines.  To this end, vat sizes vary from 25 to 400 hl.
These wines are tasted from January to April to make the selections for the final blends for each of the cuvées. The main blend, Brut Mosaïque, "is the most challenging for us" Eznack said "the non-vintage is produced every year, it should be the same, almost, every time you open a bottle, wherever you are in the world." It's usually a blend of more than 120 different individual wines.
There are four in the blending team, Eznack plus the winemakers from each of the three wineries in the group. She said "we do the chardonnay base, then the pinot noir base, then pinot meunier.  And then we make trials to create the final blends. We concentrate more on the [contribution from the] grape varieties than we do the different crus"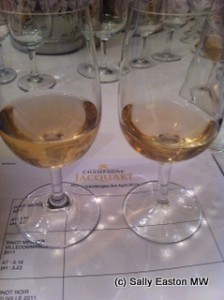 Tasting vins clairs is a particular art, and not for the faint-hearted. Not only are these liquids heart-stoppingly acidic, tasters must project ahead three or more years to imagine the contributions being made for a time when the blend has gone through another mini-fermentation and been influenced by time on lees.  It's very tiring, and the professionals taste only about 30 samples in a session.
Part of the Jacquart style is to do 100% malolactic fermentation on everything. The idea, said Eznack, "is to play more on the texture of the wine. We want to maintain the freshness, but we get something gentle with malolactic." And, she added "with ageing – the minimum three years [ageing] for Brut Mosaïque makes it milder and gives the wine more volume."
A huge clue Eznack gave when tasting these base wines is to evaluate 'stickiness' in the wine, how "one wine explodes then disappears, while another has more flesh, more body". My interpretation was of how the wine's flavour and texture cling to the palate, the length and shape of that clinging, or stickiness.
Achieving consistency with the house style is an important purpose of the blending. Eznack said "chardonnay is the soul of the Jacquart house.  Even if we're using 60% black skinned grapes, it is only to highlight the chardonnay, to enhance the delicacy and finesse of chardonnay."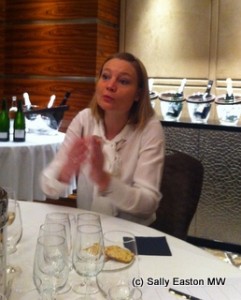 Chardonnay isn't just chardonnay. Eznack said "chardonnay is different on the north and the south of the Côte de Blancs. In the north, Chouilly and Avize are very powerful chardonnays, straight in the mouth with the same wine all the through the palate.  Mesnil and Oger are creamier and more unctuous, you feel the dry chalk at first, then the wine re-opens".
Brut Mosaïque is usually 35 to 40% chardonnay, 30 to 35% pinot noir and 25 to 30% pinot meunier.
Included in this is 20% to 30% of reserve wine – wines from vintages older than the one immediately past. This is quite a high proportion of reserve wine, but said Eznack "they're not old reserve wines. In general reserve wines are 2, 3, 4 years old maximum".  With the Jacquart house style of freshness, reserve wines several years older than the 'base vintage' might have developed too much.  And, she added "we prefer to age wines longer on lees to give complexity to the wine. We prefer a velvety feeling at the end rather than a toasty evolved note at the end." The freshness of reserve wines is maintained by keeping them in stainless steel.
Blending base wines is indubitably complex.
Champagne Jacquart is a union of co-operatives. The group's 1,800 growers have some 2,400 hectares across the champagne region, and there are three wineries, Château Thierry in the Marne Valley, Cogevi in the Côte des Blancs and l'Union Auboise in the Côte des Bars.  Fruit from around 350 hectares goes into the Jacquart brand, with its five different wines.
Sales in 2011 were 3 million bottles.
Tasting of vins clairs, London, April 2012
Pinot meunier 2011, Aisne
Marne Valley, pH 3.27. TA 7.5
Light, tart, pink strawberry, definitely less structure, and more roundness than the next one.
Pinot meunier 2011, Villedommange
Northern part of Montagne de Reims, pH 3.23, TA 7.8, A premier cru village
Quite fragranced, strawberry, and tart, with hints of phenolic backbone alongside the zest and density. Heart shocked to miss a beat.
Pinot noir 2011, Neuville
Côte des Bar. pH 3.15, TA 7.2
Floral, vinous, intense with immediate fruity flavours.
Eznack: "this is one of our favourite crus for Brut Mosaïque, it gives light structure and refined fruity aromas."
Pinot noir 2011, Mailly 2011
Northern part of Montagne de Reims; pH 3.14, TA 8.2. A grand cru village
More integrated than previous samples, more wholesome individually; could almost envisage this being a still wine. Structure and intensity, steely, long, deep intensity. Big flavours and lots of them. Heart possibly acclimatised to the acidity by now.
Eznack: "More tension, more minerality, more structure and volume. Sticks all around your mouth, gums, teeth."
Chardonnay 2011, Villers-Marmery
Montagne de Reims; pH 3.13, TA 8.9
Citrus, lime, white flowers, and my new tasting word, 'sticky'
Eznack "this is very sticky because of the minerality, and tightness."
Chardonnay 2011, Avize-Oger
Côte de Blanc; pH 3.19, TA 7.9
Opens in mouth, slow start then opens. Elegant and elongated palate,
Eznack "length is longer, more pwerful, stiky and occupying all the mouth, volume with chardonnay. Doesn't mean you don't have structure because don't have tannins."
Reserve wines
Chardonnay 1, 2010, Chouilly
Union Auboise; pH 3.19, TA 6.8
Feel some light butteriness on the front palate, round, in a relative way.
Chardonnay 2, 2010, Chouilly
Cogevi; pH 3.19; TA 7.6
Hint of smokiness, fresher than above, more linear, citrus, focused.
Pinot meunier 2010, Aisne
Marne Valley, pH 3.19, TA 7.6
Buttery, non-agitated nose, and palate, with flat strawberry. Quite round and savoury. Not so much fruit or lift here.
Pinot meunier reserve 2008, Aisne
Quite a dominant flavour here – bready, toasty, savoury, round. I wouldn't want much of this in a fresh style.
---
Please feel free to comment on this article