Published by Sally on September 3, 2011
1 Comment
A version of this article first appeared in Drinks Business magazine, May 2011.
The first egg vat was commissioned in 2001 by Michel Chapoutier, following discussions and design between Chapoutier and French vat manufacturer Marc Nomblot, whose company has been making concrete wine vats since 1922.  The shapely historic connection to Roman amphorae was not coincidental in the design.
They are made without using chemical additives, according to Nomblot "from washed Loire sand, gravel, non-chlorinated spring water", and cement.  There is no iron added during manufacture of the eggs. Because the concrete is unlined it must be treated with tartaric acid solutions before use, and tested with a further solution to ensure there is no reaction.
Since 2001, Nomblot has sold some 800 of the vats, which are usually 6hl or 16hl in size.
Concrete arguments in their favour?
Concrete has been used successfully since the 19th century for winemaking, but the egg shape is new.  Regardless of shape, evaporation loss is quite small, as is temperature fluctuation, though the concrete is liable to crack if temperatures get too high.
A critical thing is a continuous flow of liquid in the egg vat.  Gilles Lapaulus of Sutton Grange Winery, who was the first to import egg vats into Australia, in 2005, said "with this sort of shape there are no dead corners, so there is a better uniformity of the composition of the liquid, in terms of temperature, especially." And he added "the fermentation kinetics seem more regular, without peaks or slowing down, and it's less reductive than stainless steel." Though he was quick to say he's done no strict comparisons.
Biodynamic farmer Werner Michlits, at Meinklang in Austria has observed a temperature difference of around 1°C between the top and bottom of their eggs, which Michlits said enhances the slow, continuous flow of the liquid. And Lapalus added "the thickness of the wall is important in temperature variation, the shape allows a more homogenous liquid through the circulation inside."
Eben Sadie in South Africa was an early adopter.  He's been using them, on his whites, for eight years, and he was so happy he now has half a dozen. He uses the 6hl size, in which he said the fermentation temperature is stable, without artificial refrigeration.  He said, in his ambient cellar temperature of 16°C, "my white fermentations are about 20°C without any cooling. I don't inoculate and natural ferments are cooler than yeast additions" explaining the effect of the circulation "adds more depth and structure to the wine, but doesn't let wines go flabby; they stay linear, dense and tight. It's finer stitching."
Lapalus agreed, saying "in my experience with viognier, we can have long time on lees with a good control on reductive character, giving a lot of texture to the wine. I don't see any effect on the acid profile.
A similar result has been seen at California's Spottswoode, who've been using egg vats since 2006, as a blending component in their sauvignon blanc. Winemaker Jennifer Williams said "We were experimenting with ways to increase minerality and weight in our white wines at the same time. We like that the concrete preserves the natural character of the sauvignon while also adding richness and body.  The [eggs] act very much like oak barrels in creating texture [but] without imparting vanillan, spice, etc.  They preserve fruit flavours and aromas like stainless does."
Another oft-cited benefit is a small micro-oxygenation akin to that seen with oak, without imparting oak flavour, and avoiding the reductive conditions of stainless steel.  Sadie said "I tried to find an alternative vessel to wood that could breathe, but that doesn't give a taste of wood, which is not part of terroir. Concrete allows a higher level of purity, site and place. "
Back in Australia, Julian Castagna recently started maturing his viognier in eggs, which is used in his flagship Genesis syrah.  He said his researches showed him "concrete had a freshness that surprised me and I thought was really interesting."  And for him this was enough to do his own experiments – "At the level of wine we make, to try and increase quality by even 1% is worthwhile. My gut tells me it will add another level of complexity."
For reds, maturation is so far the main use.  Almost inevitably Alvaro Espinoza was the first in South America to buy egg vats, in 2009. He has two 6hl vats, saying he was experimenting with the smallest ones because it is very expensive to move them from France.  He is working with carmenere, saying "I wanted to age the wine on its lees after malo. The lees are always in movement, like a continuous battonage, because of the shape of the egg." Though, he added, it's difficult to clarify the wines, so afterwards, he puts the wine in tank for 3-4 weeks, then racks.
He said "we did a tasting a few weeks ago.  An egg tank can age better than a barrel. It shows very nicely with a lot of fruit flavours, without oak. But we also get a very good mouth development, round and soft."  Compared with stainless steel he said "the wine is evolved in terms of tannin structure. The wine increases in volume, mouthfeel and softness, and I prefer the sweetness of the wine."  Adding "you don't have reduction in concrete, I haven't racked all year."
Espinoza is releasing a single vineyard carmenere from his biodynamically grown grapes at Antiyal under the El Escorial vineyard label. He thinks about 90% of the wine will be using egg vat fruit, with maybe a bit of cabernet sauvignon, but it's not due to be released for 18 months, so it is still evolving.
Michlits has also found there is "nearly no evaporation of wine" in egg vats.  He's working with Sankt Laurent, which he presses off to do the malo in the egg vat. Comparing the same wine in stainless steel, oak and concrete, he said "that concrete had the best texture and mouth feeling; it was fuller, rounder, and with more complex darker fruit on the Sankt Laurent. Wood gave more tannin structure; stainless steel was the lightest."
The downside
What these egg vats are not is cheap, especially if they are being transported half way around the world, which is what seems to be happening. The cost from Nomblot in France is between €3,000 for the 6hl size and €6,000 for the 16hl vat. The small one weighs 1.2 tonnes; the 16hl weighs 2.6 tonnes, so transport costs are substantial. Producers are not experimenting on a whim.  But they last a lot longer than barrels, so cost per use may eventually be economical.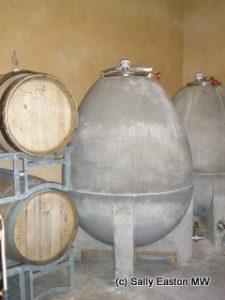 The other main drawbacks include the need to protect against acid corrosion. Castagna said "concrete is more work, but if you prepare it correctly it forms a skin. I can see that in our eggs already – a layer of tartaric acid which is forming on inside of concrete.  Within 2 to 3 seasons, the wine won't be in contact with concrete it'll be in contact with tartaric acid.  The shape will be the most important element of it."
Science beginning to analyse
As to the science, Geisenheim Research Centre has been leading the field with so far one experiment, which Dr. Maximilian Freund calls neither representative, nor science, comparing Rheingau riesling in a 900-litre concrete egg (made by Michlits) and 900-litre stainless steel tank. They concluded Rheingau riesling in 2008 is not particularly well suited to concrete, as its pH is too low for unlined concrete, meaning the wine acids corroded the concrete. Although the concrete did not affect the sensory properties of the riesling.
Freund explained there are two considerations with egg vats, namely the material concrete, and the egg shape.
Of the material he said in regions with a higher pH and lower acidity, such as the southern part of Europe where mostly red wines are made, the wine is not so corrosive.
In terms of the egg shape, Freund said their single experiment didn't "see any difference in fermentation" between stainless steel and the egg vat. He also found no difference in yeast cell numbers and biomass between stainless steel and egg vat, but they did find the length of fermentation in egg vat was longer, with a little higher residual sugar.
While eggs may be uber-trendy and fun to look at, they are not the new wonder-drug of wine. Lapalus draws us back to reality "I don't want to create an 'egg' wine, it's too much of a fashion. It's just a tool not a magic trick. The important work is in the vineyard, then not to miss or destroy the potential in wine making. The whole process is important not only one element."
---
Comments
One Response to "Concrete eggs in winemaking"
Franklin J. Kapustka, PE Says:
March 29, 2014 at 7:50 am

Reactive powder concrete (RPC) would significantly increase the tensile strength of the concrete. RPC is not porous.

Why cast them in France? Just ship the formwork and cast them on every continent.
They could be cast in a concrete pipe machine with a liner.