Published by Sally on July 21, 2011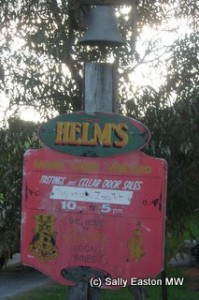 Helm Wines produce the tastiest Australian rieslings that I've come across.
They are made in Murrambateman, in the Canberra District of ACT, about 30 minutes from Canberra itself.
Ken Helm set up the winery in 1973, planting vines at Nanima Creek, and was one of the first commercial wineries in the district, coming from the crop of ex-CSIRO researchers who kick-started wine development in Canberra.    
That Helm is a descendant of German origin may or may not have affected his choice of varietal focus on riesling, but he is a fourth generation Aussie grape grower.  He is also the founder of the Canberra International Riesling Challenge, a competition that has been running since 2000.  
Climatically it's not a particularly cool spot, so it's not classic riesling territory.  Helm said "we were warmer than Germany, so thought we could grow riesling, which responds to climate; it needs a low temperature overnight and hot temperature during the day." Not, he added "that we're trying to produce German riesling. We're making Aussie riesling and are becoming unique.
"We get very hot summers, 39-42C"  he said, before adding that springs are cool and wet, and autumns are also cool, resulting in picking starting around early March with the chardonnay and riesling."  One argument goes that the Canberra climate is continental, and riesling is grown in Germany in a continental climate.
Helm said that despite the ocean being about one and half hours east, "Bateman's breath [an easterly sea breeze] comes in nearly every day in the summer around 8pm, dropping night temperatures to around 15°C." Such a drop in temperature would help retain riesling's natural aromatics, and the breeze also brings moisture which reduces a bit of stress in the vineyard. 
The aim for his rieslings, Helm said, is that they are "clean, fresh, they exhibit characters of the vineyards, with a ferruginous minerality from the volcanic ironstone, and that no element stands out, they are all in balance."
Some of Helm's fruit come from the neighbouring Lustenberger vineyard at 650m asl, which Helm said "is north facing, with an east-west row orientation that maximises fruit protection from the sun" The soil is a conglomerate volcanic ironstone.
Two rieslings are made: classic dry is a blend across vineyards, and premium is made from single vineyard sites when grapes are perfect.  All of which makes the 2010 vintage Helm's 34 riesling vintage, and only his 6th vintage of the Premium riesling. He's been using screwcap since 2002.
Helm said because he wants to express the vineyard, he doesn't work with the lees, and doesn't like the vines to be stressed either by too much crop or from not enough water.
He only uses free run juice, and he controls the fermentation so that must ferments 0.7 Baumé per day. Then towards the end of fermentation, he turns off the cold and lets the ferment finish itself. Which means he might end up with 3 or 5 g/l residual sugar.
His rieslings swim in a flood of awards. In the last five years Helm has won 23 trophies and 28 gold awards.
Wine tasting, in situ, October 2010
Helm Wines, Classic Dry Riesling 2010 $28
11.5%, tropical fruit, with sweet apple, full and rich fruit, with a long fruit explosion at the end, followed by long finish. 
Helm Wines, Classic Dry Riesling 2009
11.7%. Salty lime nose, with approachable attack within taut framt, intense, zesty and long. Vg.
Helm Wines, Classic Dry Riesling 2008
12%. White pear, apple, zest and pith, structured and linear. Beginning to blossom a little.  
Helm Wines, Premium Riesling 2010 $45
11%. Max 5g/l RS. Vines around 15 years.
Creamy, stony, very smooth texture, intense and with volume of fruit, taut and with flesh. Citrus and lime pith, might use stoney-mineral. Seriously good, with huge intensity.
Helm Wines, Premium Riesling 2009 $45
12%. Lime pith and zest, slatey, and wet stone, savoury/stony complex. Full and rich while still being steely. Pithy citrus back note, big fruit intensity, long.  Has flesh to support the tautness.
Helm Wines, Premium Rieslign 2008 $45
12%. Fresh, lime pith, zest and focused. Intense, rich fruit in a delineated profile, with apple and lime citrus. Less stony than the 2009, but full and rich in a focused manner. Long. Vg
Helm Wines, premium Riseling 2005
11.2%. Pith, steel, hint of dry citrus toast ageing characters coming through, yet still retains its freshness.
My research visit to Australia in October 2010 was sponsored by Wine Australia.
---
Please feel free to comment on this article