Published by Sally on July 29, 2011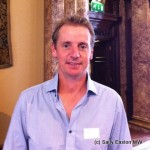 On a visit to London earlier this month, Tom Carson, the winemaker at Yabby Lake in Australia's Mornington Peninsula, hosted a tasting of Aussie chardonnay and pinot noir from some of the regions around Melbourne where these varieties are doing particularly well:  Yarra Valley, Mornington Peninsula and Geelong.
He kicked off by suggesting more attention should be paid to the time and place from which wines originate, saying "I think people judge a wine on quality in Australia without a reference for where the wines are grown. But to really understand Australian wine better, you have to put it in the context of terroir, of where and when the grapes were grown and harvested."
He built his theme by adding, that at the top end of Australian wine, "wines are a little piece and moment in time, and from a particular place" and that people need to take this next step in their pursuit and understanding of Aussie wine. "The best wines for me" he said "are those with the purest expression of their moment in space and time, uncluttered by winemaking." Carson's aim is to "make wines that are unique of where they're grown [to show] the purest, uncluttered, seamless, precise, fine expression of purity."
For this tasting seminar, he selected mostly wines from the 2009 vintage, the year of the deathly bush fires in Victoria which killed 173 people, when temperatures on 'black Saturday' reached over 47°C with 120 km/h north winds.  For the vines, which recovered after the heat, Carson said "it was generally a slightly cooler than average season. There was a heat spike in southern Victoria in late January, three days in a row which broke all previous records – 43.5°C, 44.5°C, 45.5°C at Melbourne weather station. But previous to that spring was quite mild, winter was okay in terms of rain, but we were still in the midst of a severe drought since 1997, with 13 years of consecutive lower than average rainfall figures." There was a lot of sunburnt fruit, and vines shut down.
Of the first six chardonnays tasted, they saw fairly similar winemaking.  Carson said there is "a movement where Australia is now making finer, more balanced chardonnay, with lower oak, not too high in alcohol, and better balanced acidity." These wines have been here in the cooler areas of Australia, but until now, they didn't have too much of a voice. For example, at Yabby Lake he said, the fruit "is hand-picked, whole bunch pressed and crushed fruit with full solids and natural fermentation. There's no malo in ours; it's been on lees for 11-12 months, just 8-10% new oak, in 500 litre barrels, so you get the framing of new oak but not the full whack of new barrique."
Part of the movement to cooler zones and more site expression is the choice of clones.  Carson said "a lot of Aussie chardonnay is made from clones promoted in the early 1980s – the I clones, I10, V1, V3 and V5 – where the idea was if it yielded a lot, it was a good clone." Reflections of European viticulture in the 70s are all too apparent.  Carson's preference is for Penfolds 58, which he said dates to the first shipment of vines to Australia by James Busby, and the Mendoza clone, "which has a lot of hen and chicken, it's low yielding and retains natural acidity well."
Other winemaking themes that are occurring at this level are a "steering away from overly stirring wine [on its lees], and a pulling back on the malo" which lowers acidity.  What might be needed in cooler Chablis and Burgundy, might not be needed in Australia.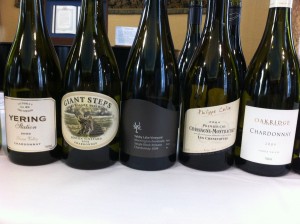 For the pinot noir, Carson adopted a similar focus on mainly 2009. He said that while "pinot noir has a long history in Australia, it's been there since the 1830s Busby cuttings, it was not till the 1970s that people started getting serous about it, planting it in regions where it would perform well."  In Mornington Peninsula, Main Ridge first started pinot noir in 1975, Bannockburn in Geelong in the '70s also. With his tongue in his cheek, Carson added "we getting up towards a 40-year period, we just have 1,960 years to catch up on the experience of Burgundy."
Not, he emphasised, that Bugundy is a point of comparison "but as a reference point as to what's possible with the grapes." Aussies are definitely making Aussie pinot noir. And what's exciting Carson is "we have all this clear space to go on a journey with particular vineyards and see how they progress. [Even] over a five year period we see a quality improvement."
We might only have been tasting wines from three regions around Melbourne, but both the Yarra Valley and Mornington Peninsula are sizeable regions. Yarra elevations range from 80-90m on the valley floor, up to 500m.  "There can be five weeks difference in picking time for the same variety" Carson said, with the style being richer than Mornington Peninsula, with more stone fruit.
Mornington Peninsula, surrounded on three sides by water, has clear distinctions between the northern and southern ends. Carson said "the northern end is 60-100m [Yabby Lake, Kooyong, Mooroduc] and the southern end [Ten Minutes By Tractor, Eldridge Estate] goes up to 250m on red volcanic soils", adding "the south is a bit more fine, elegant, [while] there's more power in the north." The style, he added is a bit more reserved [than the Yarra], more flint and minerality and more floral.
Wine tasting, blind, London, July 19, 2011
A couple of ringers in this line up – chardonnay and pinot noir from both Burgundy and New Zealand were included in the line up. Though we were only told half way through.
Themes worthy of note
A lightness of alcohol in almost all the wines marks part of a newish trend in Australia to find areas where fruit ripens before too many sugars have accumulated in the berries.  The fruit is generally more elegant, and more aromatic as heat hasn't blown off the aromas from the fruit. But one of the risks of harvesting with lower sugars is that of leaner fruit and acidity, which is a bit of a strange new thing to get to grips with when trying to understand Australian wines.
A lowering of new oak regime. No longer are Aussie wines 100% fermented in 100% new oak. Judicious use of oak, new and older, or bigger, is becoming more widespread, especially where winemakers are looking to craft a wine that is representative of the place it comes from.
Eldridge Estate, Chardonnay 2009, Mornington Peninsula
13.3%. Creamy, honeyed toast, rich and quite fat on the nose, followed by scents of melon and butterscotch. Fine, lean attack, then alcohol makes itself felt.  A disappointing palate after the build-up of the nose. Quite skinny on the palate, citrus, melon, hints of tar, and that warmth at the back. The oak is still integrating, it's a bit raw, to pick nits.
Kooyong, Faultline Chardonnay 2009, Mornington Peninsula
12.5%. Steely, leesy, enticing nose. Gentle attack, smooth and focused. Lemon, sweet ripe melon, with some attractive succulence. Fine and integrated. Good.  Tastes 'cool'.
Yabby Lake, Chardonnay 2009, Tuerong, Mornington Peninsula.
12%. Dark brioche, toast and plenty of aromatic tar.  Attack is lean, acidity verging on tart, which disappoints, though it does open up in the glass. Still overly skinny for my palate.
Shadowfax, Chardonnay 2009, Victoria
13%. Blend of fruit from Macedon Ranges, Gippsland, Geelong, Beechworth
Wafting smoke, dried honey, peaches and creamy lees. Citrus and white peach in the mouth with a smooth and integrated palate texture. Silky components coming in here. Rich in intensity, with attractive complexity and layering. Very good.
Kumeu River, Hunting Hill Chardonnay 2009, Kumeu, Auckland, New Zealand
12.5%. White nectarine, with smoke and aromatic tar on nose and palate. Honeyed toast with hints of charcoal, making it a bit too smoky for my palate.
De Bortoli, Estate Grown Chardonnay 2008, Dixon's Creek, Yarra Valley
12.5%. classic peaches and cream, combined with rich, leesy weight on the palate attack.  Smooth textured and integrated with warm and enticing embrace. Good.
Yering Station, Estate Chardonnay 2009, Yarra Valley
White peaches and fresh citrus in a light and elegant nose.  Palate is citrus, mealy even, with sweetness of juicily-dripping melon and fresh, white peach fruit on the palate. Nicely balanced, with long finish. Good.
Giant Steps, Sexton Vineyard Chardonnay 2009, Warramate Ranges, Yarra Valley
Carson: "This vineyard on the valley floor, an exposed site on steep north facing slopes, a warmer site in the valley."
Peaches and meal, with enticing rich, leesy nose, erring to full body where the previous have been medium bodied, and still with fresh core and rich frame.  Attractive immediate and with the gravitas of something more serious. A more overt oaky expression here – overt, but not excessive. Good.
Yabby Lake, Block 1 Chardonnay 2009, Tuerong, Mornington Peninsula
A blend of P58 and Mendoza clones. Only 1,000 bottles made.
Leesy, with hints of aromatic toast and tarry attack, then I find the acid a bit lean on the mid palate. It's looking for restraint, but I find this a bit mean.
Domaine Philippe Colin, Chassagne Montrachet 1er Cru Les Chenevottes 2009, Burgundy
13.5%. Tropical, yellow peachy nose and palate attack. Ripe with gras, a bit of weight and good proportion. Warm, embracing texture (not heat from alcohol), and erring to attractive lushness. Long and really very good.
Oakridge, Chardonnay 2009, Yarra Valley
13%.  White peach, lees with steely backbone running through the core. Fresh and bright with sweet stone fruits and enticing brightness. Nicely balanced, proportioned and long.  Tasty and good.
Coldstream Hills, Chardonnay 2010, Yarra Valley
13%. Something a bit herbal and leafy on the nose of this one. Still a bit leafy on the palate, fennel and sage, palate opens up into savoury notes. Then the finish is warmer (alcohol) than the nose suggests it might be, resulting in something a bit disjointed for me.
Addendum: perhaps the wine, being 2010, is yet to settle into its skin?
De Bortoli, Estate Grown Pinot Noir 2008, Dixon's Creek, Yarra Valley
13%. Brick red, ageing rim. Perfumed, with baked red cherry pie. Wild strawberries and minute-roasted raspberries on the nose. Dry with savoury core and elegant backbone. Very good, fully mature wine.
Addendum:  mature too soon?
By Farr, Pinot Noir Tout Pres 2008, Bannockburn, Geelong
Medium pale, aromatic, with crunchy perfume and black tar. Hints of tomato leaf on first nose, then fruit quite lush on palate. Smoky and tarry, in big muscley style.
Eldridge Estate, Pinot Noir 2009, Mornington Peninsula
Bright, almost purple hue to the rim, in pale depth. Bright palate attack, not so pinot noir-like, more extracted, heavier, maybe, thought still appropriately pale colour. A bit more like red wine rather than pinot noir, and nice red wine for that, but varietal definition is missing for me.
Stonier Wines, Reserve Pinot Noir 2009, Mornington Peninsula
Crunchy and dark berry fruits, core of fresh tannin, again less elegant/filigree that I would expect of pinot noir. Quite big, toned rather than muscley, hint chewy even. Good for all of that, a different (warm?) style.
Ten Minutes By Tractor, McCutcheon Vineyard Pinot Noir, 2009, Main Ridge, Mornington Peninsula
Crunchy, with tiniest hint of VA. Warm and baked red cherries and raspberries, erring to immediately attractive lushness on the mid palate. Heading to a full-bodied wine with warm alcohol. Rich with framing new oak and fleshy fruit. Plenty going here, and I like this multi-levelled style.
Yabby Lake, Pinot Noir 2009, Tuerong, Mornington Peninsula
13.9%. Delicate nose, fresh aromatic strawberries and cherries. Balanced and smoothly textured with savoury, graphite line through the core, showing some sophistication and seamless integration. Youthful. Good.
Yabby Lake, Block 2 Pinot Noir 2009, Tuerong, Mornington Peninsula
14%. Slight, lifting VA along with dark cherries. Almost full bodied, fully dry, rich and finely textured. Dark berry fruits, with elegance, intensity and breadth. Very good.
Domaine de L'Arlot, Vosne-Romanee 2009, Burgundy, France
High vanilla oak and dark berries, with overt youthful oakiness here, meaning tannins are to the fore and still a bit grippy for the cherry fruit.  An obviously different style of wine not quite gelling with the rest of the line up.
Moorooduc Estate, The Mooroduc Pinot Noir 2009, Morninton Peninsula
Juicy, crunchy, berry fruits giving sweet-fruited attack. Dark berries, succulent core, smooth, with freshness. Long sweet finish. Good.
Felton Road, Bannockburn 2009, Central Otago, New Zealand
14%. Elegant sweetness of red and black cherry, with restraint and spiky berry notes, and some attractive lightness of being on the mid palate. This is elegant, sophisticated, layered, focused and seamless. Very good indeed.
Kooyong, Ferrous Pinot Noir 2009, Mornington Peninsula
Big, deep, almost blackcurrant, and almost full bodied attack.  Big red wine, with attractive perfume and black cherry flavours. Young and still a hint grippy.
Coldstream Hills, Pinot Noir 2010, Yarra Valley
Juicy, sweet black cherry nose. Supple, red cherry fruits. Sweet, still-fermenting sort of flavour, then mid palate a bit muted.
Addendum:  is that the 2010 again?
---
Please feel free to comment on this article