Published by Sally on October 7, 2012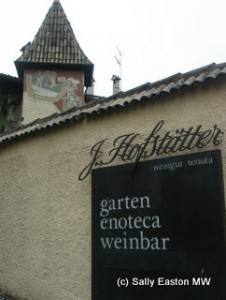 Hofstätter, Joseph Lagrein, £11.50, The Wine Society
Alto Adige in the far north of Italy is unlike any other Italian wine region.  As much, if not more, Germanic than Italian, the region is embedded in Alpine foothills, making it around 1,000 miles away from the south of Italy in the Mediterranean Sea.
On this theme, the Hofstätter family home dates to the 15th century. It used to be an inn and post station on the main north-south transport route. Originally the wine was a sideline for guests of the tavern, but about 100 years ago the family started buying vineyards and focused on winemaking.
This wine is made from specialty grape lagrein which is indigenous to this part of Italy. It's deeply coloured and attention needs to be paid to tannin ripeness.  A great job of that has been done with this wine, which is both juicy and succulent with soft, plush tannins, and a fresh, palate-cleansing acidity.  Black bramble notes merge with lavish dark berry fruits, alongside an accentuating funky smoked mulberry thing on the mid palate.  Really nice.
---
Please feel free to comment on this article