Published by Sally on May 3, 2013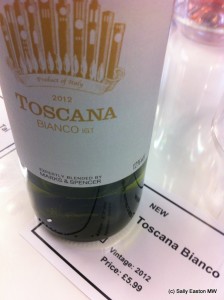 Toscana Bianco 2012, £5.99
12%
Marks and Spencer
For £6, this was my best value for flavour wine of the M&S press tasting. It's new to the M&S range and will be available in shops from the beginning of June.
It's a straightforward wine that's fresh and refreshing with good apple, pear and citrus fruit density. Its uncomplicated nature makes it effortlessly easy to drink (in moderation, obviously). It'll make a great al fresco party wine over the wonderful summer we undoubtedly all hope we're going to have.
It's a blend of nearly two-thirds vermentino, nearly a third chardonnay, with the balance coming from sauvignon blanc. The freshness will be coming from the vermentino with much of the floral and citrus flavours from chardonnay and sauvignon blanc. All the fruit comes from Tuscany, which is much more famous for Chianti and Chianti Classico.
It's made at the Val delle Rose and Villa Cerna wineries which are both owned by the Cecchi family.
It's red 'pair' is also decent and also good value.
Toscana Rosso 2012, £5.99.
Made from mostly sangiovese, with the balance from merlot and cabernet sauvignon.
---
Please feel free to comment on this article