Published by Sally on July 7, 2013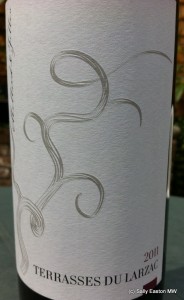 My 3,000th twitter follower (@NMollard) makes wine. How wonderful is that? They even sent me a bottle to taste, so I thought I'd write it up here.
Brothers-in-law Nicolas Mollard and Sébastien Fillon set up micro-negociant company Mollard et Fillon in 2011, in the Languedoc to produce Terrasses du Larzac wine.  They are working with growers in the appellation to provide fruit for the wine. Mollard said "we are 'winemakers-maturers', which means we just buy the grapes of our neighbours."
Sébastien Fillon has a domaine in the Terrasses du Larzac called Domaine le Clos du Serres. It is at this domaine that the fruit is vinified and matured.
The Terrasses du Larzac is rapidly gaining a reputation for being able to grow high quality fruit. The appellation rests at the foothills of the 850m Mont Baudille. The altitudinal variation helps create a wide diurnal temperature variation, with cool breezes coming down the slopes, which assists with aromatic potential and acid retention in the grapes. Most vineyards are planted between 80 and 150m.
The 2011 wine is their first under the Mollard et Fillon label. For the moment this is the only wine they make under their label.
Apparently they're keen to get into the UK market.
Mollard and Fillon, 2011, Terrasses du Larzac – Coteaux du Languedoc
14.5% cork. Blend of grenache, cinsault, syrah, carignan.
Hand harvest. Two to four week cuvaison, with each parcel being vinified separately and blended later. Not much oak at all here. The syrah goes into second to fourth use barrel for ten months. The other cultivars are made and matured in concrete.
This has an enticingly bright ruby colour. It is perfumed with fresh strawberry and sweet star anise spice.  The palate attack is smooth and succulent with liquorice root savoury slickness following up. Sweet dark berry fruits jostle amid sweet soft tannins in a nicely balanced and full-bodied whole. It retains its aromatic freshness despite the high alcohol which appears right at the back of the palate as a bit of an after kick. The wine has good concentration, with a savoury, aromatically-tarry finish (this is a positive description!). I reckon it needs something red meaty or hard cheesy to shine. It's not a shy wine.
---
Please feel free to comment on this article