Published by Sally on October 27, 2012
1 Comment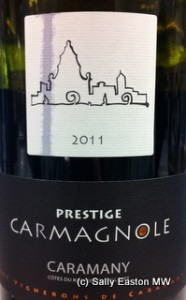 Prestige Carmagnole 2011, Côtes du Roussillon Villages – Caramany
Les Vignerons de Caramany
14% abv
£9.99
Marks and Spencer
Roussillon, in the south of France, makes some cracking wines and it really deserves more of its own reputation independent of that of Languedoc, to which it is inevitably appended.
A mere four villages can add the name of the village to the Côtes du Roussillon appellation, and Caramany is one of those. And it's pretty small – just over 200 hectares of vineyards can provide fruit for this particular appellation, which lies among the low, beginning slopes of the Pyrenees. The other three villages are Lesquerde, Latour de France and Tautavel.
It seems half the 150 inhabitants of this tiny village, in the Agly valley, grow grapes. Their carignan, grenache and syrah are planted on gneiss and granite. Indeed, this particular wine is a blend of 50% carignan, 40% syrah, 10% Grenache.
It has a pristine, raspberry-jelly perfumed nose with liquorice root and a lead-gravelly mineral note at the back. It's an intriguing nose that demands repeated sniffs to appreciate its personality. The palate is smooth, medium-boded with a silky texture and violet fragrance. There's a more-ish layering of flavours amid notable freshness of structure and a kick of fruit spices to finish. This is a really lovely, characterful wine; one to keep in the mouth for a bit to savour the taste. A definite yum score for this one.
---
Comments
One Response to "Prestige Carmagnole 2011, Côtes du Roussillon Villages – Caramany"
Michelle freeman Says:
January 7, 2013 at 8:41 pm

Hi can you tell me when m&s are selling this caramany wine? In the family we have had a residence in this beautiful village and was surprised to read olly smiths article in the mail on sunday live mag on this wine being available in the uk.