Published by Sally on April 3, 2013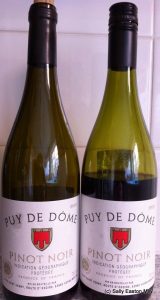 I recently came across a couple of tasty wines from the almost unknown top (closer to the source) / bottom (in the Massif Central) corner of the Loire valley.
Not only were they pretty tasty and good value, the importer working with the producer had bottled the same wine under cork and screwcap. That's always a fun tasting to do. Purely anecdotal, but fun nonetheless.
I found not much difference between the gamays, and I preferred the slightly sweeter (apparently) fruit under the screwcap. On the pinot noirs, I perceived more differences, and I preferred the cork-stoppered version.  For what it's worth.
I did a blind taste-test of the two pinot noirs on some non-wine trade mates who concluded they tasted the same.
For chapter, verse, point and punctuation on the area and its wines, read this from Richard Kelley MW's "definitive Loire wine guide". The company he works for imports these wines.
Tasting, at home, March 2013
Cave Saint Verny, Gamay 2011, Cotes d'Auvergne, £7.50, Wine Society
Cork, 14%
Medium deep ruby with purple hint to the colour. Crunchy black cherry nose with a bit of liquorice spice too.  Same on palate, medium weight with core of sweet fruit tempered by chalky tannin. Quite plush fruit on mid palate – sweet cherry compote. Kick of 14% alcohol is definitely noticeable at the end of the palate.
Cave Saint Verny, Gamay 2011, Cotes d'Auvergne
Screwcap, 14%
Same colour. Crunchy black cherry nose, and a bit of liquorice spice. Maybe the chalkiness of tannin frame is showing less on this wine, though obviously I'm looking for differences. Alcohol kick is similarly noticeable. Maybe it has a bit less grip, which accentuates the core of sweet fruit.
Cave Saint Verny, Pinot Noir 2010,  IGP Puy de Dôme, £7.50, Wine Society
Cork, 13.5%
Medium pale, erring to garnet colour. Immediate nose of lifted, perfumed wild strawberries and blossom, not hugely intense but delicately perfumed and the first, obvious smell. Fresh strawberry and crunchy cranberry attack on the palate. Very good varietal definition here for such a modestly priced pinot noir. Mid palate has lift and perfumed summer berry fruits plus a liquorice stick spiceness of complexity. Upright, fine, dry tannins in the core to add structure.  Really tasty, very good value pinot noir.
Cave Saint Verny, Pinot Noir 2010,  IGP Puy de Dôme
Screwcap, 13.5%
Same colour. I might say more fruity, less perfumed on the nose; more cherries, less 'elevated' aromas maybe. Palate seems similarly structured to the gamay under screwcap – less grip, backbone, more gloopy, amorphous (relatively).  Less overt varietal definition, less upright structure.
Conclusion:
I prefer the aroma and "drier" – slightly grippier (relatively), more tannic (relatively) structure of the pinot noir under cork. Under screwcap it felt rounder, fatter, gloopier, with less glaring varietal character than under cork. So I'd rate the cork one highly as having typical varietal definition and with floral aromatics. But the screwcap one had no wow factor for me. It's all in the right place, but it wasn't especially aromatic, which is an important component of pinot noir for me.
---
Please feel free to comment on this article