Published by Sally on February 23, 2011

Ron Laughton is one of the quiet, precise, conscientious men of wine, an ex-food scientist who is making his 30th vintage in 2011, having put in the first plantings in 1975/'76.  His daughter Emily is fellow winemaker for the estate.
The estate, 120 kilometres north-west of Melbourne, in Heathcote, Victoria, is named after the semi-precious jasper, a quartzite pressure rock found in black and red forms on the edge of the fault lines that run north-south.
Though seven wines are made in total, Jasper Hill's two more famed wines are named after Ron and Elva's daughters, Emily and Georgia.  Emily's Paddock (Australian for a fenced field) is a 95% shiraz/ 5% cabernet franc blend, while Georgia's Paddock is pure shiraz.
Heathcote shiraz is all about the Cambrian (500 million years old) soils which lie over basalt bedrock. Both the paddocks are at 320 m ASL.  Emily's has a north-east aspect; Georgia's an easterly aspect, with deeper Cambrian soils.  Pretty much everything else is the same, so Laughton argues any significant differences in the two wines must be terroir effects.  He said they were "planted the same year, with the same clone, same planting density, same soil, same viticulture, same winemaking, same everything.  They have a slightly different exposure, and Emily's paddock is about 50m higher, and they are a kilometre apart."
With heat degree days of 1490 (Winkler region II), Laughton doesn't suggest that Heathcote is cool, but he does say "shiraz needs some sun and warmth to ripen.  And it's not only heat, it's the quality of the sun.  Summer [in Heathcote] is radiant, with clear blue skies, no cloud and fog.  And not so much heat."
Here, he said "we get ripe flavours and elegance. There is a sweet spot of shiraz here.  There are some cooler areas within Victoria where shiraz shows more elegance than mine, but less ripeness."  And he added "the single biggest indicator that this area is great for shiraz is that in 30 years I haven't adjusted the acidity.  [We get] full tannic ripeness, full flavour ripeness, and full acidity still."
"Because we have low yields [Emily's paddock is around 15 hl/ha], the canopy is open to the sun, and the malic acid in the grapes is low.  After malolactic, the pH [therefore] hasn't changed much, the tartaric acidity is still high."
The tortured geology is important.  Two parallel faults fun close together in Heathcote which lifted and exposed the volcanic rock which formed the Cambrian soils – decomposed basalt high in iron.  "Minerals are mixed in the Cambrian soils, and the building blocks for the molecules of colour and flavour come from the ground" Laughton said.
So place is important, though "we only talk of terroir where it's good terroir. And to maximise terroir I try to do as little as possible." With his previous career as a food scientist, Laughton said "food flavours are fragile. Ten second too much and flavour is changed irreparably. So as a winemaker, all I can do is remove or reduce flavour, except oak."
Laughton has settled on a 20% new oak regime, though he's "deliberately using older and now bigger barrels, with thicker staves, for grenache, because it oxidises easily, and I don't want too much oak flavour in the wine." The oak is always French because "it's more subtle, American oak is more in your face. I like to make elegant wines."
Laughton also chooses a long, up to six weeks cuvaison, from harvest to pressing. He said "in six weeks the tannins change structure.  It's not about extracting tannins from pips and skins, this plateaus. To my taste, after it plateaus, then the structure of the tannins changes in the alcohol solution so that they become more supple.  Tannins then start dropping off so you need to press."  The downside of this is that a lot of fermenter capacity is needed, as such a long cuvaison means it's used just once a year.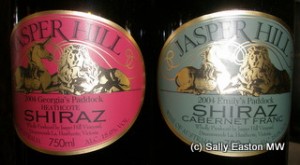 Though not subscribing to any certification, the vineyards are dry grown, without synthetic chemicals, and Laughton makes his own organic compost and has been following biodynamic rhythms of agriculture since the late 1990s.  However he said "I want you to buy my wine because it's bloody good, not because it's biodynamic." 
I can attest to the former. And the two paddocks' wines do taste different. Are those differences attributable to terroir effects?
Georgia's Paddock 2009
Juicy plum, sweet fruit, enticing and fresh. Smooth and silky attack, dark black berry fruits. Sensuous, fine silky tannin texture, youthful and primary, long, linear palate length, richness without fatness.  Well toned, with spicy black pepper finish. Unbelievably smooth texture, layers of fruit emerge mid palate. Sophisticated.
Emily's Paddock 2009
Balsamic red fruits, redcurrants, with perky attack and bright, crunchy red fruits, and a more open-knit mid palate texture. Rounder shape in mouth to the Georgia's linear. Tannins gently gripping as with velvet gloves to their youth and to the crunchy red fruits. 
Georgia's Paddock 2004
Inky, dark smoky; hint of lifting VA, rich, fat, delineated dark and big, sub-porty in a delicious way. Long
Emily's Paddock 2004
Sill redcurranty and perfumed, more delineated; full, sweet, medium bodied still, with warmth of alcohol. Seems a tad fresher than Georgia's Paddock, and showing less evolution.  
Georgia's Paddock 1994
Warm, lifting, aromatic VA, smooth farmyard. Dense and dark flavours.
Emily's Paddock 1994
Mahogany, with herbal-iodine complex. Fresh farmyard, warm brick. A little lighter than the 1994 Georgia's Paddock.
My research visit to Australia in October 2010 was sponsored by Wine Australia.
---
Please feel free to comment on this article