Published by Sally on January 29, 2011

| | |
| --- | --- |
| Title of book:   | Grand Cru |
| Author: | Remington Norman |
| Publisher: | Kyle Cathie |
| Publication date: | 2010 |
| ISBN      | 978-1-85626-920-9 |
| Pages: | 239 |
| Price:   | £40 |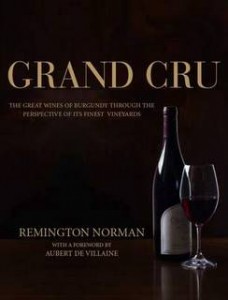 This is subtitled "The great wines of Burgundy through the perspective of its finest vineyards".
In Burgundy, the quality echelon is embedded in the appellation system, which means that the top level of quality in Burgundy corresponds to a geographical area – also called grand cru. 
There are 33 grand crus vineyard sites, each individually named. Together they account for less than 1% of all of Burgundy's production. This book explores the 32 located in the Côte d'Or. Chablis grand cru is not considered.
Superimposed on this geography – those 32 sites – are the sometimes many growers that have vines in the appellation. This is already complex enough and Norman's other 2010 publication, The Great Domaines of Burgundy, (with Charles Taylor) looks at Burgundy through the eyes of individual producers.
Promotion to grand cru status is at least theoretically possible, so Norman also explores a handful of the top premier cru vineyards.
All 32 of the grand crus lie in the 50km by 1km stretch of faulted limestone outcrop that is the Côte d'Or. The universal truth is that some vineyards consistently produce better wine than others, thus the theme of terroir necessarily runs deep – the idea that specific site and all that it encompasses: soil, geology, grape varieties, climate, weather, under wo(man)'s husbandry, determine quality and individuality. Norman makes sense of this by breaking up into bite-sized chunks for discussion these components that we think comprise terroir: husbandry, soil, topography, morphology, geology, pedology and climate.
He also explores the grape varieties – just pinot noir and chardonnay – as well as touching on the diaspora of these two varieties. Clones and climate are also explored in more depth, as are managing vintage and vineyards.
Despite a 2,000 year history, Norman reveals pinot noir played minority fiddle to gamay until the latter part of the 19th century. But since then an ongoing quest to improve quality continues to pervade.
Occupying more than half the book, each of the Côte d'Or's grand cru vineyards is detailed, with size, number of owners and average production. The principal owners are listed, and emboldened for a particularly good source of wine.  The microscopy of the Côte d'Or is thus succinctly revealed. And for each grand cru Norman outlines the major terroir effects and offers comments on the styles to be found in each grand cru.
In Clos de la Roche, for example, the average vineyard holding is 0.43 of a hectare. This Morey grand cru is also revealed as the source of some of the best, and most widely dispersed, pinot noir clones, which are subsequently detailed in Chapter 6. By comparison, the scale of holding in Bâtard-Montrachet is nearly half that in Clos de la Roche.
This is a fine read and reference volume, and in conjunction with the earlier book, this one adds further nuance to one's grasp of arguably the most diverse and complex patch of dirt in the world.
---
Please feel free to comment on this article