Published by Sally on January 14, 2016

| | |
| --- | --- |
| Title of book: | The Wines of Austria |
| Author: | Stephen Brook |
| Publisher: | Infinite Ideas Limited |
| Publication date: | 2016 |
| ISBN | 978 1 908984 37 1 |
| Pages: | 282 |
| Price: | £.35.00 |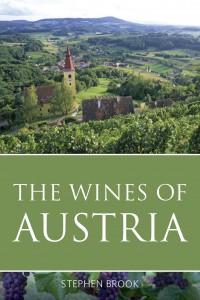 Stephen Brook has long been working with Austrian wines and is a source of many an amusing anecdote, and artefactual aside. He is well placed to document the country's current state of peak performance at the highest international quality levels after its phoenix-like rising from the antifreeze scandal of 1985.
Brook writes for the whole spectrum of reader knowledge-base. He writes for a reader of no, or little, previous knowledge of Austrian wines, but who is already comfortable with a little 'wine-speak'. There is also plenty of detail for the aficionado, for example the characteristics of specific Wachau, Kremstal and Kamptal vineyards, and the nomenclature of particular cuvees.
Few may realise that Austria's vinous heritage is a long one. Charlemagne … the Cistercian monks from Burgundy. Even now there is a Burgundian feel to vineyard site specificity. Brook documents achievements of the last 30 years – the endlessly proactive Austrian Wine Marketing Board, the creation of new regulations and laws, the DAC appellation system, which is, frankly, as enlightening and confusing as appellation systems in other countries, though there is a logic in the minutiae. Brook's introduction lays all this out in comfortably straightforward fashion.
The book's structure is also entirely logical. A chapter on grape varieties, of which Austria has many indigenous cultivars, including gruner veltliner, which accounts for nearly a third of Austria's totally vineyard area, and the recent fame and quality of which now means plantings are popping up all over the world – in New Zealand, Australia, Oregon and California. Plus wondrous niche-niche-niche specialties rotfipfler and zierfandler, both of which, I agree, deserve much greater vineyard space. On the reds, blaufrankisch, sankt laurent and zweigelt are the ones to read about here.
Subsequent chapters are by region and include profiles of producer. These include family heritage, key vineyard plots, winemaking preferences and/or specific wines of note including any unique labelling particulars.
Generally I find Brook an easy and relaxing read, and this latest book of his is no exception. Which is not to say that he is sparing with information. Far from it; his writing concentrates information in a fluid style, and by the end of a regional overview, the reader has a grasp of its main viticultural influences. Though perhaps a country-wide climatic overview might have given a foundation from which to understand why regional moderating influences are important. Overall, I think it's best served as a reference book for dipping into, especially to gen up on producers and their wines. The final chapter details information on previous vintages.
Criticisms … there are way too few pictures. The few that exist are succinctly illustrative, but if ever there was a wine producing country to 'drink' with one's eyes, I would argue it is Austria (and I must offer full disclosure that I am a fan). I'm a bit of a map nerd too; these aren't the best I've seen.
Brooks sums well "the renown of Austrian wine is constrained only by its limited production." I might add … complicated by its microscopy of vineyard patchwork akin to that of Burgundy. Indeed with 47,000ha in production, Austria is about the same size as Burgundy (30,000ha), including Beaujolais (16,000ha).
---
Please feel free to comment on this article