Published by Sally on February 20, 2014

| | |
| --- | --- |
| Title of book: | Wine Science – the application of science in winemaking |
| Author: | Jamie Goode |
| Publisher: | Mitchell Beazley |
| Publication date: | 2014 |
| ISBN | 978-1-84533-878-7 |
| Pages: | 216 |
| Price: | £30.00 |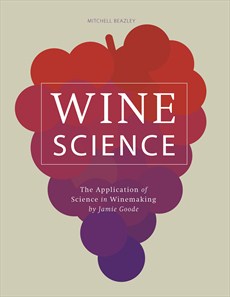 I like the way Goode arranges grape growing and winemaking information under selected subject titles of topicality rather than taking a chronological route through the process.
With this new edition, Goode brings us up to date with several expanded and revitalised sections, including minerality, a subject close to my own heart. After outlining the term's misuse, and how notable writers do use the term, he explores what is actually known, so far, about this fascinating topic. One that will run for some time as terroir effects are further researched.
Oxygen management also gets greater attention as OTRs (oxygen transmission rate) and TPOs (total package oxygen) have made their way into more common parlance since the last issue of his book. Our understanding of how oxygen relates to wine, and its importance, at various stages during winemaking has been an area benefiting from significant amounts of research. Similarly VSCs (volatile sulfur compounds) and SLOs (sulfur-like odours) get a useful update in the sulfur dioxide sections.
Additionally, the mainstay, but not always widely appreciated, production method of Beaujolais – (semi)-carbonic maceration and the use of whole bunches in red ferments has taken off big time since the first edition of Wine Science, so it's great to see Goode giving this fascinating topic due prominence. It used to be that kicking the vine to see if fruit fell off determined ripeness, now apparently folk are chewing stems to determine whether to add them to the fermentation. This wine science stuff is not always quite as high-tech as we might have thought!
I have a couple of minor niggles. It's a shame Goode doesn't differentiate between 'new' and 'carried over' conversations. Maybe it's just me but I initially interpreted the quotation marks as seeming to suggest a currency of information, akin to reading a magazine article, yet some quotes are the same ones as in the 2005 edition of his book. It's absolutely right that Goode attributes the information; I wonder would a (year) of conversation have provided useful information, or am I being pedantic? I know I like stuff to be dated so I can contextualise. For sure, some of the quoted information is background, so maybe isn't time-sensitive. But science, typically is time-sensitive, as the results of research move the boundaries of our knowledge. What was right x years ago may well have been proved incorrect at a later point in time.
I'd also have liked to see a reference list, which typically befits science-related work. Goode litters the book with stuff from the authors of research, but the relevant or associated research papers are not always referenced. It might be helpful for anyone wanting to delve a little deeper into any aspect of the work the author consolidates to have been directed to the original works.
This aside, he sure crams in a lot of info. There's not too much waffle with this author. He hits the nail on the head with all the issues of the moment, and presents the arguments lucidly and intelligently, as, indeed you'd expect. He has the enviable ability to discuss detailed scientific issues clearly, logically and in a way that is understandable by non-scientists. Jolly good and thoughtful read, this book.
---
Please feel free to comment on this article