Published by Sally on June 5, 2012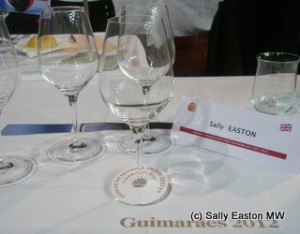 More than 300 of the great, the good, the glamorous and the grubby, from 48 different countries, gathered in the Portuguese medieval town of Guimarães last month, for three days, to judge some 8,400 wines and spirits as part of the Concours Mondial de Bruxelles. Me included.
This is a competition where the only information given is the vintage.  In other competitions I judge, the country is also usually known. It makes it challenging, but I suppose it removes the temptation to judge within one's perceptions of styles emanating from any particular country.
Our panel awarded two gold medals for host-nation producer Cortes de Cima, an Alentejo property, for their Petit Verdot 2009, and their Reserva 2008, a plush blend of aragonez, touriga nacional, syrah plus petit verdot.
One of the most consistent flights I judged was a string of Vin de Pays/IGPs from Gascogne and other south west France IGPs, many of them made from sauvignon blanc, rather than the more widespread ugni blanc and colombard. But there was stylistic disagreement in our panel… the sweaty, slightly reductive style appreciated in the UK for example, is less favoured in other European countries. The one we did agree on was the round, tropical-fruit style of La Fleur Saint-Michel Sauvignon Blanc 2011, Vin de Pays des Côtes de Gascogne, which got a silver medal.
Another fairly consistent white flight was from Italy's Veneto. Gold went to Az. Vitivinicola Zenato, Sergio Renato 2009, Lugana DOC, a pure trebbiano from the southern shores of Lake Garda. This was attractively peachy and fresh, with some mid palate weight for added dimension.
A silver medal went to Masottina, Incrocio Manzoni 6.0.13 Blanc 2011, Colli Trevigiani IGT.  Incrocio Manzoni 6.0 13 is apparently a riesling x pinot bianco cross. It's eminently drinkable in a fresh, semi-aromatic, light aperitif style.
Unsurprisingly, from more classic regions, and despite its youth, Tuscany's Castello Vicchiomaggio Ripa delle Mandorle 2011, a Toscana IGT blend of 75% sangiovese with 25% cabernet sauvignon, showed well for a silver medal. Sinarra 2010, a Maremma Toscana IGT from La Fattoria di Magliano was a new one for me. This turned out to be a blend of mostly sangiovese with just 5% petit verdot, the spicy red fruits were tastily balanced against its fine structure.
The 2010 Bordeaux vintage threw out a couple of silvers in our panel's flight of Côtes de Bordeaux: Clos Bourbon 2010, Cadillac Côtes de Bordeaux, and Château Haut la Pierrière 2010, Castillon Côtes de Bordeaux.
A Champagne flight was even more successful. Champagne Laurenti, Grande Cuvée (gold) and Champagne Marc Initiale Noir & Blanc (silver), both showed rich creamy, brioche yeasty notes of complexity.
The sparkling flight finished with a demi-sec champagne – Piper-Heidsieck Cuvée Sublime (gold), which tasted in a lush, high dosage, style with soft, creamy citrus notes and fine yeastiness from long lees ageing.
Yet, the biggest discovery for me was a lovely, gold-winning wine from kalecik karasi, the black grape variety from which Kavaklidere Saraplari make their Prestige 2009 wine. It comes from central Anatolia in Turkey. This tasted quite grenache-like, with gentle spices, soft tannins, warming alcohol and a ripe sweetness to the fruit, all very nicely balanced indeed.
For the full results, go here.
Next year, the Concours Mondial assembles in Slovakia.
---
Please feel free to comment on this article