Published by Sally on August 14, 2011
2 Comments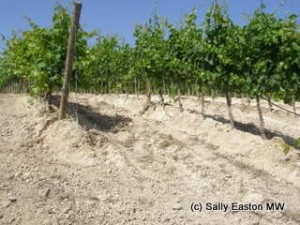 In the chalky white soils south of the town of Campobello di Licata in the province of Agrigento in Sicily lies the Bonetta family property of Baglio del Cristo di Campobello. The name may not easily roll off an anglophone tongue, but the wines roll across that same tongue in a much more delicious fashion.
The Bonettas, father Angelo and brothers Domenico and Carmelo, have revitalised their business in the new millennium. They used to sell bulk wine, but in 2000 they planted new vineyards on their 50 hectare property, and in 2006 a state of the art winery was opened, costing some €5m.  It was in 2007 that they bottled their first vintage, taking it to market in 2009.
The 30 hectares of  vineyards, all around 230 to 260m above sea level, are mostly planted to nero d'avola (60%) and grillo (25%), with the rest being split among insolia, catarratto, syrah, cabernet sauvignon, merlot and chardonnay, though, said Carmelo, "after 2006, we're moving more to indigenous grape varieties."
A lot more than money has gone into this property, with an emotive Sicilian story being woven around the wines, whereby dialect names have been chosen for the names of the wines, and where some of the labels are "based on veils from 200 years of Arab rule" Carmelo said.  Still on the agenda for restorative investment is the traditional farmhouse complex – the baglio – which sits near the top of a slope amidst the vines.
With the sea just 8 km to the south Carmelo added, "there's always a breeze. And it can be 35 to 40°C during day, then it can be 20 to 22°C at night."
The family is making around 25,000 cases across eight labels, and not a duff one among them.
Wine tasting, in situ, June 2011
CDC 2010, IGP Sicilia Bianco ~€10
25% each of grillo, insolia, cataratto, chardonnay, in stainless steel. 13%. 5.9TA, pH3.16.
Aromatic, quite peachy nose, full, rich, tasty, tropical, flavoursome with decent length. Good.
Lalùci 2010, IGP Sicilia ~€15
Lalùci means light in Sicilian dialect
100% grillo, all stainless steel plus 4-6 months in bottle. 13%, 6TA, pH3.11.
Lemon grass, citrus, quite full and richly flavoured. Nice round balance with good fresh, prickly core. Long. Good
Adènzia 2009 IGP Sicilia ~€12
Adènzia is dialect for paying attention.
75% chardonnay, 25% grillo. Stainless steel plus on lees for 4-6 months. 13%, 5.5TA, pH 3.2.
Nose a bit reticent, in typical non-aromatic chardonnay style, with melon, white peach. Attractive smooth texture, nicely balanced.
Laudàri 2008 IGP Sicilia ~€17
Laudàri is dialect to sing someone's praise.
100% chardonnay, in barrique, one-third news, plus 3, 4th year, for 2-4 months with battonage. 13.5%, 5.7TA, pH3.22.
Peachy, toasty, broad, well made, but for me lacks a singular identity. It's a bit like so many other nicely oaky chardonnays on the market.
CDC 2009, IGP Sicilia Rosso 2009 ~€10
~25% each of nero d'avola, syrah, cabernet sauvignon, merlot. No oak. 13.5%, 5.25TA, pH3.41.
Spicy rather than fruity nose, which comes through much more on the palate, with soft, crushed red berries and cherries, alongside soft spices.
Adènzia 2008, IGP Sicilia ~€14
60% nero d'avola, rest cabernet sauvignon/merlot. 13.5%, 5.3TA, pH3.42
Spicy black fruits on nose, soft, supple sweet texture, round and quite lush, full bodied and appealing, with hint of bramble on the finish.
Adènzia 2009, IGP Sicilia ~€14
~80% nero d'avola, rest syrah and cabernet sauvignon.  14%, 5TA, pH3.48
For me this wine works better with more nero d'avola and less cabernet sauvignon. It's bright and sparky, with spicy, rich, dense sweet fruit. It's more authentic somehow, and with a hint of chalky backbone.  Good.
Lusirà 2008, IGP Sicilia ~€25
Dialect for syrah. 14 months in French barrique, one-third new. 14%, 5.5TA. PH3.54.
Bass notes of stewed red berries, in a full, round spicy, and quite hot, whole. The alcohol shows through a little, and it's not in a familiar varietal style (but is the style of Sicilian syrah?), but does have very good length.
Lusirà 2009, IGP Sicilia
100% syrah; 14.5%, 5.1TA, pH3.45. Not released at time of tasting.
Spicy with bits of raw oak, which is still integrating during bottle ageing. Big, with the alcohol showing, and also with big fruit, which tastes like it will all come together in a really good way.
Lu Patri 2008, IGP Sicilia ~€25
Dialect for the father. Nero d'avola as the father of all the indigenous vines in Sicily (but maybe also for Angelo?) 14 months in French barrique, one-third new. 14%, 5.5TA, pH3.42.
Smoky, liquorice stick, savoury nose.  Palate with smooth and silky texture, dark berries, full bodied, hint savoury elements and lovely layers. Elegance with substance. Vg.
Lu Patri 2009, IGP Sicilia
14%, 5.2TA, pH3.42. Not released at time of tasting.
Bright and crunchy red fruits with depth amidst the still integrating oak. At this stage the alcohol is showing again and the firm structure still needs to mellow with more bottle age.
My research visit to Sicily in June 2011 was sponsored by the Sicilian Regional Institute for Viticulture and Wine.
---
Comments
2 Responses to "Baglio del Cristo di Campobello"
Milazzo - www.esplora.co.uk Says:
August 20, 2011 at 5:59 pm

Most interesting article. Thank you.

Saye Says:
January 6, 2015 at 1:54 am

Had this wine at arestaurant in Quebec Canada. Very good,trying to find it in Ontario