Published by Sally on March 29, 2013

The nearly five hectares of Jenkyn Place Vineyard lie at around 100m altitude, on a gentle, chalky, south-facing slope of the North Downs. The vineyard forms part of the family home of Simon and Rebecca Bladon, who moved to the Hampshire property in 1997.
Bladon planted their first vines, of the classic Champagne trio chardonnay, pinot noir and pinot meunier, in 2004 on an abandoned hop field. He said "I had the field. What do I do with it? I had no particular yen to plant a vineyard." And yet he did. The property investor confessed to liking the idea of having a creative project to carry out from his home, and, already having form as a successfully serial hobbyist, he is doing rather well with this particular project.
Further plantings were added in 2007 and 2010 to reach the current size, which is the maximum, Bladon said.
The first vintage was 2006.
With Bladon "growing the grapes and selling the wine", he said building a winery on site was out of the question, and not least because of the financial investment. With his hobby "that got slightly out of hand", he doesn't want to interfere with the feel of the family home. It's not like the vineyard is on a farm. And, he added, "two out of three isn't bad."
Instead, the wines are made by Dermot Sugrue at Wiston Estate Winery, around 40 miles away. After disgorgement the finished bottles return to Jenkyn Place for labelling, packing and distribution. Bladon disgorges as he goes along, so the wines have at least 2 ½ years on the lees, and can have longer.
It's been a bit of a torrid time recently though, generally for English wine, and Jenkyn Place has been no exception. Along with a few of his compatriots, Bladon made nothing in the challenging, to say the least, and chilly 2012 vintage. But he also made nothing in 2011, so he's a bit thankful that 2010 was a big vintage, all things being relative, of course.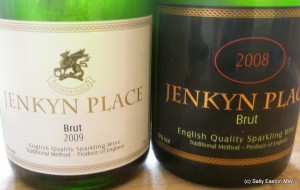 Despite an absence of new wine, inactivity is clearly not an option. A fresh, modern livery has been introduced with the 2009 vintage release.
It's not the only thing being overhauled. The website is being revamped, and one of the improvements will be the ability to buy wine directly from the site, which already lists retail stockists.
Tasting, in situ, March 2013
Jenkyn Place, Brut 2009
65% chardonnay, 25% pinot noir, 10% pinot meunier
This kicks off with an attractive lemon curd and brioche nose. The palate attack is firm, fresh and lively, giving way to bright, lime zest, briar and hedgerow characters amid the toasted lemons. A fine, persistent, delicately proportioned mousse gives a filigree texture to this good, and tight, young wine.
Jenkyn Place, Brut 2008
65% chardonnay, 20% pinot noir 15% pinot meunier. This one's had at least three years on the lees.
This is a bit rounder on the nose, and fuller in the body, more voluptuous, if it is possible to describe an English sparkling wine as such. Still with a tingly core of lemon sherbet acidity, attractive briary freshness, and greengage notes; then with savoury, rounded smoky-toasted complexing notes to the mid palate. A good concentration of these flavours fills out in the mouth, which finishes with a long flourish. Good stuff.
Jenkyn Place, Rosé 2008
The first vintage of rosé. 44% chardonnay, 46% pinot noir, 10% pinot meunier.
This is a serious rosé, with hints of strawberry amid aromatic smokiness and a savoury, toasted core, with a long finish.
Jenkyn Place, Rosé 2009
About 70% pinot noir, 30% chardonnay.
This has an enticing, bright, translucent, rose petal pink colour. Youthful nose of strawberries and bon bons, with a steely note of intention added in. The palate is fresh with strawberry sherbet, a hint of dry roasted almond skin complexity, with an attractive density, concentration and length of fruit, that's suggestive of better things to come. Good.
---
Please feel free to comment on this article