Published by Sally on September 15, 2011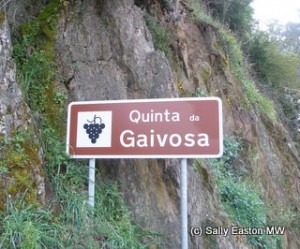 The Quinta da Gaivosa estate is located on the right bank of the river Corgo, one of the main tributaries of the river Douro, at the western end of the Douro valley in Baixas Corgo, just 10km from Vila Real. Its 25 hectares of vines have an average age of 60 years, planted on the typical schist soils of the Douro valley.
The estate is one of the six Douro properties of the Alves de Sousa family, who bought it in the late 1980s. Along with their other estates further along the valley, the family is one of the larger independent producers in the Douro.
The fourth generation of this family to be farming is Tiago Alves de Sousa, who explained they used to supply bulk wine to the famous Port shippers. But, he said "in the early 1990s, Port was struggling with the prices of bulk wine, so my father decided to explore still wines."  He added "Port represented half the production of our vineyard, and we had the other half of 'leftovers' which wasn't really the 'leftovers'.  Because Port production is controlled, we couldn't make Port from those grapes – from the same vineyard, from the same grape varieties."
Alves de Sousa explained what a challenge it had been to make still wines.  All their expertise was in the making of Port wine, which requires a different use of winemaking skills from making still wine. Port wine needs super-ripe, sugar-rich fruit which undergoes an massive maceration. Still wines needs fresher fruit, and gentler, longer maceration.  Even now, more than 20 years later he said "it's still something exciting and evolving."
The vineyards at Gaivosa are at 350m to 500m above sea level, with the best of them facing west to maximise the sunlight hours at the cooler western end of the Douro, and because the altitude already adds a cooling influence. And, said Alves de Sousa "the vineyards have a bigger temperature amplitude between day and night, so grapes hold their acidity", which is crucial for still wine.  He added "Baixas Corgo is very good for still wines because it's cooler with more rainfall, so the wines have a better balance."  But even in this region, those vineyards close the river surface, around 80-100m above sea level, can be too hot for still wines, but make good fruit for Port wine.
One of the property's top wines comes from a two-hectare 'abandoned vineyard' which has half its vines missing. It sits at the top of a slope at 470 metres, with rock very close to the surface.  The family tried to replant the gaps but said Alves de Sousa "the new plants kept dying".  The vineyard is a field blend of around 30 different grape varieties.
In another of the estate's vineyards, Lordelo, the vines are 100 years old.
Come the winery, Alves de Sousa is making some single varietal wines, though "more to study the varieties than to think about the wine on its own.  We do a 100% touriga nacional, and our first vintage of sousão [2009] is still in the barrel."
The family is also experimenting with white wines. Alves de Sousa said "higher altitude with north facing slopes provide great conditions for making modern white wines." And he said "the best is yet to come with whites. We had to plant everything from scratch.  As the vineyards mature and as we get to know them better, whites in the Douro can get to the same level as reds."
Tasting notes, in situ, March 2011
Quinta da Gaivosa, Branco da Gaivosa, Reserva 2009.
12.5%.  Blend of malvasia fina, which "behaves a bit like chardonnay; it gives body and shares the same family of floral flavours; gouveio, arinto and avesso, "which plays on mineral, acidity, freshness." Fermentation in new French barrels because "we wanted to have a long ageing to work on the structure and complexity."
Golden colour. Rich, toast and tropical notes, supple and soft fruits with fine texture on palate; oak is overt and seamlessly done. Savoury, full and fresh, with aromatic spiciness, great depth and length. Vg.
Quinta da Gaivosa, Quinta da Gaivosa 2005
14%. Blend of around 20 grape varieties. 15 months in 2nd year French barrels.
Fragrant, strawberries and raspberries. Gently balanced with wweet and textured fruit, medium weight, with warmth of alcohol at end amid lovely aromatics.
Quinta da Gaivosa, Reserva Persoal 2005
14.5%; 80 year old field blend.
Dark, muscley fruit, yet with supple and rounded texture. Fresh with attentive grip, but not grippy. Lovely.
Quinta da Gaivosa, Vinha de Lordelo 2007
15.5%. Baked fruits and fresh redcurrant preserve. Sweet and fragrant, with mulberry jamminess alongside freshness, lift, an aromatic core and density of flavour. Long and refined. Vg.
Quinta da Gaivosa, Abandonado 2007
14.5% Complex, multi-layered nose, big, toasty, mint and tar notes, rich in savouriness. Dark berry fruits, fresh and aromatic in brooding, chocolate-y style, and with great length. A 'meditation wine'. Vg.
My research visit to the Douro was sponsored by the 'Discover the Origin' campaign.
---
Please feel free to comment on this article