Published by Sally on March 23, 2011

The Rheingau VDP (Verband Deutscher Prädikatsweingüter) rocked into London in early March to promote riesling in their small Rheingau region of Germany, and brought along an historic sextet of riesling to illustrate the point.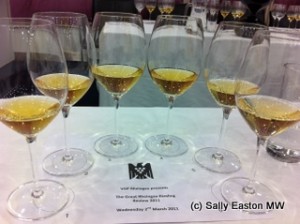 It was the Rheingau said Dr Franz Michel of Domdechant Werner'sches Weingut, from where "the oldest documentation of riesling comes, dating to 1435, with the first references for spätlese and auslese coming from Schloss Johannisberg."
He added it was the Rheingau's specific cool climate growing conditions "that is our trump card", it being impossible to copy the style in other countries.
Though the six wines shown all came from the traditional fruity riesling styles, where sweetness is balanced exquisitely with acidity, Michel was keen to draw attention to the "beautiful, intense, dry wines, with minerality and fruitiness" that the region also produces, with the flagship dry wines coming under the aegis of the Erstes Gewächs.  This is, he said, "the grand crus from German terroir."
Some comments on the 2010 vintage will be posted later.
Tasting, London, March 2011, and producer comments
It's such a rare opportunity to taste these wines, it seems a little inane writing tasting notes, especially when 'light', 'fresh', 'intense' are repeated. Other consistencies included a sometimes remarkable intensity and dimension, as well as silkiness to the texture.  
Hessische Staatsweingüter Kloster Eberbach, Rüdesheimer Berg Rottland Riesling, 1946
Golden yellow colour. Fresh button mushrooms which still have a bit of fresh compost on the stalks. Smoke, mushroom, the post-striking of gunflint aroma. Sweet-savoury flavours and dry-tasting, remarkably still gently tingling with freshening acidity, clean finish, still beautifully balanced. Gentle. Lingering, haunting echoes of intensity. Refined. And sophisticated.
Managing director of Kloster Eberback Dieter Greiner said there were "parallels of 1946 with 2010. Here we have a wine with 10g/l total acidity, which is a lot for Rudesheim, and 103° Oechshle. This is a very good vineyards site, with steep slopes, and a mix of various soils – quartzite, loess loam. It has a good water supply even in dry years. The wine is 65 years old, and it's still giving pleasure. There's just a slight hint of the residual sugar this wine had. And it will age for another 2, 3, 4 decades."
Weingut Geheimrat Wegeler, Geisenheimer Rothenberg Riesling Kabinett, 1983
Arromatic wafting smokiness, with notes of quince and Mediterranean fruits. Almost medium bodied, with the acidity firm and defining. Hints of a light grassiness alongside the purity of dense yellow and citrus fruits. Wonderful intensity of fruit expression even after this time.
Cellarmaster Michael Burgdorf said " This was a very good vintage. It's still fruity, still fresh, very good to drink now, [even though it's] more that 25 years old. [It shows] it is also possible to make a 'smaller' wine with ageing potential from a good vintage."
Schloss Johannisberg, Schloss Johannisberger Riesling Grünlack Spätlese, 1964
Lemon coloured, the palest colour of the six. Aromatic smoke, and smoked honey, a sensation of light sweetness palpable on the attack, then the core is has a dry note. Flavours of lemongrass, apple, a hint tropical too, apricot, with hints of sweetness giving fleshiness to the fruits.  An acid core keeps everything in a pure line. Silkily textured and tasting off dry with a long, dry satin finish.
Domaine director Christian Witte said "Since 1720 we only make riesling. This vintage shows nice freshness, and reminds me of the 2004 vintage. Wines like this work well with modern cuisine. It's not massive and powerful, and has 60g/l residual sugar. You can see the elegance, and always the balance bet acidity minerality and sugar."
Weingut Balthasar Ress, Hattenheim Engelsmannsberg Riesling Spätlese, 1975
Golden colour with smoke and aromatic mushroom development. Off dry perception of sweetness perception all through the palate, balanced poignantly with freshening acidity. Plenty of youthful primary fruit in the core of this wine, framed by hints of dry mushrooms. Suppleness and sweetly enveloping texture.
Export manager Clemens von Eltz said "1975, along with 1971 and 1976, was one of the better vintages in the '70s. After '76, '75 was underrated, it got lost in shadow of '76. The acidity level is still very nice, and the wine is still lively. At that time spätlese was around 40-45g/l residual sugar."
Weingut Baron Knyphausen, Hattenheimer Wisselbrunnen Riesling Spätlese, 1998 magnum.   
Rich lemon colour, and rich, youthful five spice on the intense nose. Rich, enticing, tropical and aromatically spicy fruit, full and sweet, with cleansing acidity that strikes the sweetness to a perception of a relatively dry finish. Lush, fine taffeta texture, with fennel and rosemary twist to the cleansing finish. Vg.
Dodo zu Knyphausen said "This is a delicate, well balanced wine. Bright, with deeply elegant substance, from a famous vineyard.  I would give this wine another 10 years at least; it has very lively acidity."
Domdechant Werner'sches Weingut, Hochheimer Domdechaney Riesling Beerenauslese, 2009
All primary fruitiness, spicy, sweet, tropical quince, pineapple, mango, lush and deeply sweet, as ever with the rapier core of acidity that balances all the sweetness to a glorious whole. Intense and intensely moreish. Dense, intense, entrancing, with exquisite balance, and with all the explosive intensity of youthful flavour on its side.
Proprietor Dr. Franz Michel said "this is a BA of a clean and fresh style, which is an important point in such a highly concentrated wine. It's still fresh and lively, where the refreshing acidity should be 10% of the residual sugar: the higher the residual sugar, the higher the acidity should be to be refreshing. It brings out a wonderful fruitiness."
---
Please feel free to comment on this article