Published by Sally on March 9, 2012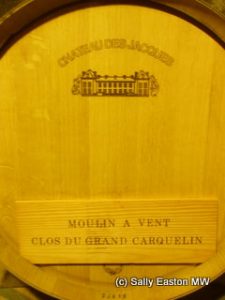 Château des Jacques has been part of the Maison Louis Jadot stable since 1996, when the property, with 70 ha of vineyards in the Beaujolais crus of Moulin à Vent, Morgon and Chénas, was bought.
The cellar dates from the end of the 16th century, and the castle buildings added in the mid 19th century, as a time when the Beaujolais region was much richer. Most genial and charming of understated hosts, Guillaume de Castelnau explained "during previous centuries, many rich people from Lyon and Paris came and built castles, with 150 or 200 hectares of vineyard."
This dictated the pattern of grape-growing in the region, he said, as these rich landowners installed many small farmers in the vineyards, who were paid for the wine they produced. But Beaujolais declined in the 20th century, de Castelnau explained, because such owners "had not been putting enough investment in their vineyards." Over-exploitation of Beaujolais Nouveau in the late 20th century can't have helped, but the region is experiencing something of a comeback, after re-investment in the 21st century.
De Castelnau talks of the re-awakening at Château des Jacques in allegorical terms. Though not certified, certain biodynamic practices have been adopted as de Castelnau manages the "the levels of life – soil, vegetation, animals and humans – from which wine comes.  My job as winemaker is to try to put each level at its best to make the most positive work possible." So he uses some organic and biodynamic techniques, and sometimes he uses chemicals, "if the danger is real."
Interestingly, he's found biodynamic principles easier to adopt on young vineyards, saying "old vineyards, which have had 30 to 40 years of herbicide, pesticide and tractor use, and which have a flat [near surface] root system, are more delicate. If you compact the soil you kill the soil and if you put fertiliser on the surface, roots stay near the surface."
Without such a history and incentive to keep roots at the surface, young vines send their roots downwards to find nutrients. Thus, said de Castelnau "some 10-12 year old vineyards, under organics and biodynamics, can give a more complex, though not more concentrated, wine than very old vineyard." And with deeper roots comes complexity, he added.
Vinification at Château des Jacques is not by carbonic or semi-carbonic maceration. The previous owners didn't use it, and Jadot have continued the same way.  Harvest is of whole bunches, and these are destemmed.  Whole berries are used, but not whole bunches.
De Castelnau said "morning fruit comes in at 16 to 18°C, afternoon fruit at 20 to 22°C, so we equalise the temperature to 18°C for one day's harvest.  Slowly the alcohol fermentation starts with natural yeast.  We leave the berries for 3-4 weeks' maceration, with a pump-over once or twice a day."  With this method, the press juice represents no more than 10% of the total, he said.
Wine is put to barrel or tank, and "a high proportion of new oak barrels" are used, "because if I destem all my fruit, I don't have enough tannin, so I compensate with new oak tannins" de Castelnau said.
A greater amount of new oak is used on the property's Moulin à Vent parcels, with 100% new oak being used on the single vineyard wines, and 50% new oak on the blend.  Half these amounts of oak are used on the Morgon cuvées, so 50% new oak on the single vineyards, and 25% new oak on the blend.
Tasting, in situ, December 2011
(in a cold cellar which probably masked much of the aromas)
Château des Jacques, Moulin à Vent, 2009
About 50% new oak, 30% one year old, 20% tank
Black cherry and medium bodied freshness, some fine grain oak tannin gripe, nicely balanced. Good concentration of fresh fruit, with hints of vanilla structure.
Château des Jacques, Morgon 2009
25% new oak
Quite closed on the nose. More purple fruit, dark berries, chalky grain to tannins. Fresh, and a bit lighter bodied.
Château des Jacques, Moulin à Vent, Grand Carquelin 2006
100% new oak, which is overt on the nose and palate, can't really smell fruit. Dark berries on the palate, with liquorice, dried fruits, figs and prunes (bottle age?). Quite chewy overall, a big wine.
Château des Jacques, Morgon, Cote du Py 2006
Muted nose, difficult to get hold of any aromas here. Again chewy oak tannins yet to integrate, and which mask the fruit.
My research trip to Beaujolais in December 2011 was sponsored by Inter Beaujolais.
---
Please feel free to comment on this article