Published by Sally on September 24, 2013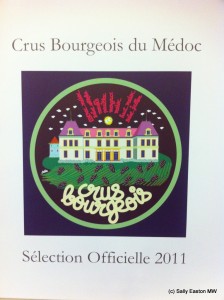 Is this the crunch vintage that will be the litmus test for the level of success of the new-ish cru bourgeois accreditation system?
The 2011 is its fourth vintage.  No-one was really paying much attention for the 2008 vintage. At that time any repute crus bourgeois had lay virtually in tatters. Vintages 2009 and 2010 were dream vintages, the nascent system could hardly go wrong. But 2011 was no push-over vintage, challenging conditions, blah, blah. This, surely, is the vintage to examine how good really is the annual assessment procedure that grants cru bourgeois status each year?
The new list of cru bourgeois was announced in London and Bordeaux last week, along with a tasting of many of them.  Maybe expectations were low, but it was much less hard work than I had been imagining. The Wine Society's Jo Locke MW said something similar.
It tasted as though cooperage companies had done less well out of the 2011 vintage. Of the 70-odd wines I tasted, in general there was not a huge amount of overt new oak on show. There were inevitably a handful where slightly raw, chewy, sandalwood notes were evident, but these were a minority. Mostly tannins of grape and grain had been held skilfully in check, allowing some bright red fruits to come to the fore, in what is evidently not a vintage for long bottle-ageing. Some indeed, are ready for drinking even now. Undoubtedly we'll soon be told these will be drinking very nicely and long before anyone's stashes of 2009 and 2010.
I heard reported that the wines were typically showing up to 30% less tannin than in the 2010 vintage, which is no surprise, but good to have a laboratory figure put on it. Modesty of extraction and complexity is a touchstone of many of these wines, though in as broad a church as the cru bourgeois there is a huge continuum of quality and style, so generalisations are a tad risky.
Pleasant surprise at the vintage appears to have occurred on both sides of the Channel. Frédérique Dutheillet de Lamothe, director of the Alliance des Crus Bourgeois du Médoc said the "crus bourgeois are the good surprise of the new term.  I heard this several times [in London]. And on Tuesday in Bordeaux, we never had so many brokers and merchants as we did this year. I heard many times that the merchants are very happy with quality."
There's not much to report in terms of how cru bourgeois might be evolving – introducing a ranking, and regular achievers of the status being allowed to keep it for a few (unspecified) years before needing to re-apply. Dutheillet de Lamothe said "we are pushing to have an evolution of [awarding] procedure. We need Ministry of Agriculture approval to move forward. They said last year they would help, and now we want to know exactly how and when they will help." A meeting is imminent.
Here's the list of crus bourgeois 2011.
My top half dozen. Tasting, in London, September 2013
Château Patache d'Aux, Médoc ~£18
Smoky black stuff on the nose, dark, and supple approach to tannin management. Modest levels of tannin, medium full body, sweetly spiced black and blue berry fruits. Nice balance and integrity, with a decent bit of ripe grip.
Château Cissac, Haut-Médoc ~£20
Black fruits in well construed tannins. Almost mellow with smoothness. Integrated. Some nice class here and a bit of grip with fleshy dark fruits supporting.
Château Duplessis, Moulis ~£15
Earthy and mulberry nose, really quite enticing. Medium body and integrated with concentration and even a little complexity coming in. Very well put together with a slightly brooding element.
Château La Garricq, Moulis ~£20
Dark plummy and mulberry. Smoky smooth textured. Real density and dark concentration here with substantial and fine tannins. Nicely balanced, serious wine.
Château Mongravey, Margaux ~£20
Nose a little closed on this sample, then palate makes up for it – smooth and fleshy even, showing some attractive class with very fine tannins. Rich black fruits, sophisticatedly done.
Château Le Crock, St. Estèphe ~£18
Bright red fruits on nose. Finely honed tannic texture. Young and with intelligently done, structuring oak.  Black fruits on palate almost sweet and with class and sophistication.
---
Please feel free to comment on this article