Published by Sally on August 6, 2011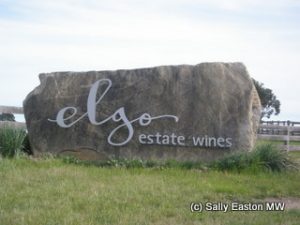 Strathbogie Ranges, part of the Great Dividing Ranges and just 125km north east of Melbourne, is a wine growing region to watch, not least due to a mere handful of pioneering producers.  Elgo Estate, owned by Grant and Suzanne Taresch is one such property on an upward trajectory.
An HDD 1460 and an MJT of 20.7°C (James Halliday, Wine Atlas of Australia, 2006) put this region towards the cooler end of the wine growing spectrum, so it is no surprise that the likes of Domaine Chandon have a vineyard in the area, growing chardonnay and pinot noir, much going to their sparkling wine.
Elevation also plays its cooling part, with vineyards varying in altitude from 200 to nearly 600 metres above sea level, in a striking granite landscape.  Grant Taresch said "Strathbogie is a renowned cool growing region. You could never grow wheat or corn.  The soils are well-drained, infertile, and rocky, on a granite base."
And it's a windy region, which may explain why the estate has a 30m tall, 150kw wind turbine on the property. Grant said "we generate two times the electricity that we need in the winery.  So we supply the national grid." They say they are the first winery in Australia to be fully self-powered by renewable wind energy.
But this couple don't just generate electricity. Their whole ethos is geared toward maximising the sustainability of their farm. Suzanne said "Grant built the winery on sustainable practices. We started in 2001, ahead of the game, and it took five years to get the wind turbine project.  It started rotating in 2007." The winery was ready for the 2004 vintage.
Elsewhere, Grant said "we compost all organic waste and re-use it in the vineyard. The liquid waste is treated in a series of lagoons, to a point where it can be reused in the vineyard," before explaining in more detail "the liquid waste is aerated at night for aerobic bacteria, which break it down quicker and [without] smell. The sludge – organic solids – falls down and is composted again. And the winter storage lagoon is pH neutral and can be used in the vineyards." The three lagoons mean water is in them for up to two years before being re-used in the vineyards.
But the pair is deliberately avoiding an organic certification, as Grant said "with organic, there would be more tractor time, so more diesel and more compaction.  We do use glyphosate weed killer.  If we didn't use it, there would be more tractor time, which means our carbon footprint on the environment would be bigger if we were certified organic.
"We run sheep in the vineyards in winter. As spring starts, we take the sheep out, the grass grows a bit. We keep the mid rows covered with grass, and we add one spray immediately under the vine row to kill the grass and get a band of bare soil there, which sets us up for the year.  If there was grass up against the trunks, we'd get water competition." The 4,000 grazing sheep reduce tractor trips and fuel usage.
In addition, 80 hectares of the property are ring-fenced for wildlife sanctuary, and they have created 6 km of wildlife corridors, planting around 10,000 native trees and grasses this millennium, with more to come.  In total the farm extends over nearly 900 hectares.
In the winery, the carbon dioxide from fermentation is recycled to protectively blanket bulk wine against oxidation.  Marc is put back into the vineyard. And said Grant "we watch what we use in the winery too.  No waste is carted away apart from card and plastic."
About 10,000 cases are made, entirely from fruit grown on the 60 hectares of vineyard, lying across three sites at different altitudes, which give different fruit expressions. The lowest, Tarcombe Valley, is around 320m, planted to cabernet sauvignon and shiraz.  Upton Hill vineyard is at 530m, where the winery and wind turbine are also situated, and Lake View vineyard, at 480m, they bought from Hardy's in 2004.
Two ranges of wine are made, Elgo Estate, and the easier drinking Allira range, so named after the indigenous word for quartz, which is common in the region. Suzanne described the Allira style as being "on the edge of having a glass by itself, or needing food with it."
Wines, tasted in situ, October 2010
Allira  Sauvignon Blanc 2010
Peachy on the nose, full bodied, and attractive, in tropical style
Elgo Riesling 2006
The current release. Petrol, lime, zest and juice. Good intensity, fresh and pure fruit. Attractively balanced, with good density, and lovely varietal definition. Vg.
Allira Shraz 2008
Dense plummy, sweet nose, sweet attack, with fresh, attractive balance, and black peppery notes, with fresh fruit behind it all. Full, sweet body.
Elgo Shiraz 2006
Smoky and black spiced, with savoury hints among the dark, fresh fruits, with plush, nicely dense fleshy fruits.
My research visit to Australia in October 2010 was sponsored by Wine Australia.
---
Please feel free to comment on this article