Published by Sally on August 16, 2012
1 Comment
A version of this article was first published in Drinks Business magazine, March 2012.
Courtiers – a word to conjure polarised views, especially of the Bordeaux trading system. But in France the courtier system is not a one-size-fits-all, though the broker still puts together a customer with the wine they want, that they've sourced through their contacts.
In Bordeaux, a dozen of the some 100 courtier companies do most of the business, paid 2% by the negociant. A division is made into 'country' courtiers, whose main work is bulk wine, and those who are focused on the grand crus, whose main work is bottled wine.
Charles Sichel of negociants Maison Sichel said "a good courtier is important to the whole system because they can act as a catalyst, on behalf of a negociant or of a château. They feed information to negociants on the general state of châteaux, and they report back to châteaux on what the market place is doing – who's performing, who has good niche markets."
Knowledge of negociants' stockholding is a key asset of courtiers, as Sichel explained "I may be looking for a parcel, there's none left at the château, only another negociant has some, and who may be happy to sell it to me. All that detailed information can only really be brought to me by a performing courtier."
But Bordeaux is not the only region in France where courtiers flourish as an integral part of the wine trading system, and throughout the country, since 1997, all courtiers must pass a compulsory examination to practise, which Xavier Coumau, president of the syndicate of Bordeaux courtiers, said strengthened "the credibility and the professionalism of the brokers and shielded [the industry] from opportunists" who might otherwise speculate with stocks in good vintages.
A fundamental denigration is that courtiers are merely sample carriers, and while not all courtiers do a weeding out process on behalf of negociants, the sample carrier smirch belies a real intimacy of knowledge, said Coumau, who is also a 'country' courtier working with about 80 producers selling to some 20 negociants and who specialises in Bordeaux and Bordeaux Supérieur appellations  – "a 'country' broker is like a family doctor, he is very close to wine growers, puts a lot into the follow-up of winemaking with the owner." There is a social role as well, he added, whereas the town courtiers, who deal mainly with the grand crus "assure the continuity with a network often already established between the châteaux and the trade" mainly managing allowances.
All courtiers deal with the legal aspects of the transaction, though not the payment or the logistics.  Sylvie Cazes, president of the UGC said "for the negociant, courtiers guarantee the quality of wine from the producer is good quality. For the proprietor they guarantee the negociant" will make the payment.  And because courtiers make all the transactions they have an up-to-the-minute picture of prices for current vintages and who has any back catalogues of esteemed properties' wines.  For Mathieu Chadronnier, director of CVBG, this means courtiers "understand the market mechanics and make everything happen faster."
Elsewhere in France, few courtiers deal in bottled stock. Less than 5% of the Rhône courtier trade is of bottled wine. Payments also differ by region. For Côtes du Rhône, courtiers are paid 1% by negociants, but for Châteauneuf-du-Pape, courtiers are paid 1% from each of the negociant and the producer, but if the negociant is from outside the area he must pay 2% to the courtier (plus 1% by the producer). And in the northern Rhône crus, where volumes are much smaller, the fee is 3% and 1%. So while Bordeaux courtiers work only with Bordeaux negociants, Rhône courtiers work with negociants from outside the Rhône, for example from Bordeaux and Burgundy.
Of the just one dozen courtier companies in the Rhône valley syndicate, Didier Mayard specialises in brokering Châteauneuf-du-Pape, some half of which is sold in bulk. He works with around half the 300 growers in the appellation, and regularly with at least 20 negociants.
Relationships are fundamentally important, he said, and "a broker can be someone who gives samples, or someone who anticipates, and works like the stock exchange, anticipating the market, and giving good advice to the negociant.
"For three vintages in Châteauneuf-du-Pape the average yield has been 28hl/ha.  For 2011, I think we'll have an average of 32hl/ha.  With 3,000 hectares, this means 12,000 hl more compared to the three previous vintages, which is a lot more wine to sell." With a larger harvest imminent, prices were falling, so during July Mayard was advising his negociant clients to sell their existing stocks.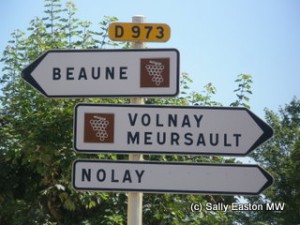 Negociants in Burgundy differ from in Bordeaux because they have strong brands – Boisset, Drouhin, Faiveley, Jadot, Latour. They buy much of their volume as grape must, vinifying, ageing and selling it.  To this end, doing business via courtiers is even more important, with some 80% of the transactions being made by courtiers, who must deal with grapes, with juice, and with bulk wine.
Burgundy has around 45 courtier companies, including ten who work exclusively in Chablis, and up to ten in Chalonnaise and Mâconnais. As in the Rhône, the size of company is small, just one or two people, said Jérôme Prince, president of the Burgundy syndicate of courtiers. In his own business, Prince specialises in the Côte de Nuits and Côte de Beaune, working with around 20 negociants and up to 200 growers.
Margins are different again – in Chablis negociants pay 4%, the grower nothing, but in the Côte d'Or the negociant pays 2% and the grower 3%.
Strength of relationship is fundamental again to consistently secure smaller volumes in a highly fragmented production model.  Burgundy has more than 4,000 growers, with an average holding of 6.5ha, each selling grapes, must and wine in bulk, and each growing and/or making an average of 10 appellations, which, Prince said "one year they want to sell, and the next year maybe not. Everything changes each year, so each year we have to revisit everyone, and make sure if a deal is possible again this year."
These relationships are further complicated said Prince, because negociants "have different ways of working.  To work with Latour is not the same as working with Faiveley. They don't make the same style of wine."
In terms of negotiating price brackets, the courtier is at the centre of the discussion and the market. Prince said "we discuss with the negociant – if the market is difficult, or export is difficult, it would be fine if the price does not increase – we discuss with the grower – I don't have much quantity, I want a good price – and after we see if the market is quick or slow. We discuss a lot between buyer and seller, and we get to a price like this."
And because the courtier is not allowed to hold stock, s/he cannot speculate on the price, i.e. buy at €100 and sell at €130, so their interest is on reaching an agreement, full stop, which is good for both grower and negociant, and which has the possibility to be repeated next year.
Trust, exquisite knowledge, strong relationships and reassuring confidence are the traits of good courtiers. And enough time to cement the bond of personal contact.  Prince said "it's very important to preserve time to visit growers and take the time to taste, and to renew the contract. Some people renew only if I visit them."
---
Comments
One Response to "French brokerage, or courtier, system"
produtos para aumentar o penis Says:
May 15, 2013 at 6:13 pm

Everything is very open with a very clear description of the
challenges. It was truly informative. Your site is very helpful.
Many thanks for sharing!